Michael A. Stelzner Interview on Business Blogging
Michael A. Stelzner, the founder of SocialMediaExaminer.com, a top social media blog, and author of Launch: How to Quickly Propel Your Business Beyond the Competition (Affiliate link), is a blogging dynamo.
Mike learned how to succeed at blogging after a number of failed attempts and knows what's involved to keep SocialMediaExaminer.com going and growing. As a blogger, you can reduce the time required to get your blog on course to succeed by taking advantage of the knowledge of successful bloggers like Mike.
In conjunction with BlogWorld Expo New York and the introduction of Blogging Fundamentals for Business, an online business-building workshop, I interviewed Mike to get his business blogging insights.
1. Heidi Cohen:
Based on
UMass Dartmouth
research, most businesses don't blog. Further, many executives view business blogs as a cost of doing business. What is the best reason for a business to blog and how does a marketer or other communications professional make the case to create and support a blog for their business?
Mike Stelzner: I'm not going to dispute that finding. Most businesses don't market well either. Most businesses that do market, are still throwing money down the rabbit hole of advertising—online or offline.
Does the fact that most businesses don't do something mean you also should not?
I think a better question is this: What are the few businesses doing that are rapidly growing a massive audience without any advertising?
Now that's a question worth asking!
We as marketers need to reprogram our thinking. We need ask ourselves, how can we break away from reliance on costly marketing and instead draw an audience to our business?
The answer is simple: become a publisher.
When you create outstanding content—using a blogging platform—you can rapidly grow a massive audience and outright eliminate your reliance on others.
That's precisely why Social Media Examiner is one of the largest business blogs out there (and we haven't even turned 3 years old).
2. Heidi Cohen: Many new bloggers lust after comments because they believe comments are a sign of success. Yet for a business executive, the comment "Great post" doesn't translate to actionable business goals such as new customer acquisition or sales. How do you define blogging success? What metrics do you use to track this achievement?
Mike Stelzner: We have 600,000+ monthly readers who consume our content over at Social Media Examiner. Guess how many leave comments each day?
About 20 to 40.
What does that tell you?
Comments are bad metric of performance.
The most important metric is typically subscriber growth.
In our case, we add about 500 new email subscribers each day. This means we have been given permission to email these people.
Those holy grail of blogging is getting email subscribers.
We have 153,000 that get our emails 6 days a week (with a 25% average daily open rate).
That is a metric that is super valuable.
3. Heidi Cohen: For a blogger who's been slogging away at maintaining a blog that's not showing results, how do you tell if it's on life support? What are the signs? When should a blogger pull the plug completely and walk away versus reviving the blog? What's your rationale for your recommendation?
Mike Stelzner: This gets a bit deeper into metrics. I would suggest you look into page views and try to determine if they are increasing or decreasing week over week, month over month and year over year.
If you are seeing a decline, then this nearly always is symptomatic of your content.
Try publishing more relevant and helpful content for your ideal readers and see if you can get things moving again.
Consider guest posting on more popular blogs as a way to gain exposure back to your blog.
There does come a time and place where it's time to let go. I've been there. When you lose your passion, consider moving on.
4. Heidi Cohen: What's the biggest mistake you see new bloggers make? By contrast, what's the biggest mistake more established bloggers make?
Mike Stelzner: The biggest mistake ALL bloggers make is assuming once they achieve a little success, they won't need to work at it to keep people coming back.
This is also true for experienced bloggers.
Just like people tire of TV shows, they tire of blogs that don't deliver what they want.
5. Heidi Cohen: Content is king continues to be the marketing battle cry. It's evolved from supporting search optimization to feeding social media. From a blogging perspective, what's the key to creating sticky content that keeps your target audience coming back for more?
Mike Stelzner: This is a very simple question to answer.
Find out what your readers want (survey them).
Then give them exactly what they want—not what you want.
When you do that, you'll become a source people will flock to regularly.
While every blog is unique, you can reduce your firm's track to successful blogging by learning how to get your blog on course. Mike Stelzner seemingly simple points that can make a world of difference to your blog, namely, don't worry what others are doing. Rather, focus on what's important to the long term growth of your business, creating an on-going media entity, building a housefile of interested prospects, and delivering content they want.
What other advice would you give to business bloggers to create a successful blog and why?
Happy marketing,
Heidi Cohen
---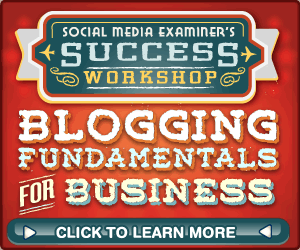 Do you want to take your business blog to the next level? Then sign up for Mike Stelzner's Blogging Fundamentals for Business. It's a step-by-step course designed to help your business quickly implement effective blogging techniques, attract great customers and gain a unique competitive advantage. 
And it's fully online
.
This workshop is a live systematic study course where each session builds on the previous one. Blogging Fundamentals for Business covers blogging strategy, creating great content, blogging metrics and technology, 
launching (or relaunching) your blog and blog promotion tactics. Get in at half price if you register by this Thursday June 7th. (Affiliate link.)
NOTE: I will be at Blog World Expo New York. Please reach out to me.
Photo credit: https://si0.twimg.com/profile_images/257429544/MichaelStelzner-Street2-tm.jpg