5 Visual Content Marketing Tips [With Examples]
Visual content is a guaranteed winner for marketers because it's a people magnet.
Visual representations can simplify complex information in a way that attracts attention, is easy-to-consume and minimizes language barriers. As a marketer, seek opportunities where you can integrate your brand into images to achieve your business objectives.
Here are five ways to rethink your brand by incorporating it into your graphics and photos to attract attention.
1.

Demonstrate how your product works

Images can explain how to use your product's features faster than a page of text. Further, your images provide clues that help customers see your product in context. This helps you sell without being salesy.

Actionable Content Marketing Tactic:
Employ a photograph or series of images to show your offering in context. For many customers, this is more helpful than seeing your product in a store or showroom because it helps them visualize how to use it.
Examples:
Louis E. Page, a distributor of mesh and fencing, uses photographs in their blog posts to show prospects how to use their products effectively. 

Rubbermaid leverages the power of Flickr to show how to use their products. They allow people to use their images if they link back to Rubbermaid's website. (BTW-This is another way to get your product viewed and build backlinks to your content.) 
2.

Skip the words

There are times when a photograph or image can quickly convey complex information to your audience. Consider using infographics to simplify difficult concepts and make them easier to grasp. Realize that not everyone takes in information the same way.

Actionable Content Marketing  Tactic:
Create easy-to-understand images. Think in terms of infographics, charts and presentations.
Offer related product information in graphic format. Many businesses do this with infographics and other types of research charts to make a visual case for their product.
Leverage image oriented sites. Post visual content on Facebook, Flickr, Google+ Pinterest and Tumblr.
Examples:
IBM uses infographics to simplify the concepts behind "Big Data" and shares them on Pinterest. 
3.

Tell your story

Add a human element to your content.  Show people using your products in action. Go a step further and incorporate a story that your audience can relate to emotionally.

Actionable Content Marketing Tactic:
Encourage employees to tell their product-related stories. Forget the once-upon-a-time. Tell real-life adventures.
Enable customers to discuss your offering. Use a combination of photographs and text.
Leverage the power of experts in your field. Show how others have helped move your industry forward.
Examples:
4.

Make them laugh

Never underestimate the power of entertaining your audience. Of course, what's entertainment for one niche may not work for others.

Actionable Content Marketing Tactics:
Create graphics that encourage your customers to smile. While it may not yield direct sales, it can help expand your reach through earned impressions that keep your name top of mind. These graphics share easily on social media.
Take a page from the movie industry. Give your products the Hollywood treatment and promote them like upcoming films.
Look back and laugh. Select images from your corporate past that will make your readers chuckle.
Examples:
Intel creates amusing graphics that are insider jokes for tech types. 

To promote their newest product, Intel is treating its 4th Gen Intel Core like it's this Summer's hot flick. This new approach to marketing the product shows they have a sense of humor. 

Intel has also gone through their photo archives to give old products new attention. These graphics, posted on Facebook, incorporate the hashtag #ThrowbackThursdays (which is easy to do with tech related products.) This is a great idea for creating on-going content involving your audience. 
5.

Show your face

Skip the stuffy corporate photos that look like your executives are in a police lineup. Bear in mind that prospects and customers like to see the people behind the organization. Even if they purchase online without ever meeting you in person, seeing a friendly photograph goes a long way to building a relationship. At a minimum, expand your website or blog's About Page with a personal touch.

Actionable Content Marketing Tactics:
Let employees to express their personality in your corporate images. Of course, you can set parameters but remember that the goal is to display their human side.
Examples:
In addition to their more traditional corporate headshots, Altimeter has a group shot where (almost) everyone is wearing a company vest.

By contrast, content site Celebrations incorporated some of their holiday fun into their company headshots. They go one step further by adding personal comments to their photographs. 
Re-imagine your brand from a visual point of view to make your marketing more accessible and easy-to-consume across owned and social media entities.
How have you extended your brand through the use of visual content.
Happy Marketing,
Heidi Cohen
---
---
For those of you in Raleigh, NC, please join me for Internet Summit November 11th through 13th.
Use the code HEIDI50 to save $50 OFF any pass level.
---
Even though Content Marketing World is finished until next September, you can still get all the content from 2014's exciting conference. The CMWorld On Demand package includes: Audio and video from the 2014 keynote sessions, audio and PowerPoint presentations of all the breakout sessions, over 40 audio sessions from the leading B2B and B2C brands, as well as keynote video performances.
---
Free Webcast!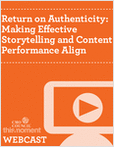 Join the discussion on Wednesday, October 29, 2014 at 10:00 AM PT/ 1:00 PM ET with Nancy Slavin, SVP of Marketing, Macy's Merchandising Group, and Dan Kimball, CMO, Thismoment.
According to research by Nielsen, 70 percent of global consumers trust online consumer reviews and rate reviews as the second most trusted form of advertising. And according to BazaarVoice, when it comes to trust, marketers may as well eliminate their own brand websites as a fountain of customer trust as only 16 percent of US consumers said they trust the content on a brand's website compared to the 51 percent who trust content generated by other users.
Today's digital currency is arguably authenticity, and what attracts customers - especially the digitally dependent, savvy millennial - is not just content. It is the delivery of authentic, unvarnished content from their peers.
Join the CMO Council on Wednesday, October 29, at 10am PST/ 1pm EST for a one-hour webcast that will invite industry experts in content marketing and user-generated content who are effectively leveraging authentic storytelling as part of their content marketing strategies. We will also feature an interactive Q&A session at the conclusion of the speaker presentations.
---
Related Articles

Photo Credit: http://www.flickr.com/photos/stewart/99134201/