International Women's Day: Social Media Thought Leaders
Since women are naturally social, it's no surprise that they dominate social media platforms. Specifically, 86% of women have at least one social media account where they spend an average of twelve hours a week. And, women involved in social media tend to be more influential than women in general according to research by Weber Shandwick and KRC Research.
Given these statistics, it's interesting that women run none of the major social media entities. That said, Sheryl Sandberg, formerly of Google, is Facebook's Chief Operating Officer and Caterina Fake co-founded both Flickr and Hunch.
In honor of International Women's Day, here are ten women who have changed and shaped how we view social media. While many of these women aren't household names, don't let that fool you. Each is a powerhouse in her area of expertise. They've learned by being in the trenches and it's worth your time to follow them and read what they have to say.
Connie Benson is Dell's Senior Manager of Global Social Media and Community Strategy. A librarian by training, Connie helped develop the role of Community Manager and related Community Strategy (and is footnoted on Wikipedia!) For anyone considering the power of blogging, her article, The ROI of Blogging and Personal Brand Building, is a must-read.
Megan Berry is the Director of Community at RebelMouse, the new startup that wants to be your personal homepage and is continually updated with information from other social media platforms. Before joining RebelMouse, Megan was the marketing and community manager at Klout. If you want to know where social media is going, just follow Megan. She's at the companies everyone will be talking about next year.
Sandy Carter has helped define Social Business from inside IBM where she's worked for over twenty years. As the Vice President of Social Business Evangelism and Sales, this powerhouse has found time to write several books on the subject including, Get Bold: Using Social Media to Create a New Type of Social Business. 
Gini Dietrich is a PR dynamo. Don't get fooled by the word PR, Gini gets how marketing in today's hyper-connected, social media world should work. In addition to expanding her blog, Spin Sucks, she and Geoff Livingston wrote Marketing In The Round, a great book about integrating the various components of today's marketing mix.
Ann Handley has been testing the limits of content and social media for years. She was one of the co-founders of ClickZ and is currently the Chief Content Officer at MarketingProfs. Ann co-authored Content Rules with C.C. Chapman. Ann is the poster child for content marketing.
Rebecca Lieb has been the transformative force behind many large content sites. Currently, Rebecca is part of Altimeter where she focuses on digital advertising and media analysis. As a marketer and a content creator, Rebecca really understands how social media, content marketing and search all come together. Check out her books Content Marketing and The Truth About Search Engine Optimization. Also take a look at her research and presentations on Slideshare.
Jessica Lawrence is the Managing Director of the New York Tech Meetup. She's helped transform this community into a 26,000-member non-profit organization. If you've got a startup in New York City, their monthly meeting is where you want to be seen. 
Hilary Mason is Bit.ly's Chief Scientist. Quiet and unassuming, Hilary is one really bright woman. She not only understands and can manipulate humongous amounts of data, but also she can translate the findings into easy-to-understand language—that's no easy feat.
KD Paine runs KD Paine and Partners. Maybe it's her practical New England background but Katie approaches social media from an analytical perspective.
Mari Smith is known for wearing her signature turquoise. She's one of the go-to people on the subject of Facebook marketing. But don't pigeonhole this social media smartie!  Mari wrote The New Relationship Marketing, a book that provides a road map for stepping into the social media ecosphere and building a following.
Each of these women is a thought leader that pushes the boundaries of social media from the inside out. They are pathfinders in the ever-expanding world of social networks.
Who do you think are the most influential women in social media?
Happy Marketing,
Heidi Cohen
---
Hat tip to Frederic Gonzalo for inspiring this post!
BTW–You can meet a number of these women at Social Media Marketing World. Order by March 8th and save $150! (W00t!)
---
For those of you in Raleigh, NC, please join me for Internet Summit November 11th through 13th.
Use the code HEIDI50 to save $50 OFF any pass level.
---
Even though Content Marketing World is finished until next September, you can still get all the content from 2014's exciting conference. The CMWorld On Demand package includes: Audio and video from the 2014 keynote sessions, audio and PowerPoint presentations of all the breakout sessions, over 40 audio sessions from the leading B2B and B2C brands, as well as keynote video performances.
---
Free Webcast!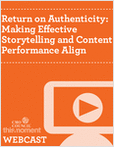 Join the discussion on Wednesday, October 29, 2014 at 10:00 AM PT/ 1:00 PM ET with Nancy Slavin, SVP of Marketing, Macy's Merchandising Group, and Dan Kimball, CMO, Thismoment.
According to research by Nielsen, 70 percent of global consumers trust online consumer reviews and rate reviews as the second most trusted form of advertising. And according to BazaarVoice, when it comes to trust, marketers may as well eliminate their own brand websites as a fountain of customer trust as only 16 percent of US consumers said they trust the content on a brand's website compared to the 51 percent who trust content generated by other users.
Today's digital currency is arguably authenticity, and what attracts customers - especially the digitally dependent, savvy millennial - is not just content. It is the delivery of authentic, unvarnished content from their peers.
Join the CMO Council on Wednesday, October 29, at 10am PST/ 1pm EST for a one-hour webcast that will invite industry experts in content marketing and user-generated content who are effectively leveraging authentic storytelling as part of their content marketing strategies. We will also feature an interactive Q&A session at the conclusion of the speaker presentations.
---
Related Articles
Photo Credit: http://www.internationalwomensday.com/