12 Content Marketing Resources Every Marketer Needs
While 2012 saw its tipping point, in 2013 content marketing became a key element of the overall marketing mix regardless of business type, B2B, B2C, not-for-profit or solopreneur.
An indicator of its exponential growth was the over 1,700 marketers who gathered in Cleveland last September for Content Marketing World.
The best seller stardom of Jay Baer's Youtility and Joe Pulizzi's Epic Content Marketing provide further signs of content marketing's explosion in 2013.To get your content marketing on track for 2014, here are 12 top content marketing resources of 2013. These resources were all published on HeidiCohen.com during 2013.
Guides you through the process of creating a tailored content marketing plan for your business.
Highlights the core 5 steps of any content marketing plan and provides tips to help improve your content marketing strategy.
Need to mix up your content marketing offering? Then don't forget to download this list to provide new content format suggestions.
Provides content marketing suggestions from top experts in the field to take your content marketing up a notch.
Want some fresh content marketing tips? Look no further. Here are ideas everyone can use.
Read this guide before you take the blogging plunge. While blogging is important, there's a lot newbies don't find out until later.
Consider these 17 blog tactics regardless of whether you're a blog newbie or old hand.
Read this headline research to polish your headlines.
Don't underestimate the power of a strong headline. Here are 10 tips to get your titles to pull in readers.
Make sure your content curation strategy maximizes results. Roughly half of marketers have some type of legal or copyright problem with their content curation. Don't be one of them!
Maximize your content distribution with this handy checklist.
Track your content marketing results through the use of a call-to-action and tracking codes.
As a bonus, here are The 23 Top Content Marketing Blogs of 2013 as selected by key influencers in the field.
Use these top 2013 resources to ensure your content marketing succeeds in 2014.
Happy Marketing,
Heidi Cohen
---
---
For those of you in Raleigh, NC, please join me for Internet Summit November 11th through 13th.
Use the code HEIDI50 to save $50 OFF any pass level.
---
Even though Content Marketing World is finished until next September, you can still get all the content from 2014's exciting conference. The CMWorld On Demand package includes: Audio and video from the 2014 keynote sessions, audio and PowerPoint presentations of all the breakout sessions, over 40 audio sessions from the leading B2B and B2C brands, as well as keynote video performances.
---
Free Webcast!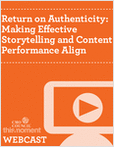 Join the discussion on Wednesday, October 29, 2014 at 10:00 AM PT/ 1:00 PM ET with Nancy Slavin, SVP of Marketing, Macy's Merchandising Group, and Dan Kimball, CMO, Thismoment.
According to research by Nielsen, 70 percent of global consumers trust online consumer reviews and rate reviews as the second most trusted form of advertising. And according to BazaarVoice, when it comes to trust, marketers may as well eliminate their own brand websites as a fountain of customer trust as only 16 percent of US consumers said they trust the content on a brand's website compared to the 51 percent who trust content generated by other users.
Today's digital currency is arguably authenticity, and what attracts customers - especially the digitally dependent, savvy millennial - is not just content. It is the delivery of authentic, unvarnished content from their peers.
Join the CMO Council on Wednesday, October 29, at 10am PST/ 1pm EST for a one-hour webcast that will invite industry experts in content marketing and user-generated content who are effectively leveraging authentic storytelling as part of their content marketing strategies. We will also feature an interactive Q&A session at the conclusion of the speaker presentations.
---
Related Articles
Photo Credit: 
Guide photo: http://www.flickr.com/photos/usnavy/5881337203/
Graphic (c)2013  HeidiCohen.com – Photograph by Heidi Cohen at NYPL - All rights reserved unless linked to this specific article.