12 Content Marketing Resources Every Marketer Needs
While 2012 saw its tipping point, in 2013 content marketing became a key element of the overall marketing mix regardless of business type, B2B, B2C, not-for-profit or solopreneur.
An indicator of its exponential growth was the over 1,700 marketers who gathered in Cleveland last September for Content Marketing World.
The best seller stardom of Jay Baer's Youtility and Joe Pulizzi's Epic Content Marketing provide further signs of content marketing's explosion in 2013.To get your content marketing on track for 2014, here are 12 top content marketing resources of 2013. These resources were all published on HeidiCohen.com during 2013.
Guides you through the process of creating a tailored content marketing plan for your business.
Highlights the core 5 steps of any content marketing plan and provides tips to help improve your content marketing strategy.
Need to mix up your content marketing offering? Then don't forget to download this list to provide new content format suggestions.
Provides content marketing suggestions from top experts in the field to take your content marketing up a notch.
Want some fresh content marketing tips? Look no further. Here are ideas everyone can use.
Read this guide before you take the blogging plunge. While blogging is important, there's a lot newbies don't find out until later.
Consider these 17 blog tactics regardless of whether you're a blog newbie or old hand.
Read this headline research to polish your headlines.
Don't underestimate the power of a strong headline. Here are 7 tips to get your titles to pull in readers.
Make sure your content curation strategy maximizes results. Roughly half of marketers have some type of legal or copyright problem with their content curation. Don't be one of them!
Maximize your content distribution with this handy checklist.
Track your content marketing results through the use of a call-to-action and tracking codes.
As a bonus, here are The 23 Top Content Marketing Blogs of 2013 as selected by key influencers in the field.
Use these top 2013 resources to ensure your content marketing succeeds in 2014.
Happy Marketing,
Heidi Cohen
---
Join me at Social Media Marketing World this coming Spring in sunny San Diego, California, where I'll be presenting a session on Blogging.
Conference dates are April 17-19, 2016.
---
Free Marketing Guide —
Take your email marketing to the next level.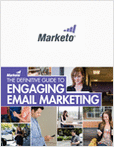 This Definitive Guide to Engaging Email Marketing covers the five attributes of engaging email:
Trusted

Always relevant

Conversational

Coordinated across channels

Strategic

As a "Definitive Guide", it also covers all sorts of email topics, including writing subject lines, designing emails for mobile, building and managing your list, avoiding spam filters, integrating email and social, and more. The guide also talks about the latest in email technology, including what to look for in a modern email service provider.
Related Articles
Photo Credit: 
Guide photo: http://www.flickr.com/photos/usnavy/5881337203/
Graphic (c)2013  HeidiCohen.com – Photograph by Heidi Cohen at NYPL – All rights reserved unless linked to this specific article.