Social Media Spring Cleaning Checklist
On social media, spring cleaning is an annual ritual, when you discard old and/or outdated items while sprucing up and freshening your presence. This process enables you to get organized and be more effective going forward.
In honor of the vernal equinox (aka the first day of Spring), here's a nine-step social media spring cleaning checklist to ensure that your social media presence, including your blog, is on track for success.


1. Reassess your social media goals. Consider your overall objectives for your social media efforts. Specifically:
Determine what you're trying to achieve through the use of social media. Are you looking to build your brand, increase your audience or drive sales?
If your social media objectives aren't aligned with those of your business, then modify them. Make them as specific as possible so that you can measure your results appropriately.
2. Evaluate whether your social media audience has changed. As social media continues to evolve, social networks attract different participants.
Are the participants engaging with you on social media the target market you're seeking to reach? If not, do you need to reconsider your target audience or reassess your social media presence? To this end, it's useful to create a social media persona.
3. Examine what your competitors are doing on social media venues. Use a broad definition of competitors (including the top players in your field) when you perform this analysis. (BTW—Here's some advice via the Godfather to track your competitors.) The goal is to gather intelligence that you can transform into useful marketing tactics. Among the questions to answer are:
Which social media platforms are your competitors using? Are they testing new sites? Do they have multiple pages?
How engaged are their followers and what are their follower counts?
Are they taking advantage of the latest changes on existing platforms? Are they doing anything new that you haven't considered doing? If so, does it appear successful?
What type of information are they sharing and when do they share it?
Do they appear to have greater activity and/or engagement than you? (Understand that looking at social media shares and comments doesn't tell you much about how this activity translates to sales?
4. Determine where you want to focus your social media effort. Based on your analysis of your goals, audience and competitors, decide where you want to engage on social media.
Which social media platforms are most important for your business? Decide how you'll focus your effort on each network. This is particularly important if you have limited resources (human and financial).
Are these the social media platforms the ones where your customers and competitors are active? If not, do you need to maintain a presence where they are active? (For most businesses, the answer to this later question is yes.)
5. Assess your current social media presence. Examine your content on each social media entity. Use these questions as a guide for your spring cleaning.
Is your description (or bio) aligned with your social media goals? If not, edit it to present your business effectively.
Is your information up-to-date? Is there anything that you can add to freshen it up based on your activity during the past year?
Is your social media image appropriate? The goal is to show that someone's home and to make your presence welcoming.  This is good time to change your photograph.
Is your social media presence aligned with your 360° brand?
Do your social media profiles include relevant links to your website, blog and other social media presences? If not, add them.
6. Plan your content creation for social media. Since content marketing fuels social media, ensure that you're creating sufficient content in appropriate formats.
7. Establish a social media calendar for engagement and content sharing. If you've already got one, ensure that it's aligned with your current social media objectives.
Do you have a schedule or routine for interacting on social media? If not, you'll find that a month goes by and no one's updated your social media presence.
Who handles your organization's social media engagement? It's critical to have a streamlined method for collecting, sharing and interacting. Otherwise, you'll find that social media can consume your day and your business isn't moving forward.
Do you have sufficient resources allocated for engagement and content sharing?
8. Integrate social media with the other elements of your marketing mix. To make your other marketing, both online and offline more responsive, incorporate social media elements. Research shows that this is particularly effective for social media advertising.
Have you ensured that your social media efforts complement the rest of your marketing? Remember, it's critical to include them in the planning phase through the use of a promotional calendar.
9. Measure your social media results. As marketers gain experience with social media and allocate greater budget to it, it's necessary to show how their efforts yield trackable results. To this end, here are some important questions to consider.
Do you use contextually relevant calls-to-action to encourage participants to take the next step towards purchase? Understand that this may require additional steps such as registering for emailings, etc.
Are you tracking the appropriate metrics to ensure that you can achieve your social media goals? For most businesses, this means thinking beyond Likes and Follows.
A thorough spring cleaning will help keep your social media marketing on track to achieve your business objectives. Use this time to spiff up your presence for Spring and show that you're actively involved on social media.
What else would you add to this spring cleaning list for social media?
Happy Marketing,
Heidi Cohen
---
---
Even though Content Marketing World is finished until next September, you can still get all the content from 2014's exciting conference. The CMWorld On Demand package includes: Audio and video from the 2014 keynote sessions, audio and PowerPoint presentations of all the breakout sessions, over 40 audio sessions from the leading B2B and B2C brands, as well as keynote video performances.
Social Media Marketing World — San Diego — March 25-27, 2015.

Register Now and Save $480!   Limited time offer.
Register Now for the Intelligent Content Conference.
An annual gathering of the best and brightest content professionals on the planet. People who know the secrets (and are willing to share them). People who value content as a business asset. People who have made it their life's work to develop repeatable, systematic approaches to producing amazingly effective content.
---
Free Webinar!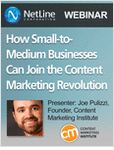 Join the discussion on Tuesday, December 2 - Time: 2 PM (EST) / 11 AM (PST) to learn how small and medium sized businesses don't have to have an entire content marketing organization (or budget) to be successful in content marketing.
Joe Pulizzi, Author and Founder of Content Marketing Institute and Werner Mansfeld, President of NetLine Corp, discuss realistic and actionable methods for your company to get awareness, consideration and sales leads using marketing content – without the budget or resources of an enterprise-level organization.
Date: December 2nd, 2:00 pm EST/12:00pm CST/11:00 am PST
Here are just some of the questions you'll get answered:
What is content marketing and why is it important?
What do I need to have in place to compete effectively using content marketing?
How do I drive sales leads and get a positive ROI using content marketing?
How can my small business (or budget) compete with my larger competitors using content marketing?
What can I start doing today to start seeing results?
Joe Pulizzi and Werner Mansfeld are experts in Content Marketing and Content Syndication. Learn from their combined experience how to take advantage of content marketing for your business, no matter the size.
---
Related Articles
Photo Credit:http://www.flickr.com/photos/awayukin/5296227340/