Social Media: Is Your CEO Clueless?
Is your CEO in tune with how your audience communicates and engages with your firm and brand on social media? If he's like over 2/3 of Fortune 500 CEOs, chances are the answer is no, based on recent research by Domo/CEO.com.
Fortune 500 CEOs aren't present on social media
68% of Fortune 500 leaders have no presence on any social network.
Despite the increased use of social media and the introduction of new social networks, Fortune 500 CEOs haven't increased their participation in the past year. (Here's the analysis of Domo/CEO.com's 2012 research.)
Of the one-third of Fortune 500 CEOs who have a social media presence, here's how their participation stacks up.
Three-quarters of Fortune 500 CEOs (or 76%)  participate on one social media platform.
One-fifth of Fortune 500 CEOs (or 19%) participate on two social media platforms.
Less than 5% of Fortune 500 CEOs participate on three or more social media platforms.
3 Fortune 500 CEO social media inactivity challenges
From a business perspective, CEO inactivity on social media is a serious problem for the following three reasons.
These executives haven't experienced social media personally. While they may have read about these networks and seen corporate and/or agency presentations, there's a real difference between being a social media voyeur and an active social media participant, even if it's only for personal use.
These executives approve increasing social media budgets, both financial and personnel without understanding how they achieve business goals – including brand awareness, lead generation, sales process and fan support. From an accountability point of view, their approval appears to be a rubber stamp lacking knowledge of how their funds are being used.
These executives haven't lived through their organization's social media experience from their prospects' perspective nor have they engaged with their customers on social media.  As a result, their prospects, customers and fans feel that these CEOs are out of touch.
Social Media: Fortune 500 CEOs – do as I say not as I do
Of the 9 Fortune 500 Social Media Stars, only Facebook's CEO Mark Zuckerberg is actively involved on social media. 6 CEOs of the top engaged social media Fortune 500 companies are NOT on social media including GM's Dan Ackerson, Aflac's Daniel Amos, Visa's Charles Scharf, AT&T's Randall Stephenson, Safeway's Steven Burd and Coca-Cola's Muhtar Kent.
Fortune 500 CEOs have influence
Social media engaged Fortune 500 CEO's have more influence. The average Klout score is 59 for a Fortune 500 CEO versus 46 for the average Inc 500 CEO.
Examine the most influential social media Fortune 500 CEOs and you'll see that their influence on social media derives from their position and offline influence. 
Among Fortune 500 CEOs, Warren Buffet has a Klout score of 90, Rupert Murdoch has a Klout score of 90, and Marissa Mayer has a Klout score of 85. By contrast, only Inc 500 Chairman Dave Kerpen has a similarly high Klout score of 85.
7 Recommendations for Fortune 500 CEO who are new to social media
Your c-suite shouldn't waste their day trolling Facebook or other social networks – they should be strategically using these platforms. Here are 7 actionable marketing recommendations to get your CEO active on social media.
Test various social media platforms to get a feel for how users engage. Also, experience your brand and competitors' brands on these platforms to understand what's working and what's not. Of course, it's important to ensure that your company has a set of social media guidelines defining what employees and customers can do on your organization's social media profiles.
Build your thought leadership platform. Create content aligned with your business's brand and messaging. Develop a blog or regular video or podcast show to communicate with prospects, influencers, customers, fans, suppliers and/distributors. For example, Bill Marriott has a blog called Marriott on the Move. He is transparent about how he crafts his posts.
Be a guest on a major Twitter chat, podcast or video. Another variation is to be interviewed on a blog, podcast, or video. This is a great way to leverage other established influencers' audiences.
Write guest posts. Convey your thoughts on other people's platforms to reach a broader audience.
Share your presentations from corporate events and other conferences. Use SlideShare and videos to distribute information.
Curate content related to your business focus. This is an area where support staff can research information to share whether it's on a social media platform or as part of an article or blog post. For example President Obama, adds his initials to his personal tweets.
Host a Google+ Hangout to answer customer questions. If Vice President Joe Biden can engage with the public on this forum, so can you!
It's important to interact with your prospects, customers and fans. Research shows that customers want to see senior executives on social media. This means that CEOs must understand the array of social media options available to them and their organizations and be transparent and engage on social media without a script and a pre-selected audience. So skip the promotion and show that you're a real person, not an empty suit.
What recommendations do you have for CEOs who still haven't joined the social media ecosystem?
Happy Marketing,
Heidi Cohen
---
---
For those of you in Raleigh, NC, please join me for Internet Summit November 11th through 13th.
Use the code HEIDI50 to save $50 OFF any pass level.
---
Even though Content Marketing World is finished until next September, you can still get all the content from 2014's exciting conference. The CMWorld On Demand package includes: Audio and video from the 2014 keynote sessions, audio and PowerPoint presentations of all the breakout sessions, over 40 audio sessions from the leading B2B and B2C brands, as well as keynote video performances.
---
Free Webcast!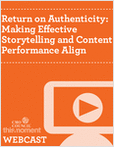 Join the discussion on Wednesday, October 29, 2014 at 10:00 AM PT/ 1:00 PM ET with Nancy Slavin, SVP of Marketing, Macy's Merchandising Group, and Dan Kimball, CMO, Thismoment.
According to research by Nielsen, 70 percent of global consumers trust online consumer reviews and rate reviews as the second most trusted form of advertising. And according to BazaarVoice, when it comes to trust, marketers may as well eliminate their own brand websites as a fountain of customer trust as only 16 percent of US consumers said they trust the content on a brand's website compared to the 51 percent who trust content generated by other users.
Today's digital currency is arguably authenticity, and what attracts customers - especially the digitally dependent, savvy millennial - is not just content. It is the delivery of authentic, unvarnished content from their peers.
Join the CMO Council on Wednesday, October 29, at 10am PST/ 1pm EST for a one-hour webcast that will invite industry experts in content marketing and user-generated content who are effectively leveraging authentic storytelling as part of their content marketing strategies. We will also feature an interactive Q&A session at the conclusion of the speaker presentations.
---
Related Articles
Photo Credit: https://twitter.com/WarrenBuffett