8 Steps To Produce Content That Grabs Your Audience
I'm often asked, "How do you continually create such great content without ever seeming to run out of ideas?"
Like many of you, I didn't grow up with a keyboard at my fingertips. I've had to learn how to get the content to flow from my brain to the page through continual practice.
Here are eight steps to get your content marketing creation on track.
(This process also works for blogging.)
1.

Know the goal of each specific piece of content.

To have an effective content marketing plan, you need to understand your overall business objectives and develop tactics to achieve them. These high level content marketing goals generally focus on building brand, acquiring customers and increasing sales. From that, each piece of content should have a sub-goal to ensure it helps achieve this end. This sub-goal contributes to forming and positioning your content.
2.

Understand your audience for each content item.

To make your content personal and effective you need to write for a particular audience. You can't talk to an amorphous public. Answer these questions before diving in (To this end, it's useful to develop a marketing persona):
Who is your writing speaking to?
What are they looking for from you that no one else can supply?
What needs is your content fulfilling?
3.

Build your overarching editorial calendar.

Developing an on-going calendar in terms of seasonality, holidays and promotions contributes to your content. (Here are thirteen steps for developing a promotional calendar.) It provides supporting elements in terms of information and topics.  For example, Valentine's Day is very important for candy and flower shops but is meaningless for B2B offerings.
4.

Develop a structure for your content offering.

Take the old-fashioned magazine editor approach. Think in terms of regular columns and departments. While at the heart of an editorial calendar, this step can be difficult to construct the first time. To help the process, plan short term – four weeks or two weeks. (I call this approach: the Cliff Notes Editorial Calendar.)
Report the news in your niche. Give the latest news your own spin. Provide your readers with a curated offering of the must-read content in your field.
Create regular columns on a broad topic written by the same person. For example, I wrote the Actionable Analysis Column for ClickZ. While the content varied, every article showed how to measure results from your marketing. The person writing the column should have expertise in the field.
Answer customer questions. This type of column is easy to structure since you're responding to your prospects' top issues. Sales, customer service or marketing can write answers.
Offer product education. Explain your product to your target market. This can in the form of instructions. Take a page from Khan Academy,  a free source of online education in the form of short videos and make sure that it's fun.
Provide expert Q&A. Like an interview or set of questions, allow the thought leaders in your niche to respond.
Celebrate the holidays. Find an angle to highlight your company when discussing the holidays.
Distribute new product information. Share this content monthly or seasonally. Create a format that's easy to use on a routine basis.
Leverage customer stories. Ask your customers to help you by telling their stories related to your products. It can be text or images.
Share your employees' expertise. Have your staff provide targeted insights.
Curate other people's content. Select the best of the information in your category to spotlight.
5.

Determine types of content to present.  

Content marketing is no longer just text. Assess what works best for your audience and your content creators. Then develop special features around this content.  
Create video for the small screen. Develop short videos. They don't need to be high quality to be effective.
Let them hear your voice with audio. Create a regular podcast to talk with your audience.
Show your audience. Use photographs, images, presentations and infographics to engage with your audience.
6.

Choose the appropriate distribution channel for the content.

Determine where your content will appear and the impact that this will have on how your readers view and consume your content. Consider online (including website, email and feeds), social media (including blogs) and offline (including conferences and retail establishments.)
7.

Keep a list of potential post ideas and related information.

Don't just leave a hastily scribbled title, add your related thoughts and points. If you were inspired by a specific piece of research or article include a link. The goal is to build a working column outline over time so that by the time you sit down at the computer, your post is almost written.
Use a moleskine. This is an offline option for those who like pen and paper.
Keep a Word file on your computer, smartphone or tablet. Personally, I use a combination of a Word document and a pad of notes.
Try Evernote. This software helps you to organize notes and links.
8.

Track your content results to see what resonates best with your audience.

Use metrics that can be associated with your overall business goals. The aim from the perspective of content creation is to find out which topics resonate best with your audience as well as the format.

To create stellar content on a continual basis requires building your content creation habits and developing a framework for collecting and brainstorming story ideas. Be opportunistic. You can't always plan what's going to happen. Therefore be willing to take advantage of breaking news to address whatever's hot. That said, understand how it relates to your audience and their needs because what works for others may not work for you.

What are your tricks for continually creating stellar new content?

Happy Marketing,
Heidi Cohen
---
---
Even though Content Marketing World is finished until next September, you can still get all the content from 2014's exciting conference. The CMWorld On Demand package includes: Audio and video from the 2014 keynote sessions, audio and PowerPoint presentations of all the breakout sessions, over 40 audio sessions from the leading B2B and B2C brands, as well as keynote video performances.
Social Media Marketing World — San Diego — March 25-27, 2015.

Register Now and Save $500!   Limited time offer.
Register Now for the Intelligent Content Conference.
An annual gathering of the best and brightest content professionals on the planet. People who know the secrets (and are willing to share them). People who value content as a business asset. People who have made it their life's work to develop repeatable, systematic approaches to producing amazingly effective content.
---
Free Webinar!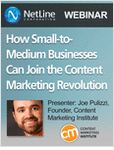 Join the discussion on Tuesday, December 2 - Time: 2 PM (EST) / 11 AM (PST) to learn how small and medium sized businesses don't have to have an entire content marketing organization (or budget) to be successful in content marketing.
Joe Pulizzi, Author and Founder of Content Marketing Institute and Werner Mansfeld, President of NetLine Corp, discuss realistic and actionable methods for your company to get awareness, consideration and sales leads using marketing content – without the budget or resources of an enterprise-level organization.
Date: December 2nd, 2:00 pm EST/12:00pm CST/11:00 am PST
Here are just some of the questions you'll get answered:
What is content marketing and why is it important?
What do I need to have in place to compete effectively using content marketing?
How do I drive sales leads and get a positive ROI using content marketing?
How can my small business (or budget) compete with my larger competitors using content marketing?
What can I start doing today to start seeing results?
Joe Pulizzi and Werner Mansfeld are experts in Content Marketing and Content Syndication. Learn from their combined experience how to take advantage of content marketing for your business, no matter the size.
---
Related Articles
Photo Credit: Bettmann Archives