Is Your Brand In Shape For The Summer?
Summer is in full swing.
Is your brand summer-ready?
If you're like many marketers and businesses, you probably leave your branding on autopilot.
Like your wardrobe, the reality is you must update your brand on a regular basis.
Otherwise, your brand looks past its prime.
You don't want that to happen. Do you?
Instead, you want to keep your brand fresh and sexy. Right???
RECOMMENDED READING
15 Summer branding tips your business needs
To get your brand in shape for the summer, here are 15 summer branding tips.
1.

Lose your brand's extra winter weight

Get your brand in shape for summer. Examine your brand's presentation across channels (owned, social and third party) to determine where you can eliminate excess text and graphics.

Actionable Summer Branding Tips:
Take a "less is more" approach across owned online and offline properties including social media.
Simplify your online content. Streamline your information. Make it easy for your audience to find what they want and move on.
Put your old or, even worse, expired messages into storage. Nothing says no one's home more than a Christmas message that's still hanging around in July.
Align your brand attributes with the summer theme. Don't give the impression your brand should be on the off-price rack because it's out-of-date.
Eliminate clutter and reduce the number of messages. Don't give your audience too many choices. Otherwise, they're gone because it's too much effort to choose.
If you do marketing for a health club or gym, summer is a difficult season. Everyone wants to be in shape to wear a bathing suit. BUT members are active outside. Here's how New York Health & Racquet Club looses its winter weight.

2. Emphasize your summer brand color palette
Color is an important branding attribute. Be strategic in you use of your summer brand's colors.
Actionable Summer Branding Tips:
Select summer shades aligned with your brand's core colors (where possible). This doesn't work for every brand. It may require creativity to give your brand a color boost of summer vitality.
Substitute light for color changes. Ever noticed how sunlight is even brighter in the summertime? Instead of brand color modifications, change the lighting in your images.

3. Let your content be inspired by summer themes
Take advantage of summer themes and events.
Actionable Summer Branding Tips:
Include summer topics into your editorial calendar. Leverage existing events to support summer content creation. Don't forget to put summer in the title!! Spotlight aspects of your brand associated with summer activities. Use these 50 summer headlines for inspiration.
Repromote existing summer content.  Maximize your investment in past summer content. At a minimum, repromote it.
I love this summer engagement post from Taco Bell.
4.

Take your brand visuals outside (including your office or store)

Your brand, especially on social media, must be seasonally correct. The easiest way to do this is to show photographs of your employees where they're engaged in summer activities.

Get your brand outside. Summer is a time to get out and be active. Ask how your brand can socialize this summer. Show your brand on the beach, in the mountains, or it wherever makes sense for your brand and company.  This includes your products, employees and customers.

Actionable Summer Branding Tips:
Refresh your social media images with a new summer look. Show your social media audience that you're up-to-date and around by adding new, seasonally correct photographs including your current offering.
Incorporate non-verbal summer cues into your brand visuals, video and content.

5. Don't let your brand go on vacation
Even if your employees take vacation, don't let your brand loose its visibility in the summer heat.
Actionable Summer Branding Tips:
Stay active on social media. Incorporate a summer feel in your posts where appropriate and when it relates to your brand and products.  Highlight summer uses for your offering.
Create a steady stream of summer-relevant content. Keep serving your audience fresh content on a regular schedule.
Respond to prospects and customers inquiries via social media, your website, email and phone. Prospects want information when they want it, not when your employees are available. If your customer service team isn't available 24/7, note this on each channel and set response expectations.
The summer branding tips bottom line:
You have to continually keep your brand up-to-date or it looks behind the times.
Every marketer can accomplish this with a little planning and creativity.
Remember brand consistency is key to keeping your brand top of mind.
Ideally consider how to spiff up your brand for the summer when you're planning other summer marketing. This way you can minimize your marketing expense.
Also get your customers and social media followers into the game. It's summer time and everyone wants to have fun. At a minimum, use social media photos and videos to strut your summer brand.
What other brand factors do you check seasonally and why?
Happy Marketing,
Heidi Cohen
Editor's Note: This post was originally published on May 23, 2014.
Join Heidi Cohen and fellow marketers at the mega-conference designed to inspire and empower you—Social Media Marketing World 2017, brought to you by Social Media Examiner.
Discover the best and newest ways to market your business on Facebook, Instagram, LinkedIn, YouTube, Twitter, Pinterest and Snapchat.
The event takes place March 22-24, 2017, in San Diego. Actionable Marketing readers get an early registration discount.
Act by Friday – Save $100!
---
Free Guide
If you fail to make a change in your behavior, you are taking the long path to success.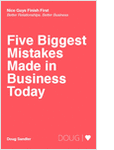 Why is it that some people in business succeed while others have challenges on a daily basis that they can't seem to figure out? Maybe, the success stories have done enough things wrong, enough times, to figure out what it is that they are doing right.
Learning the 5 biggest mistakes and putting a stop to them will help you:
Build better relationships
Avoid costly errors
Increase productivity and efficiency
Expand your sales
To put yourself on the short track to success in business and in life, make these changes quickly, without hesitation and continue to review your progress daily.
Photo Credit: Christopher Campbell via https://unsplash.com/photos/vTru22pWbGM