5 Actionable Storytelling Tips For Your Content Marketing
You can have the most useful information in the world for your target market but if you don't package it so your audience can understand, it's useless. You literally have seconds to win your audience's attention or they're onto the next thing.
How do you make your content stand out and grab your audience's attention? Tell a good story. It provides an emotional connection and context that draws your audience in and makes them remember it.
Recently, a colleague made a presentation on the mechanism for measuring and improving customer satisfaction. Instead of providing the more accessible, consumer-friendly background for word of mouth marketing and how to use it to improve the customer experience, he jumped straight into the nuts and bolts of his presentation losing a significant portion of his audience in the transition.
Why? They had no context in which to understand the facts he presented.
If he had started with a story, he would have positioned the topic in terms the audience could emotionally connect with. As a result, he could have turned a good presentation into a great presentation.
Like my colleague, most marketers would be more effective if they incorporate stories into their content to make them memorable and actionable. Here are 5 actionable storytelling tips to make your content come alive for your audience.
Understand the basic story archetypes. Dating back to myths and the Bible, the goal is to leverage these universal storytelling forms. Christopher Booker outlines the 7 main story archetypes in his book, The Seven Basic Plots: Why We Tell Stories

(Amazon link).

They are:


Overcoming the monster
Rags to riches
The quest
Voyage and return
Comedy
Tragedy
Rebirth

Understand that Booker is referring to classic stories such as Shakespeare's Hamlet and Homer's The Odyssey.

Create a strong protagonist with whom your audience can identify. This means consider your audience and what's relevant to them, not to your boss. Your central character doesn't have to be larger than life but rather someone who your audience can relate to. It can be 

Harry Potter or 

the AFLAC duck.
Incorporate the basics every journalist uses: who, what, when, where and why, This information adds credibility to your story.
Add a moral arc. Your story must contain and reaffirm a lesson your audience already knows. Think of Aesop's classic fables with moral at the end.
Use rich details to make the story real. The more specific you are, the more universal your story becomes. Make your stories visual for your audience.
Start with a short example that makes your point tangible to your audience. Think basic story: beginning, middle and end. The beauty of this approach is that you give your reader something they can relate to and remember. This provides a useful context for the more complex information you want to share.
Once you're finished developing your content, review it in its entirety to ensure it provides a consistent story that makes sense and is memorable for your audience.
What has your experience been incorporating stories in your content and what were the results.
Happy Marketing,
Heidi Cohen
---
---
Even though Content Marketing World is finished until next September, you can still get all the content from 2014's exciting conference. The CMWorld On Demand package includes: Audio and video from the 2014 keynote sessions, audio and PowerPoint presentations of all the breakout sessions, over 40 audio sessions from the leading B2B and B2C brands, as well as keynote video performances.
Social Media Marketing World — San Diego — March 25-27, 2015.

Register Now and Save $500!   Limited time offer.
Register Now for the Intelligent Content Conference.
An annual gathering of the best and brightest content professionals on the planet. People who know the secrets (and are willing to share them). People who value content as a business asset. People who have made it their life's work to develop repeatable, systematic approaches to producing amazingly effective content.
---
Free Webinar!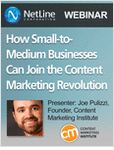 Join the discussion on Tuesday, December 2 - Time: 2 PM (EST) / 11 AM (PST) to learn how small and medium sized businesses don't have to have an entire content marketing organization (or budget) to be successful in content marketing.
Joe Pulizzi, Author and Founder of Content Marketing Institute and Werner Mansfeld, President of NetLine Corp, discuss realistic and actionable methods for your company to get awareness, consideration and sales leads using marketing content – without the budget or resources of an enterprise-level organization.
Date: December 2nd, 2:00 pm EST/12:00pm CST/11:00 am PST
Here are just some of the questions you'll get answered:
What is content marketing and why is it important?
What do I need to have in place to compete effectively using content marketing?
How do I drive sales leads and get a positive ROI using content marketing?
How can my small business (or budget) compete with my larger competitors using content marketing?
What can I start doing today to start seeing results?
Joe Pulizzi and Werner Mansfeld are experts in Content Marketing and Content Syndication. Learn from their combined experience how to take advantage of content marketing for your business, no matter the size.
---
Related Articles
Photo Credit: http://www.flickr.com/photos/julien_harneis/6848958117/