7 Actionable Social Media Marketing Tactics
If you're looking for your customers, you'll find them on social media because that's where they spend the largest portion of their time online.
As daunting as the challenges of effective social media marketing can be with the multitude of different platforms, many-to-many communication, and general aversion to promotional-speak, marketers must be there to catch prospects by fitting into their lifestyle.
Based on recent Experian Marketing Services data, participants in the United States spend over a quarter of their PC Internet time on social media. If all of their online time was compressed into one hour, then 16 minutes or 27% of the hour would be spent on social networking and forums. This is more time than the next two largest categories combined, specifically entertainment (9 minutes) and shopping (5 minutes). Both business and email lag at 3 minutes each.
By contrast, participants in the United States spend about 15% of their mobile time on social media. This time is less than that spent on email, which accounts for 23% of their mobile time. This is interesting since both social media and email are considered content snacking activities that can be done concurrently with other tasks or in short periods of time.
To ensure that your marketing is integrated into your prospects and customers' social media experience, here are seven actionable marketing tactics. 
Know your target audience. Go beyond marketing persona basics. Take time to become acquainted with the details about your prospects, influencers, decision makers and customers. Actionable Social Media Tactic: Understand which social media platforms they use and how they engage on them.
Target your social media message. Based on your audience segment and your business goals, craft your communications to meet your market's needs. This message must sound like a real person not an anonymous organization. Actionable Social Media Tactic: Remember on social media your content must be associated with a real person.
Select the social media venues where you'll place your message. Make your decision based on where your target audience is active on social media. Go to the platforms your audience uses as opposed to hoping that they'll follow you. Actionable Social Media Tactic: Depending on your business focus, include your blog, LinkedIn, Twitter, Facebook, Google+, YouTube (Note: Some research firms consider YouTube to be a video site not a social media entity) and Pinterest. Actionable Social Media Tactic: Go beyond the basic venues and test newer options such as SlideShare, Tumblr, Instagram and Quora.
Incorporate your 360° brand into your social media engagement. Ensure that your audience recognizes your interactions and content without needing to see your brand name. Actionable Social Media Tactic: Use colors, fonts, language, and images to distinguish your brand from your direct and indirect competitors in short snippets of commentary, images and text.
Provide information your audience finds useful. While marketers must be on social media to interact with their target customers, it's critical to bear in mind that participants are on social media to engage with other family and friends, not marketers. Don't just assume that people want to hear your advertising, time after time. Actionable Social Media Tactic: Social media content works best when it doesn't appear to be sales promotion. Give your readers content that's related to your product but focused on their needs.
Include a social media call-to-action. Ask your audience to help you in return for your information. This doesn't allow you to harass them but rather make the relationship a mutually beneficial one. Actionable Social Media Tactic: Make your call-to-action contextually relevant.
Track your social media related results. Measure how well your social media marketing is doing. Actionable Social Media Tactic: Focus on those metrics that tell you whether you've moved your business forward.
Just as social media is integrated into your prospects and customers' lives, it must be integrated into your marketing. Social media requires on-going engagement at all levels of your organization. It's not a one-size fits all medium.
How does your organization approach social media and what has your experience been?
Happy Marketing,
Heidi Cohen
---
---
Even though Content Marketing World is finished until next September, you can still get all the content from 2014's exciting conference. The CMWorld On Demand package includes: Audio and video from the 2014 keynote sessions, audio and PowerPoint presentations of all the breakout sessions, over 40 audio sessions from the leading B2B and B2C brands, as well as keynote video performances.
Social Media Marketing World — San Diego — March 25-27, 2015.

Register Now and Save $480!   Limited time offer.
Register Now for the Intelligent Content Conference.
An annual gathering of the best and brightest content professionals on the planet. People who know the secrets (and are willing to share them). People who value content as a business asset. People who have made it their life's work to develop repeatable, systematic approaches to producing amazingly effective content.
---
Free Webinar!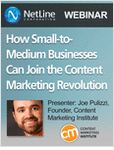 Join the discussion on Tuesday, December 2 - Time: 2 PM (EST) / 11 AM (PST) to learn how small and medium sized businesses don't have to have an entire content marketing organization (or budget) to be successful in content marketing.
Joe Pulizzi, Author and Founder of Content Marketing Institute and Werner Mansfeld, President of NetLine Corp, discuss realistic and actionable methods for your company to get awareness, consideration and sales leads using marketing content – without the budget or resources of an enterprise-level organization.
Date: December 2nd, 2:00 pm EST/12:00pm CST/11:00 am PST
Here are just some of the questions you'll get answered:
What is content marketing and why is it important?
What do I need to have in place to compete effectively using content marketing?
How do I drive sales leads and get a positive ROI using content marketing?
How can my small business (or budget) compete with my larger competitors using content marketing?
What can I start doing today to start seeing results?
Joe Pulizzi and Werner Mansfeld are experts in Content Marketing and Content Syndication. Learn from their combined experience how to take advantage of content marketing for your business, no matter the size.
---
Related Articles
Photo Credit: http://www.flickr.com/photos/37054091@N06/6116205219/