A New Thanksgiving Tradition
Every family has its Thanksgiving traditions.
I never thought much about this as a child since my mother always made all of the holiday meals. Until one year when my parents and grandmother had a wedding to attend. As a result, we kids were left with my grandparents to have Jewish cold cuts. My grandfather's one concession to the holiday was a can of corn. Not what we considered holiday fare.
That said, my family continues to create new holiday traditions. This year, we're adding potato latkes and applesauce to the turkey dinner.
From a social media, digital perspective, I'm taking a tip from my friends, Jon Loomer and Barry Feldman and thanking my social media colleagues and others who have inspired me during the past year. Here's to my new tradition of social media thank you's.
First and foremost, my thanks goes to:
My readers and subscribers, who constantly challenge me to create great content.
My students at universities and other programs, who have taught me to become a better teacher.
Next my thanks goes to Joe Pulizzi and Mike Stelzner for being our content marketing and social media sherpas respectively.
Joe Pulizzi, Pam Kozelka, Michele Linn, Kelley Whetsell, Jodi Harris, Cathy McPhilips and the rest of the Content Marketing Institute gang for inviting me to join your ranks as a contributor, speaker and more. Also, a special shout out to Joe for his tireless work as the face of "Content Marketing" as we know it today and for his book, Epic Content, that lays out an action plan for creating, well I can't say it any better, epic content.
Mike Stelzner, Cindy King, Phil Mershon and the rest of the Social Media Examiner team for selecting me to be one of top 10 social media bloggers two years in a row and including me on their blog and in their events.
My thanks goes to this list of amazing people who are doing great things in the social media and content marketing space. Collectively you make us all a little smarter and add cheer to our lives one word or tweet at a time. I'm sure that there are important people I've left off of this list. If you are one of these, please accept my humble thanks and apologies.
Jay Baer of Convince and Convert, for his great insights and incredibly useful book, Youtility
David Berkowitz of MRY for continuing to push the boundaries of what new devices and platforms can do to help marketers.
Michael Brenner of SAP and the B2B Insider blog for showing us how to leverage opportunities within a large corporation.
Susan Borst of the IAB for being a friend in this social media ecosystem.
Cheryl Burgess and Tom Pick for including me in their Nifty 50 Women of Twitter.
 C.C. Chapman author of Amazing Things Will Happen and co-author of Content Rules
Ian Cleary of Razor Social for letting his inner geek guide us through the new social media tools.
Andy Crestodina of Orbit Media, for always being ready to help and willing to try new ways to push the marketing envelope.
Mack Collier for being the #BlogChat ringleader.
Ric Dragon of Dragon Search and author of Social Marketology for being a great teacher and friend.
Barry Feldman, author of The Plan to Grow Your Business with Effective Online Marketing, a free e-book.
Clark Fredricksen of eMarketer, for being the one of the best PR folks. He's quick to respond and always helpful as well as an all around friendly guy.
Ann Handley of MarketingProfs and co-author of Content Rules, for showing us the power of content from her early days at ClickZ until now.
Dave Kerpen, of Likeable Media and Author of Likeable Business and  Likeable Social Media, for showing us how to break the rules to find new ways to succeed while having fun.
Arnie Kuenn of Vertical Measures and author of Accelerate for his friendship and support.
Rebecca Lieb, author and my first editor at ClickZ, who continues to be an inspiration with her thought leadership as a member of the Altimeter team.
Jon Loomer for being a friend.
Jon Morrow, who shows us how to show up at the page and create amazing content without letting anything hold us back.
Lee Odden author of Optimize, as well as his wonderful wife, Susan Miskanis, for being a pioneer on this social media, content journey.
Dayna Rothman of Marketo for making corporate content marketing look effortless when it's anything but.
Todd Wheatland of Kelly Services and author of Slideshare, for showing us that it's worth testing new platforms and connecting the dots to prove its worth.
To the men who are the rock of this blog and its unsung heroes, I thank you from the bottom of my heart.
S. I. Brown for his support behind the scenes by providing wise insights and good counsel.
Michael Pinto of Very Memorable Design, for enhancing my blog with his great design.
Larry Aronson of Larry Aronson Associates, my webmaster, for his patience in handling all of my technical challenges to WordPress and beyond.
Lastly to my father, Norman Cohen, for teaching me about the media business first hand, and to my mother, Elaine Cohen, for teaching me about how to be social before there was social media and to have big dreams. I'm lucky to have you in my life through the good times and the bad times.
Wishing you and yours a memorable and heartfelt Thanksgiving with those you love.
Happy Marketing,
Heidi Cohen
P.S. We will not be publishing on Thursday, November 28th or Friday, November 29th in honor the Thanksgiving holiday in the U.S.
---
---
Even though Content Marketing World is finished until next September, you can still get all the content from 2014's exciting conference. The CMWorld On Demand package includes: Audio and video from the 2014 keynote sessions, audio and PowerPoint presentations of all the breakout sessions, over 40 audio sessions from the leading B2B and B2C brands, as well as keynote video performances.
Social Media Marketing World — San Diego — March 25-27, 2015.

Register Now and Save $480!   Limited time offer.
Register Now for the Intelligent Content Conference.
An annual gathering of the best and brightest content professionals on the planet. People who know the secrets (and are willing to share them). People who value content as a business asset. People who have made it their life's work to develop repeatable, systematic approaches to producing amazingly effective content.
---
Free Webinar!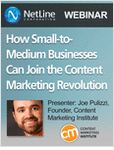 Join the discussion on Tuesday, December 2 - Time: 2 PM (EST) / 11 AM (PST) to learn how small and medium sized businesses don't have to have an entire content marketing organization (or budget) to be successful in content marketing.
Joe Pulizzi, Author and Founder of Content Marketing Institute and Werner Mansfeld, President of NetLine Corp, discuss realistic and actionable methods for your company to get awareness, consideration and sales leads using marketing content – without the budget or resources of an enterprise-level organization.
Date: December 2nd, 2:00 pm EST/12:00pm CST/11:00 am PST
Here are just some of the questions you'll get answered:
What is content marketing and why is it important?
What do I need to have in place to compete effectively using content marketing?
How do I drive sales leads and get a positive ROI using content marketing?
How can my small business (or budget) compete with my larger competitors using content marketing?
What can I start doing today to start seeing results?
Joe Pulizzi and Werner Mansfeld are experts in Content Marketing and Content Syndication. Learn from their combined experience how to take advantage of content marketing for your business, no matter the size.
---
Photo Credit: http://www.flickr.com/photos/rockinfree/4136673433/