How To Sell On Social Media Without Pissing Off Prospects
Does your social media scream buy, buy, buy?
If it does, it's possible that your prospects are going bye, bye.
People spend time on social media because they want to. They use social media to socialize with their family, friends and colleagues and to see what's going on that's of interest to them. In this context, a fire hose of endless promotions doesn't stand a chance of attracting their attention.
To leverage the power of social media to support your marketing plans, strip away the promotional and sales hype.
Instead, focus on sharing and interacting with your prospects, customers, fans and the public to become an integral part of the community. You must find a place in their social graph or they won't pay attention to you.
Use social media to build relationships and prime prospects so that they're predisposed to place your brand and products in their consideration set. One of the best ways to accomplish this is to provide the quality information they seek. 
Social media sales [Research]
When considering the effectiveness of different social media options for driving shopping, examine a variety of different metrics. Facebook trumps when it comes to shopping visits based on Shopify's March 2014 results.
Facebook accounted for 63% of all social media driven visits. 85% of all orders from social media came from Facebook. Facebook's relative size is a critical factor.

Facebook's shopping conversion rate is 1.85% and video's conversion rate is 1.16%. Participants seek sales on Facebook. But underestimate the power of video at your peril. Prospects want to see your product in context being used.
5 Ways to generate social media sales without being promotional
So how do you avoid sounding like a used car salesperson on social media and still drive sales? Here are 5 tips for how to sell on social media without being pushy.
1.

Share useful, quality content your audience actively seeks.

Skip the marketing-speak and promotions. No one likes being screamed at.

Create content that your target audience and key influencers seek before they purchase. This means the 5 basic content formats: production information, answer customer questions, explain how to use your products, show customers how to style your products, and offer customer ratings and reviews.

To see well this approach works, check out how Marcus Sheridan generated $2 million from one blog post.

Actionable Social Media Tip: Always incorporate at least one social media call-to-action to guide prospects along the purchase path. Also, don't force them to just purchase. Offer them other alternatives to stay in touch with you.
2.

Create a "deal of the day" social media account.

This is a spin on Woot, an etailer started by making single deal each day. The day's product was on sale for 24 hours or until it sold out, whichever happened first.

Ideally, use a tailored account to announce these deals such as a special Twitter account.

Actionable Social Media Tip: Offer products of value. Don't just fill this feed with leftovers and poor quality product since this will reflect poorly on your brand. Leverage the power of the number of items or timing to enhance gamification and interaction.
3.

Target offers specifically for your social media followers.

Understand that millennials are in research mode when they use social media and like to be enticed to purchase with a discount or coupon. Create promotions that can only be received or used via a specific social media platform.

Be careful in your use of special social media promotions since you don't want to appear to just push deals on these platforms. Further don't train your audience to only look for your business on social media when they want a discount.

Actionable Social Media Tip: Make sure that your deal has legs. Allow followers to share it with their friends since a recommendation from someone they know improves conversion. But also get non-followers to engage with you in return for taking advantage of the sale.
4.

Support your social media engagement with social media based advertising.

Customers often need to see your brand and content more than once to be convinced to purchase. Contextually relevant social media advertising can be useful to accomplish this objective.

Actionable Social Media Tip: Take care when setting up your social media advertising to ensure that it's as effective as possible. This means determining your target audience, offer and landing pages. Don't take my word for it! Check out how Jon Loomer made 9.5 times ROI using Facebook ads (numbers included!) Spoiler alert: One of his biggest recommendations is to build your audience of prospects, customers and fans.
5.

Leverage expert endorsements.

Consumers don't trust marketers. Let others do the talking for you when it comes to explaining your products, especially experts. Understand that if you use this option, you can't eliminate all of the negative bits and selectively choose what you want to publish. Your audience is smarter than you give them credit for being.

Actionable Social Media Tip: Encourage influencers in your category to review and engage with your products on their own social media platforms rather than yours. In most cases, they have larger audiences than you do. Take advantage of their reach.

Sell on social media by providing your target shoppers with the information they want, when they want it and where they want it – not by pushing promotion after promotion.

Make sure that you incorporate a call-to-action to encourage participants to take the next step. Also, don't force them to give you their email address.

Continually test each element of your social media marketing and measure your results to yield the best results.

How do you get social media to sell without pissing off your prospects?

Happy Marketing,
Heidi Cohen
---
---
Even though Content Marketing World is finished until next September, you can still get all the content from 2014's exciting conference. The CMWorld On Demand package includes: Audio and video from the 2014 keynote sessions, audio and PowerPoint presentations of all the breakout sessions, over 40 audio sessions from the leading B2B and B2C brands, as well as keynote video performances.
Social Media Marketing World — San Diego — March 25-27, 2015.

Register Now and Save $480!   Limited time offer.
Register Now for the Intelligent Content Conference.
An annual gathering of the best and brightest content professionals on the planet. People who know the secrets (and are willing to share them). People who value content as a business asset. People who have made it their life's work to develop repeatable, systematic approaches to producing amazingly effective content.
---
Free Webinar!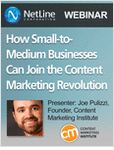 Join the discussion on Tuesday, December 2 - Time: 2 PM (EST) / 11 AM (PST) to learn how small and medium sized businesses don't have to have an entire content marketing organization (or budget) to be successful in content marketing.
Joe Pulizzi, Author and Founder of Content Marketing Institute and Werner Mansfeld, President of NetLine Corp, discuss realistic and actionable methods for your company to get awareness, consideration and sales leads using marketing content – without the budget or resources of an enterprise-level organization.
Date: December 2nd, 2:00 pm EST/12:00pm CST/11:00 am PST
Here are just some of the questions you'll get answered:
What is content marketing and why is it important?
What do I need to have in place to compete effectively using content marketing?
How do I drive sales leads and get a positive ROI using content marketing?
How can my small business (or budget) compete with my larger competitors using content marketing?
What can I start doing today to start seeing results?
Joe Pulizzi and Werner Mansfeld are experts in Content Marketing and Content Syndication. Learn from their combined experience how to take advantage of content marketing for your business, no matter the size.
---
Related Articles
Photo Credit: https://www.flickr.com/photos/mindaugasdanys/3766009204