7 Social Media Success Factors [Research / Charts]
Only 10% of B2C companies have organized their social media activities to yield ROI through significant improvement across different aspects of their business according to 3Q2013 by TCS.
For these B2C firms, social media is a game-changer requiring organizational and cultural transformation to maximize their investment.
Top 7 social media success factors based on global research
Based on the global research of TCS across North America, Europe, Latin America and Asia Pacific, the 7 elements of social media success are:
1.

Are transparent as an organization.

The social media leaders have a policy of corporate transparency among employees and customers.  For this to succeed, it's critical to have social media guidelines.
Further, the social media leaders tend to value and share customer input across functions.
2.

Use a variety of social media platforms.

Social media leaders employ a diverse set of social media tools. Specifically:
81% have corporate blogs.
77% have mobile apps for consumers who use social media.
61% have online video channels.
Facebook is the hands down, must have social media network, used by 88% of companies. (Want to diversify your social media offering? Here are 50 states of social media.)
3.

Invest in social media.

Social media isn't a free strategy. Social media requires investment to yield measurable results, even if it's in the form of employee time. Social media spending includes staff, technology, marketing agency fees, consulting services and other costs.

In 2013, this average social media spend per respondent will be $18.8 million and the median social media spend per respondent will be $2.7 million.

By contrast, social media leaders will spend an average of $28 million with a median of $7 million.
There's a big difference in the amount companies spend on social media.
37% of respondents' companies will spend less than $1 million this year on social media.
8% of respondents' companies will spend would spend at least $50 million. 
B2C companies spend less than a quarter of their big data budget on social media.
4.

Have internal social media team that works across functions.

Almost half of respondents centralized the social media function at the corporate level.
Social media leaders have small core social media team focused on social media strategy, best practices and metrics that they leverage across the organization. Social media staff matters! The average number of full-time social media employees was 56 and the median number of full-time social media employees was 19. One third of companies have 10 or less full-time social media employees and 17% have over 100 full-time social media employees. 
4 or more functions work together on social media for over a quarter of respondents.
5.

Involve employees from different functions in social media.

For an effective social media strategy, diverse input is required. At a minimum, the 3 front line functions, namely, marketing, customer service and sales, must be focused on what's being said on social media.

BUT, other departments should be involved in social media to gather useful input, namely R&D and product management.
27% of R&D/product development regularly view social media input.
37% of product management regularly view social media input.
6.

Control social media outside of marketing.

Marketing controls social media in over a third of companies, while 10% of companies have a special social media officer who is outside of marketing.

About half of B2C companies plan to restructure their social media function in 2014.
For leaders, social media is controlled by a variety of different functions.

7.

Measure social media ROI.

56% of respondents measure the return on social media investment. Location matters since companies in Asia-Pacific and Latin America were more likely to have a positive social media ROI than those in North America and Europe. (BTW–Here's the secret to making social media measurable.)
38% of B2C firms receive a positive social media ROI
18% of B2C firms receive a negative social media ROI
44% of B2C firms don't measure social media ROI. 
Leaders have over 3X the rate of positive social media ROI over followers. 
Ability to track social media ROI is related to having concrete goals and metrics in place. When it comes to social media, most B2C firms focus on branding. 
While closer examination shows that many of the 16 improvement attributes were brand related, social media improves sales and the related process as well as reducing a variety of costs. 
For B2C businesses, social media drives bottom line ROI. To maximize your organization's return, use these 7 social media factors as a guide to transform your business.
What else would you add to this list and why?
Happy Marketing,
Heidi Cohen
---
Join Heidi Cohen and fellow marketers at the mega-conference designed to inspire and empower you—Social Media Marketing World 2017, brought to you by Social Media Examiner.
Discover the best and newest ways to market your business on Facebook, Instagram, LinkedIn, YouTube, Twitter, Pinterest and Snapchat.
The event takes place March 22-24, 2017, in San Diego. Actionable Marketing readers get an early registration discount.
Act by Friday – Save $200!
---
Free eBook
How To Attract People That Actually want to Buy From You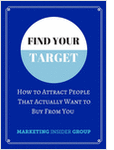 How can your marketing attract people that actually want to buy from you? It starts with understanding the real impact digital has had on publishers, on marketing, and on us as consumers.
Content marketing has emerged to combat these challenges. But...
What's the ROI?
How can you use content marketing to attract the right audience?
Inside this eBook, you'll learn tips and tricks to help you reach, engage, and convert new buyers to your business.

Related Articles
Photo Credit: http://www.flickr.com/photos/mkhmarketing/8468788107/