7 Social Media Success Factors [Research / Charts]
Only 10% of B2C companies have organized their social media activities to yield ROI through significant improvement across different aspects of their business according to 3Q2013 by TCS.
For these B2C firms, social media is a game-changer requiring organizational and cultural transformation to maximize their investment.
Top 7 social media success factors based on global research
Based on the global research of TCS across North America, Europe, Latin America and Asia Pacific, the 7 elements of social media success are:
1.

Are transparent as an organization.

The social media leaders have a policy of corporate transparency among employees and customers.  For this to succeed, it's critical to have social media guidelines.
Further, the social media leaders tend to value and share customer input across functions.
2.

Use a variety of social media platforms.

Social media leaders employ a diverse set of social media tools. Specifically:
81% have corporate blogs.
77% have mobile apps for consumers who use social media.
61% have online video channels.
Facebook is the hands down, must have social media network, used by 88% of companies. (Want to diversify your social media offering? Here are 50 states of social media.)
3.

Invest in social media.

Social media isn't a free strategy. Social media requires investment to yield measurable results, even if it's in the form of employee time. Social media spending includes staff, technology, marketing agency fees, consulting services and other costs.

In 2013, this average social media spend per respondent will be $18.8 million and the median social media spend per respondent will be $2.7 million.

By contrast, social media leaders will spend an average of $28 million with a median of $7 million.
There's a big difference in the amount companies spend on social media.
37% of respondents' companies will spend less than $1 million this year on social media.
8% of respondents' companies will spend would spend at least $50 million. 
B2C companies spend less than a quarter of their big data budget on social media.
4.

Have internal social media team that works across functions.

Almost half of respondents centralized the social media function at the corporate level.
Social media leaders have small core social media team focused on social media strategy, best practices and metrics that they leverage across the organization. Social media staff matters! The average number of full-time social media employees was 56 and the median number of full-time social media employees was 19. One third of companies have 10 or less full-time social media employees and 17% have over 100 full-time social media employees. 
4 or more functions work together on social media for over a quarter of respondents.
5.

Involve employees from different functions in social media.

For an effective social media strategy, diverse input is required. At a minimum, the 3 front line functions, namely, marketing, customer service and sales, must be focused on what's being said on social media.

BUT, other departments should be involved in social media to gather useful input, namely R&D and product management.
27% of R&D/product development regularly view social media input.
37% of product management regularly view social media input.
6.

Control social media outside of marketing.

Marketing controls social media in over a third of companies, while 10% of companies have a special social media officer who is outside of marketing.

About half of B2C companies plan to restructure their social media function in 2014.
For leaders, social media is controlled by a variety of different functions.

7.

Measure social media ROI.

56% of respondents measure the return on social media investment. Location matters since companies in Asia-Pacific and Latin America were more likely to have a positive social media ROI than those in North America and Europe. (BTW–Here's the secret to making social media measurable.)
38% of B2C firms receive a positive social media ROI
18% of B2C firms receive a negative social media ROI
44% of B2C firms don't measure social media ROI. 
Leaders have over 3X the rate of positive social media ROI over followers. 
Ability to track social media ROI is related to having concrete goals and metrics in place. When it comes to social media, most B2C firms focus on branding. 
While closer examination shows that many of the 16 improvement attributes were brand related, social media improves sales and the related process as well as reducing a variety of costs. 
For B2C businesses, social media drives bottom line ROI. To maximize your organization's return, use these 7 social media factors as a guide to transform your business.
What else would you add to this list and why?
Happy Marketing,
Heidi Cohen
---
---
For those of you in Raleigh, NC, please join me for Internet Summit November 11th through 13th.
Use the code HEIDI50 to save $50 OFF any pass level.
---
Even though Content Marketing World is finished until next September, you can still get all the content from 2014's exciting conference. The CMWorld On Demand package includes: Audio and video from the 2014 keynote sessions, audio and PowerPoint presentations of all the breakout sessions, over 40 audio sessions from the leading B2B and B2C brands, as well as keynote video performances.
---
Free Webcast!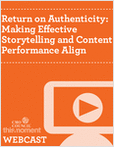 Join the discussion on Wednesday, October 29, 2014 at 10:00 AM PT/ 1:00 PM ET with Nancy Slavin, SVP of Marketing, Macy's Merchandising Group, and Dan Kimball, CMO, Thismoment.
According to research by Nielsen, 70 percent of global consumers trust online consumer reviews and rate reviews as the second most trusted form of advertising. And according to BazaarVoice, when it comes to trust, marketers may as well eliminate their own brand websites as a fountain of customer trust as only 16 percent of US consumers said they trust the content on a brand's website compared to the 51 percent who trust content generated by other users.
Today's digital currency is arguably authenticity, and what attracts customers - especially the digitally dependent, savvy millennial - is not just content. It is the delivery of authentic, unvarnished content from their peers.
Join the CMO Council on Wednesday, October 29, at 10am PST/ 1pm EST for a one-hour webcast that will invite industry experts in content marketing and user-generated content who are effectively leveraging authentic storytelling as part of their content marketing strategies. We will also feature an interactive Q&A session at the conclusion of the speaker presentations.
---
Related Articles
Photo Credit: http://www.flickr.com/photos/mkhmarketing/8468788107/