5 Tips To Track Your Social Media Efforts
Something's missing from social media marketing.
Here are some top line data points showing that, although the social media landscape continues to change, social media usage as a marketing vehicle is mature and widely accepted.
87% of US companies use social media for marketing purposes in 2013 according to eMarketer estimates. This figure is projected to remain relatively flat for the next few years.
74% of marketers and technology executives worldwide feel that social media has had a positive impact on their customer relations and interactions. In part, this follows from the widespread usage because if social media isn't supporting your business objectives, it's difficult to make the case for including it in your marketing budget and to sustain the effort across your organization.
5% of the executives surveyed believe that social media has had a transformational impact on their business! Unfortunately, the research didn't probe as to how social media changed this minority of companies. 
Social media marketing improves branding and customer relationships for over 80% of respondents. While important to marketing, these attributes don't provide any directly quantitative measurement. 
What's missing from this social media list?
There's no mention social media marketing's relationship to revenues (including lead generation) or profits, the elements businesses use to keep score of their success.
This, despite the fact that marketing's goal is to communicate to and engage with its target audience; to convey the value of its products and services and drive profitable sales.
Tracking social media results to sales can be difficult since it may not be the last piece of marketing touched before the purchase as is the case with search or affiliate sales. In part, this is why so many executives attribute improved branding to social media. They need to show that it's supporting their overall efforts in a measurable way in order to continue to provide budget and resources.
That said, at a minimum, measure related social media activity to be able to better refine your data and marketing over time. Ideally you need some form of social media metrics.
The "Social Media Metrics: What Does It All Mean?" panel members at MediaBistro's Inside Social Marketing Conference yesterday described how they measured the results of their social media efforts.
While investing in and building his prospect base, Facebook expert Jon Loomer is keenly focused on his ROI. The 2 bottom line metrics he tracks on his Facebook advertising campaigns are conversions and cost per click.
Alan K'necht found ways to track social media results for a NFP with no budget (literally $0!) and a target market of 150 families needed to raise $40,000. Along the way, K'necht used indirect metrics that he could ascertain until he could get more solid information. Ultimately, the NFP's Facebook page raised $30,000 while garnering press and support outside the target audience.
The bottom line take away for social media metrics:
Measure something related to your social media efforts, even if it's only vanity metrics such as shares and comments.
What does this mean for your business?
Start with goals. What do you want to accomplish? Is it to build sales or build your list, etc.  The bottom line is: if you don't know what you want to accomplish, it's hard to get there. You can modify your specific objectives over time.
Build relationships with your audience over time. Prospects may not be ready to engage with you the first time they interact with your company on social media but it's important to lay the foundation for future engagement.
Incorporate a call-to-action. It's difficult to track results if you don't ask for the sale. (Understand that this means that you need to be prepared to handle delayed responses that may occur on platforms like Pinterest.)
Follow social media activity to your website or other channel where prospects and customers can further their interaction. In most cases, this means a tailored landing page with appropriate tracking code.
Track social media metrics. If you don't have a direct way to measure activity related to your social media marketing like Jon Loomer, then find related indirect metrics to monitor the effectiveness of your social media efforts. Once you gain traction with these, then move to track more direct social media metrics.
Social media has become an integral part of today's marketing mix. Therefore, measure your results the best you can, even if it means starting with vanity social media metrics such as shares and fans.
What has your experience been tracking your social media results? What do you measure?
Happy Marketing,
Heidi Cohen
---
Join Heidi Cohen and fellow marketers at the mega-conference designed to inspire and empower you—Social Media Marketing World 2017, brought to you by Social Media Examiner.
Discover the best and newest ways to market your business on Facebook, Instagram, LinkedIn, YouTube, Twitter, Pinterest and Snapchat.
The event takes place March 22-24, 2017, in San Diego. Actionable Marketing readers get an early registration discount.
Act by Friday – Save $200!
---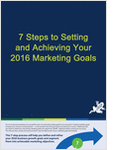 This 7-step process will help you define and refine your 2016 business growth goals and segment them into achievable marketing objectives.
You've set personal resolutions for yourself this year, but what about setting goals for your business? Creating marketing goals increases your chances of achieving them – so do yourself a favor this year and set yourself up for success.
Related Articles
Photo Credit: http://www.flickr.com/photos/goldberg/483891481/