Facebook, Twitter & Pinterest Drives Sales  [Research]
There's a lot of debate among marketers about whether social media drives sales or not. Since it's often difficult to track customers' paths from social media to purchase to advocacy, many marketers attribute social media's impact to early stage branding.
VisionCritical's "From Social to Sales" research consisting of 5,657 interviews in the US, Canada and Australia, taken from February 2012 to June 2013, provides insights into social media buying.
To increase your social media marketing effectiveness, here are 6 charts containing social media purchase research. This research data provides a breakout across Facebook, Twitter and Pinterest.
As the VisionCritical data shows, social media activity drives purchase. The challenge for marketers is to tailor their content marketing and interactions on various platforms to optimize social media purchasing.
What has your experience been leveraging social media platforms to drive sales?
Happy Marketing,
Heidi Cohen
---
---
Free Offer —
Usually $9.99, FREE for a limited time!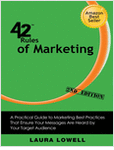 A practical guide to marketing best practices that ensure your messages are heard by your target audience.
The 42 Rules of Marketing is a compilation of ideas, theories, and practical approaches to marketing challenges the author has been collecting over the past 17 years.
The idea was to create a series of helpful reminders; things that marketers know we should do, but don't always have the time or patience to do.
The concept of the 42 rules is that almost anything in life can be summarized into 42 distinct ideas that capture the essence of the topic.
This offer will only be available until 11/20.
Related Articles
Photo Credit: http://www.flickr.com/photos/meiburgin/2884856072/