Facebook, Twitter & Pinterest Drives Sales  [Research]
There's a lot of debate among marketers about whether social media drives sales or not. Since it's often difficult to track customers' paths from social media to purchase to advocacy, many marketers attribute social media's impact to early stage branding.
VisionCritical's "From Social to Sales" research consisting of 5,657 interviews in the US, Canada and Australia, taken from February 2012 to June 2013, provides insights into social media buying.
To increase your social media marketing effectiveness, here are 6 charts containing social media purchase research. This research data provides a breakout across Facebook, Twitter and Pinterest.
As the VisionCritical data shows, social media activity drives purchase. The challenge for marketers is to tailor their content marketing and interactions on various platforms to optimize social media purchasing.
What has your experience been leveraging social media platforms to drive sales?
Happy Marketing,
Heidi Cohen
---
---
Even though Content Marketing World is finished until next September, you can still get all the content from 2014's exciting conference. The CMWorld On Demand package includes: Audio and video from the 2014 keynote sessions, audio and PowerPoint presentations of all the breakout sessions, over 40 audio sessions from the leading B2B and B2C brands, as well as keynote video performances.
Social Media Marketing World — San Diego — March 25-27, 2015.

Register Now and Save $480!   Limited time offer.
Register Now for the Intelligent Content Conference.
An annual gathering of the best and brightest content professionals on the planet. People who know the secrets (and are willing to share them). People who value content as a business asset. People who have made it their life's work to develop repeatable, systematic approaches to producing amazingly effective content.
---
Free Webinar!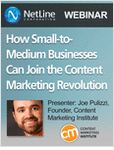 Join the discussion on Tuesday, December 2 - Time: 2 PM (EST) / 11 AM (PST) to learn how small and medium sized businesses don't have to have an entire content marketing organization (or budget) to be successful in content marketing.
Joe Pulizzi, Author and Founder of Content Marketing Institute and Werner Mansfeld, President of NetLine Corp, discuss realistic and actionable methods for your company to get awareness, consideration and sales leads using marketing content – without the budget or resources of an enterprise-level organization.
Date: December 2nd, 2:00 pm EST/12:00pm CST/11:00 am PST
Here are just some of the questions you'll get answered:
What is content marketing and why is it important?
What do I need to have in place to compete effectively using content marketing?
How do I drive sales leads and get a positive ROI using content marketing?
How can my small business (or budget) compete with my larger competitors using content marketing?
What can I start doing today to start seeing results?
Joe Pulizzi and Werner Mansfeld are experts in Content Marketing and Content Syndication. Learn from their combined experience how to take advantage of content marketing for your business, no matter the size.
---
Related Articles
Photo Credit: http://www.flickr.com/photos/meiburgin/2884856072/