Facebook, Twitter & Pinterest Drives Sales  [Research]
There's a lot of debate among marketers about whether social media drives sales or not. Since it's often difficult to track customers' paths from social media to purchase to advocacy, many marketers attribute social media's impact to early stage branding.
VisionCritical's "From Social to Sales" research consisting of 5,657 interviews in the US, Canada and Australia, taken from February 2012 to June 2013, provides insights into social media buying.
To increase your social media marketing effectiveness, here are 6 charts containing social media purchase research. This research data provides a breakout across Facebook, Twitter and Pinterest.
As the VisionCritical data shows, social media activity drives purchase. The challenge for marketers is to tailor their content marketing and interactions on various platforms to optimize social media purchasing.
What has your experience been leveraging social media platforms to drive sales?
Happy Marketing,
Heidi Cohen
---
---
Content Marketing World 2015   I'll be there. Come and join me!
Get $100 off the registration fee – use our promo code: Cohen
---
Free Stuff!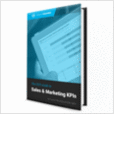 Learn the essential sales and marketing key performance indicators (KPIs) all data-driven CEOs should regularly track to align performance and demonstrate growth.
This 16-page eBook has the 4 most essential key performance indicator (KPI) dashboards for both sales and marketing that CEOs need to evaluate their company's performance in these areas. The eBook also has a one-page review for CEOs to use to help them manage their departments and demonstrate growth.
---
Related Articles
Photo Credit: http://www.flickr.com/photos/meiburgin/2884856072/