Social Listening: 12 Actionable Marketing Tips
Before engaging on social media, businesses should to listen to the conversation, specifically to what people are saying about your organization, product and competitors. But, this overlooks whether your prospects and customers want you to listen to them or not, or if they even care.
To understand consumers' perspective on this social listening, JD Powers and Associates along with NetBase surveyed US consumers in December 2012. 
What consumers do online, specifically social media and shopping
Across age groups, consumers are engaged in a variety of online activities. (Here are additional insights and charts from Compete regarding social media participation.)
Over 70% of US consumers use social networking platforms, with the highest usage among the under 24 year old demographic. Further, the over 55 year old segment has higher usage of social media networks than other online activities.
Video sharing is the second highest, non-shopping activity, across age groups. Interestingly, it beats photo sharing. In large part this is attributable to the growth of YouTube, the second largest search engine, and mobile usage (both smartphones and tablets).
Online shopping is an established habit across most age groups. That said, don't assume that all customer segments use the same path to purchase. (Here's more research on ratings and reviews.)
Location sharing is still in a nascent phase. This is attributable to concerns about privacy and safety, particularly among women.
Actionable Marketing Tips:
Make sure that consumers can find your business online and on mobile. You must be present when customers are in shopping mode.
Leverage the power of video to sell your products. Tell your story and show your product. Take a "you are there" approach to letting prospects see your offering. Offer 360° views. (And don't forget to post them on YouTube!)
Offer ratings and reviews since at least a quarter of prospects check for them. They help build trust around your offering.
Skip location-related services. Again, be available so that prospects can find you via the mobile web, maps or apps but you don't want to be seen as creepy.
One third of consumers don't realize businesses listen to them on social media
Despite the fact that social media is a multi-directional conversation where many people communicate with many others at the same time, 32% of consumers of all ages are clueless that firms are paying attention to what they're saying on these platforms. What's really surprising is that roughly two out of five millennials, aged 18 to 24-year-olds who are most likely to be on social media platform, have no idea companies are listening to them. This is most likely attributable to the fact that they tend to be less aware and more self involved. 
At least two out of five consumers think that social listening infringes upon their privacy, despite the fact that it's happening on social media.
Almost 50% of consumers want businesses to listen to them to improve their products while 60% of consumers want businesses to respond to their complaints. 
Actionable Marketing Tips:
Set up social media listening posts. Let your prospects and customers know that you're available to listen to them when they want to be heard. For example, offer customer service on Twitter.
Provide opportunities for prospects and customers to engage with you on social media. For example, have a senior executive hold a Google+ hangout to answer customer questions. This is important because most customers don't think that executives get social media. (Here's the research by CEO.com and Domo.)
Use information you gather on social media to help customers. This means collecting questions customers want answered, not specific data about your customers. You don't want prospects and customers to feel that you're spying on them. Reply to customer questions across a variety of platforms.
Don't collect personal customer information on social media platforms. This feels invasive to consumers.
Consumers want companies to respond
When you take a deeper look at consumer attitudes towards social listening, one point stands out:  Two thirds of consumers across age groups want companies to respond to online comments on social media platforms.
Secondly, consumers want firms to respond to complaints made on social media, although this isn't consistent across age groups. Older age segments are more likely to use other forms of communication for this activity.
While not consistent across age groups, consumers want to be able to talk about companies without them listening. Although this may sound inconsistent with the desire for responsiveness, it means that consumers want companies to respond on their company pages, etc. but not to listen to everything consumers are saying.
Actionable Marketing Tips:
Be prepared to respond to consumers on social media. Understand that consumers will use all of your social media platforms to ask questions and complain. You must be ready and able to answer them.
Publicize your social media hours if you're not available 24/7. Let prospects and customers know when you're on social media. Promote this across your platforms.
Know that social media requires an investment in being present. Social media isn't a set it and forget it way of doing business.
Set rules for how your organization engages on social media. Post these guidelines on your website and social media platforms.
While it's important to listen to prospects and customers on social media platforms, you must exercise care when doing so. Understand that consumers will use every presence to comment and complain. Further, on social media, they expect you to respond to these interactions!
How has your organization handled social listening? How do you feel about it as a marketer?
Happy Marketing,
Heidi Cohen
---
---
Even though Content Marketing World is finished until next September, you can still get all the content from 2014's exciting conference. The CMWorld On Demand package includes: Audio and video from the 2014 keynote sessions, audio and PowerPoint presentations of all the breakout sessions, over 40 audio sessions from the leading B2B and B2C brands, as well as keynote video performances.
Social Media Marketing World — San Diego — March 25-27, 2015.

Register Now and Save $420!   Limited time offer.
Register Now for the Intelligent Content Conference.
An annual gathering of the best and brightest content professionals on the planet. People who know the secrets (and are willing to share them). People who value content as a business asset. People who have made it their life's work to develop repeatable, systematic approaches to producing amazingly effective content.
---
Free White Paper!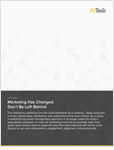 The workforce is evolving to be more collaborative, distributed, and autonomous than ever. Read this whitepaper and learn how you can support the needs and expectations of today's dynamic marketing teams.
Quit trying to manage today's teams like it's the 1950s. Marketing teams work on a combination of ad-hoc requests and various repeatable tasks; therefore, the "assembly line" style of work management has never worked for them. Every campaign is unique, each with vastly different creative and marketing elements, so traditional approaches to project management simply don't work.
In order for marketing teams to successfully reach their goals, team leaders need to adapt the way their team interacts with all the work they do to get real collaboration, engagement, alignment, and productivity.
Read this white paper and learn best practices for evolving with the following changes:
People are more social and collaborative
Teams are more distributed
Technology drives marketing teams
The workforce is more autonomous than ever
People are motivated by more than just money
This white paper will show you how to create team and organizational atmospheres of autonomy, trust, collaboration, and recognition so you can keep up with the today's evolved marketing workforce.
---
Related Articles:
Photo Credit: http://www.flickr.com/photos/misha1969/6422147399/