5 Actionable Social Media Marketing Tips (Charts)
Before you dive into creating your social media marketing strategy, know who's in your audience and where you can find them.
Once you've done your research and have answers to these questions you can create a social media persona to guide you in planning your editorial calendar and promotional campaigns. To that end, here's some recent research that you might find helpful.
Social media audience by age
Compete research provides a break out by age on six of the top social media network sites. Their research shows that:
Pinterest's audience and Facebook's audience emulate the US browsing population in terms of age.
45% of Tumblr's audience is under 35, making it the youngest social media network.
One third of LinkedIn's audience is 55 or above, making it the oldest social network.
Actionable Marketing Tips:
Diversify your social media investment. Having an older market is no longer an acceptable reason for not using social media! Don't just create a Facebook page and hope that it will meet your target audience's needs effectively. You need to be where your target market is.
Understand how age and other factors interact and influence your customers' use of social media. Both Pinterest and Facebook emulate the overall online population. Therefore, you must look deeper into your target segment's interests, needs, influencers and past behaviors.
Social media audience by income
If you're concerned about your social media audience's ability to pay for your products and services, you'll be interested in Compete research's breakout of the top six social media network sites by income. Summarizing their findings:
30% of Google+'s audience has income over $100,000 followed closely by LinkedIn where 27% of its audience is in that income bracket.
The income breakout of Pinterest, like its age breakout, is similar to the overall US browser audience.
The income levels of Facebook, Twitter and Tumblr are similar and skew lower than the average US browser population despite the differences in age segmentation.
Actionable Marketing Tips:
Consider your audience's disposable income where appropriate for your offering. If your target market is active on social media platforms like Facebook and Tumblr, their spending ability may be more limited.
Price your offering in the context of the social media network. While your pricing must be consistent, you can offer different promotions and related landing pages based on the social media network.
Social media audience by shopping habits
Based on research by Rich Relevance, here's howsocial media networking sites help drive sales.
Social media shoppers browse on retail sites. Shoppers who start the purchase process on Facebook look at more product and related content. As a result, visitors who enter retail sites from Facebook view almost seven pages per visit, visitors from Twitter view about three pages per visit, and visitors from Pinterest view over four pages per visit.
Social media buyers purchase more frequently. Facebook shoppers covert at a rate of 2.63%,  Twitter shoppers convert at a rate of 1.09%, and Pinterest shoppers convert at a rate of 0.93%,
Social media influences order size. Pinterest buyers have an average order value of $168.83, Facebook buyers have an average order value of $94.70, and Twitter buyers have an average order value of $70.84.
Here's what the Rich Relevance data looks like:
 Actionable Marketing Tips:
Use tailored landing pages to streamline the purchase process.  Send customers from your social media site to specific products and targeted promotions where appropriate. Understanding their propensity to purchase on social networks can guide your content strategy.
The bottom line is that you can no longer just build a page on Facebook and call it a social media marketing plan. You need to understand your business goals, your target market and how they engage on various social media venues.
What have you learned about your target audience and their use of different social media platforms?
Happy Marketing,
Heidi Cohen
---
---
For those of you in Raleigh, NC, please join me for Internet Summit November 11th through 13th.
Use the code HEIDI50 to save $50 OFF any pass level.
---
Even though Content Marketing World is finished until next September, you can still get all the content from 2014's exciting conference. The CMWorld On Demand package includes: Audio and video from the 2014 keynote sessions, audio and PowerPoint presentations of all the breakout sessions, over 40 audio sessions from the leading B2B and B2C brands, as well as keynote video performances.
---
Free Webcast!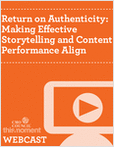 Join the discussion on Wednesday, October 29, 2014 at 10:00 AM PT/ 1:00 PM ET with Nancy Slavin, SVP of Marketing, Macy's Merchandising Group, and Dan Kimball, CMO, Thismoment.
According to research by Nielsen, 70 percent of global consumers trust online consumer reviews and rate reviews as the second most trusted form of advertising. And according to BazaarVoice, when it comes to trust, marketers may as well eliminate their own brand websites as a fountain of customer trust as only 16 percent of US consumers said they trust the content on a brand's website compared to the 51 percent who trust content generated by other users.
Today's digital currency is arguably authenticity, and what attracts customers - especially the digitally dependent, savvy millennial - is not just content. It is the delivery of authentic, unvarnished content from their peers.
Join the CMO Council on Wednesday, October 29, at 10am PST/ 1pm EST for a one-hour webcast that will invite industry experts in content marketing and user-generated content who are effectively leveraging authentic storytelling as part of their content marketing strategies. We will also feature an interactive Q&A session at the conclusion of the speaker presentations.
---
Related Articles
Photo Credit: http://dindindoes.blogspot.com/2013/01/a-new-look-free-social-media-icons.html