How Small Businesses Use Social Media
When using social media, like other forms of marketing, small businesses must allocate their scarce resources, namely budget and employees, to ensure they're attracting a steady flow of new prospects, keeping existing customers satisfied, and driving profitable sales.
Since small businesses have limited resources with which to test optimal marketing strategies, it's useful to understand what's currently working for others in terms of social media. Ascend2 partnered with Research Underwriters to survey and interview 687 global business leaders, marketing executives and practitioners in February 2013. They compiled their findings in the Social Media Marketing Strategy Report.
Here are the major take-aways for small businesses from Ascend2's research along with actionable social media tactics.
1.

Small businesses consider social media to be an effective tactic
Over half of small businesses rated social media "somewhat effective" to achieve their goals. Further, more than one in ten small businesses ranked social media as "very effective". Social media was more efficient at meeting small business' objectives than those of their larger peers.
Actionable Small Business Social Media Tactic: Incorporate social media into your business mix to level the playing field with larger competitors. The caveat is you must do so time efficiently. (Here's how small businesses can time efficiently use social media.)
2.

Small businesses use social media to achieve business objectives
Almost six out of ten small businesses use social media to increase customer engagement. In part this is attributable to the ease of measuring customer interactions through likes and similar metrics. From a business perspective, social media engagement builds brands and supports sales by responding to customer service inquiries, building email lists for future marketing, extending content reach, providing reviews, and distributing time-sensitive information during emergencies.
Over a third of small businesses use content to extend their social media reach.
About a third of small businesses use social media to support search optimization. Focus each piece of content on a separate keyword phrase, write a killer headline to grab attention, and use eye-catching images.
Actionable Small Business Social Media Tactic: Pull readers in by providing quality content that answers their questions. Also expand your reach with social sharing icons and optimize each piece of content for search.
3.

Small businesses use a variety of effective social media strategies
Half of small businesses develop blog or articles. With limited resources, small businesses can develop blog content by answering customers' questions.
About 40% of small businesses add social sharing buttons to content. This is a no-brainer to broaden your reach.
About a third of small businesses create video or audio content to expand their media offering. As the second largest search engine, YouTube helps prospects find your business. The use of other media aids search results but associate text with these formats to ensure findability.
Actionable Small Business Social Media Tactic: Improve content effectiveness by formatting it for consumption since many readers decide whether to consume your content before they read the first word!
4.

Small businesses have challenges with certain social media tactics

Executing social media is difficult for small businesses because it involves specialized content creation resources, often not a small business competency.
Over 40% of small businesses consider creating video content and whitepapers difficult. These content formats require more specialized expertise and are more expensive.
About a third of small businesses think writing blog posts and articles is difficult. While useful for generating leads and sales, many people are nervous about showing their writing publically.

Actionable Small Business Social Media Tactics:
Use professional resources for high quality content like whitepapers and video.
Test non-professional video to demonstrate product use. Both Orabrush and Will It Blend used low cost video to attract audiences. Alternatively, try short talking heads videos.
Get a copyeditor to make your text content correct in terms of grammar and language usage. You still need to create your content.
5.

Small businesses face obstacles with social media use
About two out of five small businesses have trouble tracking return on social media.
About three out of ten small businesses find associating sales with social media challenging. For some small businesses this is attributable to the fact that they offer low quality, generic information, forget to incorporate an effective call-to-action with a trackable promotional code to close the deal, and/or view social media as a promotional platform.
Two out of five small businesses feel the budget and time needed for social media is an issue. Since these are scarce resources, small businesses, must be smart about using social media to yield measurable results.
About 30% of small businesses lack of a social media strategy. This is understandable since many small businessmen assume they can build a social media strategy the same way they use these platforms personally. Further, with limited resources, you must plan your activity to ensure it supports your marketing.
One in five small businesses lacks the social media know-how to implement a strategy on their own. Since small businesses are focused on keeping their business going, they don't have the time to keep up with the latest social media trends. Get help creating a social media plan you can maintain time efficiently on your own with limited if any help.
Actionable Small Business Social Media Tactic: Create a social media strategy aligned with your business objectives. Then develop an editorial calendar plan of useful content to attract prospects while maximizing the utility of each piece of content marketing.
Social media can be an effective for small businesses. It's helps them compete against larger organizations. That said, small businesses like their larger peers face challenges in terms of having sufficient resources and associating measurable results with their investment.
What has your experience been using social media? What have your biggest successes and challenges been?
Happy Marketing,
Heidi Cohen
---
---
For those of you in Raleigh, NC, please join me for Internet Summit November 11th through 13th.
Use the code HEIDI50 to save $50 OFF any pass level.
---
Even though Content Marketing World is finished until next September, you can still get all the content from 2014's exciting conference. The CMWorld On Demand package includes: Audio and video from the 2014 keynote sessions, audio and PowerPoint presentations of all the breakout sessions, over 40 audio sessions from the leading B2B and B2C brands, as well as keynote video performances.
---
Free Webcast!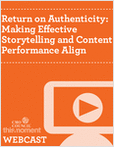 Join the discussion on Wednesday, October 29, 2014 at 10:00 AM PT/ 1:00 PM ET with Nancy Slavin, SVP of Marketing, Macy's Merchandising Group, and Dan Kimball, CMO, Thismoment.
According to research by Nielsen, 70 percent of global consumers trust online consumer reviews and rate reviews as the second most trusted form of advertising. And according to BazaarVoice, when it comes to trust, marketers may as well eliminate their own brand websites as a fountain of customer trust as only 16 percent of US consumers said they trust the content on a brand's website compared to the 51 percent who trust content generated by other users.
Today's digital currency is arguably authenticity, and what attracts customers - especially the digitally dependent, savvy millennial - is not just content. It is the delivery of authentic, unvarnished content from their peers.
Join the CMO Council on Wednesday, October 29, at 10am PST/ 1pm EST for a one-hour webcast that will invite industry experts in content marketing and user-generated content who are effectively leveraging authentic storytelling as part of their content marketing strategies. We will also feature an interactive Q&A session at the conclusion of the speaker presentations.
---
Related Articles
Photo Credit: via ePublicist http://www.flickr.com/photos/epublicist/8631350769/