10 Actionable Social Media Marketing Tips
Social media like many businesses operates under a set of unstated rules. That said, like employees, participants are expected to know these rules and to act appropriately.
When businesses engage on social media platforms, they're tried in the court of public opinion. For those who don't follow the guidelines, the verdicts can be harsher than a court of law as Amy's Baking Company has recently experienced on Facebook.
To prevent your business from wandering in the social media desert, here are ten commandments to get on track.

Thou shalt listen to the social media conversation. Social media is a multi-directional communication. This means that everyone who participates on these platforms engages in multiple conversations with one or more people both concurrently and with a lag. No one person or organization owns the conversation. Actionable Marketing Tip: Consider how your communications may be received before you rush to respond. If a comment or mention gets you emotional, take a time out to ensure that you don't say something that may be misconstrued.
Thou shalt know your business objective. As with any business-related tool, know what you're trying to achieve by engaging on social media. Are you trying to build your brand, acquire new prospects, increase sales, support post-purchase or engage your fans? Actionable Marketing Tip: Make your goals as concrete as possible including metrics to track your progress. (Recent research shows that Facebook fans generate value!)
 Thou shalt understand your audience. On social media, know that your followers extend beyond your prospects and customers. It includes your naysayers, competitors, the media and the public. Actionable Marketing Tip: Take the time to understand your target audience on social media by creating a social media persona.
Thou shalt get C-level buy-in and support. Social media is strategic in outlook. As such, it requires senior management buy-in and support. Don't think that you can hire a college student to do it. Actionable Marketing Tip: Get your C-level executives to participate on social media. Research shows that it helps your firm. This doesn't mean that they should spend their day on Facebook. Rather they should be strategic in when an how they participate such in social media venues such as a Google hangout. (BTW, the CEO of Hubspot paid to take over the firm's Twitter account.)
Thou shalt mind thy manners. Good old fashion courtesy goes a long way. Remember that the people with whom you communicate on social media may not speak your language. Further without seeing you face-to-face they may miss some of your body language. Actionable Marketing Tip: Don't rush to respond if you're not sure of the circumstances or potential issues. Not all publicity is good publicity.  Further, on social media, everyone has a social responsibility.
Thou shalt not use social media as a promotional broadcast channel. Unlike traditional media, social media is about engagement. From a marketing perspective, you should use your sites to build interaction with your most avid fans who in turn promote your content and brand. Actionable Marketing Tip: Offer an occasional exclusive deal to your followers to make them feel special but don't make it a practice or it will cause your followers to flee. The major exception to this advice is a deal-of-the-day page where you post one deal per day.
Thou shalt offer useful information to your community. Transform content about your brand, products and company into information that meets your target audience's needs. This requires a different mindset from continual Me-Me-Me promotions. Actionable Marketing Tip: Answer customer questions, show how to style using your products, provide patterns and recipes and offer fun how-tos.  Don't limit your content to text. Use images and video to portray your information.
Thou shalt pay-it-forward on social media platforms. Social media isn't a "What's in it for me" medium. Participants use social media for personal reasons, namely to keep up with their friends and family. As a business, your goal should be to interact and help your prospects and customers. Actionable Marketing Tip: Train your staff to be as helpful as possible to those who engage with your organization. Provide useful information and respond to questions without being blatantly promotional.  
Thou shalt respond to interactions in a timely fashion. Research shows that only 30% of businesses are responsive on social media. On social media, participants, prospects and customers have different service expectations. Actionable Marketing Tip: Post on each social media platform when visitors can expect your organization to engage with them. If your customer service representatives manage your social media profiles, ensure that they're comfortable and understand the systems.
Thou shalt measure results. Social media drives results. You must plan for this when you start your process. Select metrics associated with your business goals. Make sure you can track them over time.  Actionable Marketing Tip: Use a call-to-action to guide prospects to the next step in the getting-to-know-you process. Understand that your call-to-action should make sense in the context of your social media eco-system. Generally this doesn't mean sending them directly to a shopping cart. Rather it's a registration for something like an email newsletter or an e-book.
Social media is increasingly an important element of every business' marketing plans. Understand that the conversation is about your community not your brand or business.
What challenges has your business faced on social media? What recommendations do you have for other businesses?
Happy Marketing,
Heidi Cohen
---
---
For those of you in Raleigh, NC, please join me for Internet Summit November 11th through 13th.
Use the code HEIDI50 to save $50 OFF any pass level.
---
Even though Content Marketing World is finished until next September, you can still get all the content from 2014's exciting conference. The CMWorld On Demand package includes: Audio and video from the 2014 keynote sessions, audio and PowerPoint presentations of all the breakout sessions, over 40 audio sessions from the leading B2B and B2C brands, as well as keynote video performances.
---
Free Webcast!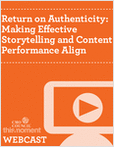 Join the discussion on Wednesday, October 29, 2014 at 10:00 AM PT/ 1:00 PM ET with Nancy Slavin, SVP of Marketing, Macy's Merchandising Group, and Dan Kimball, CMO, Thismoment.
According to research by Nielsen, 70 percent of global consumers trust online consumer reviews and rate reviews as the second most trusted form of advertising. And according to BazaarVoice, when it comes to trust, marketers may as well eliminate their own brand websites as a fountain of customer trust as only 16 percent of US consumers said they trust the content on a brand's website compared to the 51 percent who trust content generated by other users.
Today's digital currency is arguably authenticity, and what attracts customers - especially the digitally dependent, savvy millennial - is not just content. It is the delivery of authentic, unvarnished content from their peers.
Join the CMO Council on Wednesday, October 29, at 10am PST/ 1pm EST for a one-hour webcast that will invite industry experts in content marketing and user-generated content who are effectively leveraging authentic storytelling as part of their content marketing strategies. We will also feature an interactive Q&A session at the conclusion of the speaker presentations.
---
Related Articles
Photo Credit: http://en.wikipedia.org/wiki/File:Rembrandt_Harmensz._van_Rijn_079.jpg