Social Content Definition: Examples and Marketing Tips
Social content is shorthand for the terms "social media" and "content marketing." It represents content and link sharing on various social media platforms.
Yet, for marketers, the social content definition is broader and, often, not well understood. Social content is about how the content is created, not shared or distributed!
Integrate social content into the core of your social media and content marketing plans, strategies and activities. Keep in mind the 90%-9%-1% ratio of social media interactions. It's the key to social content.
90% of people won't take action.
9% of people will do something small. This can be sharing or short comments on content.
1% of people will do something more. This can be longer comments or creating content.
Social content definition: 4 Types of content marketing
Social content involves the community—customers, influencers, social media followers and the public—in your content marketing creation process in one of 4 ways.
1.

Community-created social content

Provide and encourage your community to interact on your platform (such as Amazon), a social media forum (such as a question posted on Facebook), or a third party forum (such as Trip Advisor).

Your role is chief wrangler. Your goal is to get members to contribute content. It's their voices and information that matter, not yours!!!

Examples:

Include reviews and ratings and forums comprised solely of user-generated content.

Amazon is the granddaddy of ratings and reviews where readers can rate others' reviews.
Ravelry is a social media platform for knitters, crocheters, spinners and dyers. It's entirely composed of content created by its members. It's the go-to resource in this DIY category. It's a great example of Community Created Social Content.
Here's what an individual's project shows. The user fills in the information from their project, adds commentary, rates the pattern and wool, and uploads photos. You can link to your own blog as well. 
Actionable Social Content Marketing Tips:
Reduce the amount of work required by contributors. More people will vote on a review's quality and utility than will write a review.
Set the ground rules. It's useful to let participants know what they can and can't say on the forum. This enables you to eliminate spam. Of course, you need to be impartial and not just remove negative comments.
2.

Co-created social content

Ask your target audience including prospects, customers, influencers, social media followers and the public to contribute original material to your content.

You provide the context and commentary for their input and produce the final product.

You can ask a broad group of people or select specific contributors.

Examples:

Roundup posts, customer spotlights and interviews.

On Actionable Marketing Guide, I bring together a variety of expert opinions on different topics. 
Lion Brand Yarn Studio does a great job of spotlighting its customers while removing the barriers to co-creation. They take the photos and write the content. All customers have to do is finish their projects and say cheese.
Actionable Social Content Marketing Tips:
Eliminate barriers to participation. Make it easy for your audience to contribute. For example, take photos of your customers in your retail establishment.
Make your community look good. Add editorial support and related services to make your contributors feel good about the experience.
Let contributors know what they have to do. Explain what information you're seeking. Define who has rights to their content. 
3.

Curated social content

Add your commentary and perspective to third party content. Includes changing the headline, image and context. There are 5 basic content curation types.

Provide additional value for your audience beyond the original article. At a minimum, let them know why you think that the content is important.

Know the difference between curating and copying other people's content. (Here's some content curation success help.) You don't want to be accused of stealing other people's content and ideas.

Examples:

Includes social sharing and "Best of" posts.

Here's how Upworthy curates content by changing the title and adding commentary. The title is straight out of the Jon Morrow 3-part-title playbook. (Read his article, How To Quit Your Job, Move To Paradise, and Change The World, on Problogger.)
Actionable Social Content Marketing Tips:
Leverage the power of images. Photos attract more attention.
Craft attention-getting headlines. Consider whether you can improve on the headline the way high trending sites like Upworthy and Buzzfeed do. (For help, check out this title research.)
4.

Comments as social content

Get readers and the community to contribute their point of view to the conversation around your published content. 

Focus on the conversation around the article. This can take place on your platforms, social media or other third party venues.

Examples

Include comments on blog posts and social sharing.

John Oliver's segment on Net Neutrality on his television show, Last Week Tonight With John Oliver, and his call-to-action to comment is a great example of comments as social content. Here's what it looked like posted on Facebook.
Actionable Social Content Marketing Tips:
Respond to comments where appropriate, at least during the first few days after the piece appears.
Social content chart
Here's how the 4 types of social content stack up across 4 attributes (content creation, content enhancement, commentary and sharing.)
Social content definition: Content marketing you and your community create together. It takes 1 of 4 different formats. They are community creation, co-creation, curation, and/or content commentary.
Social content is an important addition to your content marketing mix. It extends your offering.
Even more important, your community supports and shares your content because they're a part of it.
What is your definition of social content?
Happy Marketing,
Heidi Cohen
---
---
For those of you in Raleigh, NC, please join me for Internet Summit November 11th through 13th.
Use the code HEIDI50 to save $50 OFF any pass level.
---
Even though Content Marketing World is finished until next September, you can still get all the content from 2014's exciting conference. The CMWorld On Demand package includes: Audio and video from the 2014 keynote sessions, audio and PowerPoint presentations of all the breakout sessions, over 40 audio sessions from the leading B2B and B2C brands, as well as keynote video performances.
---
Free Webcast!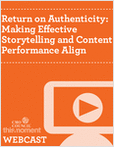 Join the discussion on Wednesday, October 29, 2014 at 10:00 AM PT/ 1:00 PM ET with Nancy Slavin, SVP of Marketing, Macy's Merchandising Group, and Dan Kimball, CMO, Thismoment.
According to research by Nielsen, 70 percent of global consumers trust online consumer reviews and rate reviews as the second most trusted form of advertising. And according to BazaarVoice, when it comes to trust, marketers may as well eliminate their own brand websites as a fountain of customer trust as only 16 percent of US consumers said they trust the content on a brand's website compared to the 51 percent who trust content generated by other users.
Today's digital currency is arguably authenticity, and what attracts customers - especially the digitally dependent, savvy millennial - is not just content. It is the delivery of authentic, unvarnished content from their peers.
Join the CMO Council on Wednesday, October 29, at 10am PST/ 1pm EST for a one-hour webcast that will invite industry experts in content marketing and user-generated content who are effectively leveraging authentic storytelling as part of their content marketing strategies. We will also feature an interactive Q&A session at the conclusion of the speaker presentations.
---
Related Articles
10 Steps To Improve Your Social Media Conversions
Photo Credit: https://www.flickr.com/photos/elvire-r/2451784799/in/