7 Marketing Factors Every Small Business Needs to Check
As we approach the end of December, it's a good time to assess how your business and marketing performed in 2013.
Without understanding where your business is currently, the hurdles it overcame, and the surprises that slowed you down during 2013, it's hard to get 2014 off to a successful start and ensure that your plans are based on more than just hope.
(Aside for arithmophobics: This checkup requires assessing your actual performance numbers. Regardless of how many people in your past told you that you weren't good at arithmetic, you can do this. All you'll need to use is addition, subtraction, multiplication and division.)
7 Step small business marketing year end checklist
Here's a checklist to help you assess your 2013 performance. 
1.

Sales

Examine your company's revenues for the year month by month. If necessary make a projection for the month of December based on results to-date. Compare your 2013 revenues to the past year. While many small businesses don't have a month by month budget, include this if you have one.

Calculate the absolute dollar difference [ 2013 sales – 2012 sales ] and the percentage difference [ ((2013 sales ÷ 2012 sales) – 1) x 100 ]. Here's a more in-depth article on sales forecasting to help you.
Inspect the big gaps. Is there a reason for this difference? Is it attributable to a timing difference, a major event or a new product? What products or promotions are up and which ones are down?
Check sales by product. Where are the big differences?
Look at sales by customer. This is particularly important for solopreneurs that provide services.
Assess different locations, if applicable.
2.

Promotions

Assess your 2013 promotions for the entire year. How did your core promotions do? These are the major hooks of your promotional calendar.
Look at each one separately to determine their performance. Among the traditional promotions are January Clearance Sales, Valentine's Day, Easter, Mother's Day, Memorial Day, Father's Day, Fourth of July, Back-to-School, Halloween, Thanksgiving and Christmas. Also include specials related to your specific business such as April 15th, Tax Day.
Analyze how new promotions did. These are ideas that you've borrowed from other businesses or special opportunities.
Check poor performing promotions. These are the events that didn't do well for you. Did you promote them sufficiently or did they miss the mark with your core customers?
Develop a list of modifications you need to enhance the performance of your promotions. Bear in mind that promotions wear out over time.
Consider the timing and spacing of your specials. Remember if they're too close together or too infrequent they may not perform as well.
3.

Products

Analyze your product offering. You can do this at a category level or at a specific product level. Service-based companies may have difficulty with this item.
Consider your entire product portfolio and where they are in the product life cycle. The goal is to have a mix of products.
Did you add new products? How did they perform? What did you learn for the future?
Are you core products still yielding the same level of sales? If not, do you need a new offering?
Are there products that you should stop offering? Is this related to the environment, customers or competitors?
Are there products that deserve to be phased out (aka sunset)?
4.

Customers

Take the time to analyze your customer base and its profitability. How is healthy is it? Have your customers changed due to other factors? For example, during the recession customers were more focused on price.
Do you have a steady flow of prospects? Look at this inflow through out the year not just how many. What percentage of them converted into customers? Did they come in after special promotions, sales or products?
What proportion of your customers were new this year? What's their potential for new business over the few years?
How did your existing customers perform?
How did your top customers do?
Do you have customer segments that cost you more to service than they brought in revenue? Remember not all customers are created equal.
Is any part of your customer base fading in terms of performance? Do you need to shift resources to handle them or find new business to replace them?
5.

Competitors

Consider your competition. Many businesses don't take sufficient time to assess their business landscape regularly.
Assess your direct, local competitors.
Do you have any new competitive threats, in terms of products or customers?
Examine the major players in your niche or field. Changes can have a impact on  your business, either directly or indirectly.
Assess what's happening with businesses at a higher level. Specifically, think about how non-competitors might enter your market without you knowing it. For example, Amazon introduced the Kindle as an e-reader but it has extended its functionality to make it a tablet competitor.
6.

Costs (aka expenses)

How did you manage your expenses during the past year? For most businesses, this means increased costs due to wages and inflation. Compare them to the prior year. For help, here's a brief refresher on how to calculate business costs.
Did you have changes in employees, distributors, or suppliers? How has this affected your overall expenses?
Are there areas where you can save? If there are big cost variances since last year, these are generally a good place to check.
Do you have contracts or services you can renegotiate? Think creatively. Check phone, internet, etc. For example, a solopreneur I know tried getting a better price on his Internet services and found that he was ahead by taking a triple play (phone, internet and television, even though he doesn't have a TV!) Bear in mind that penny pinching isn't the same as getting good quality
Ask employees what would inspire them to do their best work beyond a pay increase. This may lead to some other ways to increase productivity without increasing costs.
7.

Profitability

How did your firm do in terms of profits? Did you have money left over after you paid your employees and your bills? If not, did you at least cover the cost of goods sold? (Note: If your answer to this is no, then you need to seriously look at your business because if you can't do this, you're about to go out of business.)
How are your margins doing and how do they compare to last year? Are there products or activities you should stop doing? Are there ones where you should increase your activity?
How is your pricing doing? This is particularly important to consider given the widespread use of showrooming.
The bottom line is you can't improve your small business without tracking your results across these 7 factors.
What other factors do you monitor to determine if your small business is performing well?
Happy Marketing,
Heidi Cohen
---
---
For those of you in Raleigh, NC, please join me for Internet Summit November 11th through 13th.
Use the code HEIDI50 to save $50 OFF any pass level.
---
Even though Content Marketing World is finished until next September, you can still get all the content from 2014's exciting conference. The CMWorld On Demand package includes: Audio and video from the 2014 keynote sessions, audio and PowerPoint presentations of all the breakout sessions, over 40 audio sessions from the leading B2B and B2C brands, as well as keynote video performances.
---
Free Webcast!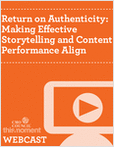 Join the discussion on Wednesday, October 29, 2014 at 10:00 AM PT/ 1:00 PM ET with Nancy Slavin, SVP of Marketing, Macy's Merchandising Group, and Dan Kimball, CMO, Thismoment.
According to research by Nielsen, 70 percent of global consumers trust online consumer reviews and rate reviews as the second most trusted form of advertising. And according to BazaarVoice, when it comes to trust, marketers may as well eliminate their own brand websites as a fountain of customer trust as only 16 percent of US consumers said they trust the content on a brand's website compared to the 51 percent who trust content generated by other users.
Today's digital currency is arguably authenticity, and what attracts customers - especially the digitally dependent, savvy millennial - is not just content. It is the delivery of authentic, unvarnished content from their peers.
Join the CMO Council on Wednesday, October 29, at 10am PST/ 1pm EST for a one-hour webcast that will invite industry experts in content marketing and user-generated content who are effectively leveraging authentic storytelling as part of their content marketing strategies. We will also feature an interactive Q&A session at the conclusion of the speaker presentations.
---
Related Articles
Photo Credit: http://www.flickr.com/photos/adrianclarkmbbs/3063516728/