10 Step Actionable Small Business Social Media Plan
For most small businesses social media is a time suck. The challenge for many of these businesses is that time is their most valuable resource. While being nimble is the watchword for many small businesses, with regard to social media, you need a plan to keep your interactions on track and contributing to sales and profits.
To help your small business maximize its social media efforts including time utilization, here's an actionable social media plan for your small business in ten easy steps. 
1. Determine your social media goals. What you want your social media to accomplish must be concrete and measurable showing a contribution to sales and profits. These objectives must be associated with those of your business. For small businesses this means:
Build your brand. This also includes developing an executive platform for the owner.
Acquire new prospects. Associated with this goal is driving website traffic.
Support sales. Answer prospects' questions and offer how-to information to overcome objectives.
Get customers to purchase more. Encourage existing customers to buy more of the same product, related products or higher-end products.
Encourage fans to review your offering. Understand that consumers listen to other consumers.
2. Define your target audience. Describe whom you're looking to reach with your social media interactions. Specifically think influencers, buyers and end-users since they may not all be the same people.
Create marketing persona. This will help you understand what your audience needs, where their problems are and how they relate to your offering.
Develop social media persona. Gather insights into how your audience engages on social media to guide your activity.
3. Assess competitor's social media presence. Examine the social media platforms where your competitors are and how they engage with prospects.
Include direct competitors. Assess merchants who sell your product to your market.
Add substitute products. These are products prospects view as providing similar functionality.
Assess the major players. Include dominant merchants such as Amazon, Walmart, Target, eBay and Apple.
4. Establish your social media presence. Based on your target audience's preferences and competitors, decide which social media platforms to use. The major options are:
Blog. Integrate it into your website and link to appropriate products from your posts. Depending on your target audience, a Tumblr may be useful.
Facebook. Offers a broad audience.
YouTube. Shows customers how to use your product. It's also the second biggest search engine where power users go to seek information.
LinkedIn. Small businesses find it cost effective for acquiring new employees.

Twitter. Offers a way to engage with your community.
Pinterest. Allows small firms to present their business visually.
Google+. Is a multi-functional platform owned by Google.
5. Integrate your brand into your social media sites.  Incorporate your firm's brand into your social media presence. (Here's how to create a brand on a budget.) Include:
Colors. Use your brand colors for easy recognition.
Images. Post photographs of your brand, spokespeople and customers. Also include videos and other graphics to engage participants.
Voice. Give your content a human voice so interactions sound like a real person.
Sounds. Include your brand's sounds in your presence.
Spokesperson. Decide who will represent your brand on social media. Also, define your social media guidelines including who owns the account and followers should the employee leave.
6. Plan social media activity. To ensure your social media engagement is time efficient, determine how much time you can allocate to social media on a regular basis. Then create an editorial plan for your social media engagement.
7. Create and curate appropriate content to support your social media presence. Since content marketing fuels social media, develop an editorial plan to ensure you have enough.
Determine the information and frequency you need.
Assess the amount of content your organization can create. Consider how to extend the life of each piece.
Supplement your content with curated content on social media.
Leverage guest bloggers (where appropriate). These blog posts still require editing and other technical work.
8. Integrate your social media activities into your other marketing. Maximize the impact of each element of your mix.
Incorporate your social media sites into on-going marketing and content.
Share new content you've created on social media pages. Don't forget social media's 80/20 rule; 80% of your social media information is about others and 20% is about your business.
9. Promote your social media presence. Encourage prospects, customers and fans to join you on social media.
Leverage your owned media's power. Includes your website and email list. Don't underestimate other channels like your store and communications.
Cross-promote your social media profiles. Include links to your other social media profiles on each platform.
Encourage social sharing of all of your content. Include your website, emailings and social media to get your content endorsed and shared by others.
Consider third party advertising. If you're using advertising, incorporate your social media presence into it. If you don't have sufficient budget for a major digital campaign, consider a small, targeted one on a social media platform.
10. Measure results. As with any marketing program, track your results back to your goals. This is why your goals must be specific and include numbers! To drive sales, use social media calls-to-action to get prospects to enter your purchase process.
Remember time is a scarce small business resource. Maximize your small business' social media investment with this ten-step social media plan to focus your efforts and achieve your objectives.
What is the key to your small businesses' social media success and why?
BTW–If you liked this post, you'll find nine steps to organize your social media helpful.
Happy Marketing,
Heidi Cohen
---
---
Even though Content Marketing World is finished until next September, you can still get all the content from 2014's exciting conference. The CMWorld On Demand package includes: Audio and video from the 2014 keynote sessions, audio and PowerPoint presentations of all the breakout sessions, over 40 audio sessions from the leading B2B and B2C brands, as well as keynote video performances.
Social Media Marketing World — San Diego — March 25-27, 2015.

Register Now and Save $480!   Limited time offer.
Register Now for the Intelligent Content Conference.
An annual gathering of the best and brightest content professionals on the planet. People who know the secrets (and are willing to share them). People who value content as a business asset. People who have made it their life's work to develop repeatable, systematic approaches to producing amazingly effective content.
---
Free Webinar!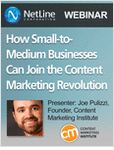 Join the discussion on Tuesday, December 2 - Time: 2 PM (EST) / 11 AM (PST) to learn how small and medium sized businesses don't have to have an entire content marketing organization (or budget) to be successful in content marketing.
Joe Pulizzi, Author and Founder of Content Marketing Institute and Werner Mansfeld, President of NetLine Corp, discuss realistic and actionable methods for your company to get awareness, consideration and sales leads using marketing content – without the budget or resources of an enterprise-level organization.
Date: December 2nd, 2:00 pm EST/12:00pm CST/11:00 am PST
Here are just some of the questions you'll get answered:
What is content marketing and why is it important?
What do I need to have in place to compete effectively using content marketing?
How do I drive sales leads and get a positive ROI using content marketing?
How can my small business (or budget) compete with my larger competitors using content marketing?
What can I start doing today to start seeing results?
Joe Pulizzi and Werner Mansfeld are experts in Content Marketing and Content Syndication. Learn from their combined experience how to take advantage of content marketing for your business, no matter the size.
---
Related Articles
Photo Credit: http://www.flickr.com/photos/deux-chi/4146284063/