Content Marketing: Getting More From Your Budget
Do you want to reduce content marketing costs?
Did you know that you can get more from your existing content marketing budget?
All you have to do is minimize your content marketing expense in the following 2 ways.
Eliminate duplicate information and communications efforts across your company. This reduces your need for content related resources.
Make  existing information more effective by re-imagining it as quality content. By doing this, each piece of content drives more people to open, consume and act, driving improved results. As a result, you get more for your content marketing dollar.
 Warby Parker re-imagined their boring Annual Report into a great piece of quality content. It became an interactive 365 day story that worked as more than just an annual report and drove PR as well.
15 Tips to reduce content marketing costs
Here are 15 tips to help reduce content marketing costs by eliminating duplicate efforts and creating quality content. Bear in mind that you don't need to follow every one to get more bang for your content marketing budget.
Audit all of your organization's content and communications.
Create an overall content creation schedule.
Build an over-arching content calendar for all of your company's communications.
Transform every communication into content marketing.
Here's where the real content marketing savings magic occurs. The goal is to eliminate the corporate-speak and transform each piece of information into quality content people want to consume.
Spread your content across your company and platforms.
To reduce content marketing costs, it's critical to eliminate duplicate efforts and improve the quality of each piece of content. As a result, you should be able to get more people to open, consume, share and act on your content. Done well this also translates to more existing customers to see your content.
Happy Marketing,
Heidi Cohen
---
---
For those of you in Raleigh, NC, please join me for Internet Summit November 11th through 13th.
Use the code HEIDI50 to save $50 OFF any pass level.
---
Even though Content Marketing World is finished until next September, you can still get all the content from 2014's exciting conference. The CMWorld On Demand package includes: Audio and video from the 2014 keynote sessions, audio and PowerPoint presentations of all the breakout sessions, over 40 audio sessions from the leading B2B and B2C brands, as well as keynote video performances.
---
Free Webcast!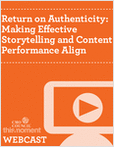 Join the discussion on Wednesday, October 29, 2014 at 10:00 AM PT/ 1:00 PM ET with Nancy Slavin, SVP of Marketing, Macy's Merchandising Group, and Dan Kimball, CMO, Thismoment.
According to research by Nielsen, 70 percent of global consumers trust online consumer reviews and rate reviews as the second most trusted form of advertising. And according to BazaarVoice, when it comes to trust, marketers may as well eliminate their own brand websites as a fountain of customer trust as only 16 percent of US consumers said they trust the content on a brand's website compared to the 51 percent who trust content generated by other users.
Today's digital currency is arguably authenticity, and what attracts customers - especially the digitally dependent, savvy millennial - is not just content. It is the delivery of authentic, unvarnished content from their peers.
Join the CMO Council on Wednesday, October 29, at 10am PST/ 1pm EST for a one-hour webcast that will invite industry experts in content marketing and user-generated content who are effectively leveraging authentic storytelling as part of their content marketing strategies. We will also feature an interactive Q&A session at the conclusion of the speaker presentations.
---
Related Articles
Photo Credit: http://www.flickr.com/photos/howardlake/8443408303/