Content Marketing: Getting More From Your Budget
Do you want to reduce content marketing costs?
Did you know that you can get more from your existing content marketing budget?
All you have to do is minimize your content marketing expense in the following 2 ways.
Eliminate duplicate information and communications efforts across your company. This reduces your need for content related resources.
Make  existing information more effective by re-imagining it as quality content. By doing this, each piece of content drives more people to open, consume and act, driving improved results. As a result, you get more for your content marketing dollar.
 Warby Parker re-imagined their boring Annual Report into a great piece of quality content. It became an interactive 365 day story that worked as more than just an annual report and drove PR as well.
15 Tips to reduce content marketing costs
Here are 15 tips to help reduce content marketing costs by eliminating duplicate efforts and creating quality content. Bear in mind that you don't need to follow every one to get more bang for your content marketing budget.
Audit all of your organization's content and communications.
Create an overall content creation schedule.
Build an over-arching content calendar for all of your company's communications.
Transform every communication into content marketing.
Here's where the real content marketing savings magic occurs. The goal is to eliminate the corporate-speak and transform each piece of information into quality content people want to consume.
Spread your content across your company and platforms.
To reduce content marketing costs, it's critical to eliminate duplicate efforts and improve the quality of each piece of content. As a result, you should be able to get more people to open, consume, share and act on your content. Done well this also translates to more existing customers to see your content.
Happy Marketing,
Heidi Cohen
---
Join fellow marketers at the online mega-conference designed to inspire and empower you—Social Media Success Summit 2016, brought to you by Social Media Examiner.
Discover the best and newest ways to market your business on Facebook, Instagram, LinkedIn, YouTube, Twitter, Pinterest and Snapchat.
Find new ways to improve your content and measure your results with sessions on video, live video, visual marketing, analytics and marketing tools.
---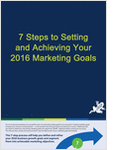 This 7-step process will help you define and refine your 2016 business growth goals and segment them into achievable marketing objectives.
You've set personal resolutions for yourself this year, but what about setting goals for your business? Creating marketing goals increases your chances of achieving them – so do yourself a favor this year and set yourself up for success.
Related Articles
Photo Credit: http://www.flickr.com/photos/howardlake/8443408303/