Blog Posts: Patching the Holiday Potholes
The holidays are around just around the corner and who doesn't want to take some much deserved time off? But you've got blog posts to write and no motivation to attack the page.
10 Easy-to-write quick blog post ideas
Instead of putting up a virtual "Happy Holidays" sign, here are 10 tips to create blog posts and content that yield value to your business and your readers without a lot of work.
Best new products or gifts. Depending on your niche and business, this can be a great way to position your offering or drive affiliate links. Take it a step further and sex up your content with an easy-to-print-out checklist or even better a pre-formatted fun email that can be sent to spouses, parents or other gift givers. Include a pinnable visual of the checklist with links.
Top books we're reading. This is a spin on the best books in your category. Give a brief synopsis and link to each book. The key to making this type of post effective is to let your readers know what makes it an important book for them to read. Make the post visually appealing by adding cover images. Use List.ly to allow readers to add their choices to the list. Tumblr ecommerce site, Of A Kind, has a weekly emailing where the co-founders give their top 5 tips each.
Most Frequently Asked Questions. Answering customer questions is great content that your target audience continually seeks out. Even better, it's easy to gather from your sales or customer service team. Make sure that you link to appropriate product. Consider linking to these articles on appropriate product pages. Also, ask readers to submit their questions. This is the Marcus Sheridan secret sauce.
Spotlight your employees. You can start an employee of the week program or ask a general question to get different perspectives across your organization. Alternatively, use video or photographs to provide fun information. Remember – if you want employee input, you need to assure them that you'll edit their content and make it look stellar. Don't forget to get their photos!
Socialize your content. It's a fancy way to say interview people in your industry. It doesn't have to be thought leaders. Your goal should be to provide insights for your readers. People are more willing to find time in their schedules for networking and helping others. Of course, you can do it over the phone, email or Skype.
Gather input on a specific topic. Ask people in your field for their input on a specific question and publish the responses in one big post, for example, amazing content ideas. The benefit of this type of article is that contributors are often willing to share the article with their followers.
Let your customers get in the picture. Use photographs of your customers to give them their 15 seconds of fame. Include links to your product where appropriate. Don't forget to get permission from customers before you post their photos.
Catch the DIY fever. Provide patterns, recipes or other how-to's related to your offering or content. Use a variety of ways to explain what's needed. Link to your product where relevant. Incorporate photographs and videos as available. Also, let people print out a shopping list. Kraft does a great job of this. They go one step further by including their brand names where appropriate.
Tell me a story. We're programmed to listen to and remember stories. Gather input from your employees and customers. The great part of this type of post is that the heavy lifting in terms of coming up with ideas is done for you.
Have fun. Round up some fun videos or photos to entertain your audience. Base your selection around a theme to make your content more cohesive. Marketo had fun with their 17 signs.
These post and article suggestions are easy-to-create, can be broken into shareable content snacks, and provide longer-term impact. The beauty of these 10 recommended posts is that they support your business and drive traffic without being promotional.
What other titles would you suggest adding to this list?
Happy Marketing,
Heidi Cohen
---
---
For those of you in Raleigh, NC, please join me for Internet Summit November 11th through 13th.
Use the code HEIDI50 to save $50 OFF any pass level.
---
Even though Content Marketing World is finished until next September, you can still get all the content from 2014's exciting conference. The CMWorld On Demand package includes: Audio and video from the 2014 keynote sessions, audio and PowerPoint presentations of all the breakout sessions, over 40 audio sessions from the leading B2B and B2C brands, as well as keynote video performances.
---
Free Webcast!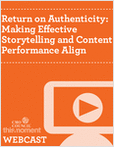 Join the discussion on Wednesday, October 29, 2014 at 10:00 AM PT/ 1:00 PM ET with Nancy Slavin, SVP of Marketing, Macy's Merchandising Group, and Dan Kimball, CMO, Thismoment.
According to research by Nielsen, 70 percent of global consumers trust online consumer reviews and rate reviews as the second most trusted form of advertising. And according to BazaarVoice, when it comes to trust, marketers may as well eliminate their own brand websites as a fountain of customer trust as only 16 percent of US consumers said they trust the content on a brand's website compared to the 51 percent who trust content generated by other users.
Today's digital currency is arguably authenticity, and what attracts customers - especially the digitally dependent, savvy millennial - is not just content. It is the delivery of authentic, unvarnished content from their peers.
Join the CMO Council on Wednesday, October 29, at 10am PST/ 1pm EST for a one-hour webcast that will invite industry experts in content marketing and user-generated content who are effectively leveraging authentic storytelling as part of their content marketing strategies. We will also feature an interactive Q&A session at the conclusion of the speaker presentations.
---
Related Articles
Photo Credit: http://www.flickr.com/photos/albertoalerigi/4323759458/