12 Actionable Pinterest Tips To Increase Sales
Pinterest is shoppers' destination for inspiration. Since seeing is believing, Pinterest is marketers' 24/7 social media window display.
Pinterest allows marketers to showcase their full array of products which prospects can view from the comfort of their couches.
Pinterest initially gained traction through spectacular renditions of clothing, food, interior design and crafts that made consumers lust for these products. Other marketers and merchants have discovered how to leverage the visual allure of their products in Pinterest's galleries. For B2B companies this includes e-books, blog posts, and other lead gen content.
Pinterest aids product discovery and sales
With the explosion in tablet ownership, Pinterest is poised to grow. Specifically, Pinterest is maturing as a social commerce platform as revealed in Piquora's analysis of 1,000 e-commerce and publisher brands on Pinterest from February through October 2013.
An average Pinterest pin yields 2 site visits, 6 pageviews, and over 10 re-pins. (Here's more research on Pinterest and branding.)
An average Pinterest pin now yields $0.78 in sales, up about 25% from 4Q2012.
Half of site visits take place up to 3 1/2 months after the initial pin and half of orders take place up to 2 1/2 months after the pin (Note: 70% of clicks occur in the first 2 days.)
7 Tips to increase Pinterest repinability
Based on Curalate's analysis of 500,000 images posted on Pinterest by brands, here are 7 actionable marketing tips to increase your images repinability.
Mix colors. Images containing multiple dominant colors receive 3.25 times more repins than those with a single dominant color! Use reds (including orange and brown) to attract almost twice as many repins than blues. There may be something to the association of blue with feeling down.
Avoid extreme lighting. This translates to an ability to easily discern products. Medium light images have a 20 times higher repin rate than mostly black images and 8 times higher repin rate than mostly white images!
Take the middle ground on color saturation. 50% saturated images receive 4 times more repins than 100% saturated images and 10 times more repins than 100% desaturated images (aka black and white).
Consider image size. As with most things in life, size matters. Use a 2:3 aspect ratio to receive 60% more repins over a tall image.
Pay attention to your background. Images containing less than 30% background are repinned the most! Increasing image background to 40% or more causes repins to drop off by 2 to 4 times.
Skip the models and customers. Brand images without faces get 23% more repins. While this seems counter intuitive given that people are attracted to images of other people, less than 20% of images on Pinterest contain faces.
Keep it smooth. Surface texture makes a difference. Smooth textures versus rough ones receive 17 times more repins!
5 Pinterest tactics to increase results
Here are 5 actionable marketing tips to integrate Pinterest in to your overall marketing plans.
Curate Pinboards to be entryways to your store. Regardless of whether your business is online or offline, use Pinterest to get people interested in finding out more. Think visual storytelling. Use all of your space effectively and don't make your prospects guess. Remember there's no age limit on appreciating good products and beautiful presentation.
Ensure Pins lead back to appropriate product pages. Include a link to your website so that shoppers can get more information about your products. Of course, it's critical to ensure that your product pages continue the experience started on Pinterest.
Let prospects order product that's out of stock. Since traffic and sales can occur as much as 3½ months after your initial pin, provide a way for customers to order product.


Promote related product in a visually appealing way. Present related products on each product page like it's an extension of Pinterest to draw visual shoppers in. 

Add "Pin It" buttons to web images.  Let your customers share their delight with your products with their friends and others on Pinterest.
The bottom line is that Pinterest is a valuable sales tool for marketers. Unlike a physical store, Pinterest is about creating a visual entry into your product offering. Therefore take the time to create amazing visuals to pull shoppers in.
Happy Marketing,
Heidi Cohen
---
Join Heidi Cohen and fellow marketers at the mega-conference designed to inspire and empower you—Social Media Marketing World 2017, brought to you by Social Media Examiner.
Discover the best and newest ways to market your business on Facebook, Instagram, LinkedIn, YouTube, Twitter, Pinterest and Snapchat.
The event takes place March 22-24, 2017, in San Diego. Actionable Marketing readers get an early registration discount.
Act by Friday – Save $100!
---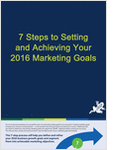 This 7-step process will help you define and refine your 2016 business growth goals and segment them into achievable marketing objectives.
You've set personal resolutions for yourself this year, but what about setting goals for your business? Creating marketing goals increases your chances of achieving them – so do yourself a favor this year and set yourself up for success.
Related Articles