Online Content Generation Insights To Ignore At Your Peril
Happy Pi Day! No—that's not a misspelling.
Today, 3.14, is International Pi Day.
Pi is a constant. Pi represents the ratio of a circle's circumference to its diameter. Pi is an irrational, transcendental number. Pi continues infinitely without repetition or pattern.
Pi has fascinated mathematicians since Egyptian times. This interest in pi and its value to geometric forms continues.
To celebrate pi's contribution to roundness and irrationality, here's how much content we, the 2.1 billion Internet users, create every minute of every day using websites, email, social media, search and mobile apps. As such, it's only fitting that this information be represented by a pie chart. (BTW—Here's where we got the inspiration for this post; there are 19 other tips.)
15 Forms of online content generation
Here are 15 types of online content generation we create every 60 seconds.
571 New websites are created. Websites are where we establish ourselves and our businesses.
374 New WordPress blog posts are published. Blogs are alive and well.
217 New mobile web users. (Mobile only) This shows a trend towards mobile first and possibly mobile only.
48 Hours of new YouTube video are uploaded. (Visual)  That's 2 days worth of content posted in 1 minute.
204,166,667 Email messages are sent. This number is mind boggling. It's more than 100 times greater than the number of searches.
2+ million Google search queries are made. Google's changed how we find information. It's our new index system.
684,478 Pieces of content are shared on Facebook. We're more connected with more people more of the time.
$272,070 spent by consumers online. People are comfortable with online retail.
100,000+ Tweets are sent. Short form content is easy to create and share compared to longer text.
47,000+ Apple app downloads. (Mobile only) Apple users are willing to try new apps. BTW—Here's how to promote your mobile app.
34,722 Likes are received by brands and organizations.
27,778 New Tumblr blog posts are published. These shorter form, visual posts are being created  at a high rate.
3,600 Instagram photos are published. (Mobile only/ Visual) We're looking inside the square. Don't underestimate their value for supporting sales.
3,125 Flickr photos are added. (Visual) While no one talks about Flickr, in terms of numbers, it's not that far below Instagram. Further, you can upload non-photographs.
2,083 Foursquare check-ins are made. (Mobile only) People want others to know where they are.
3 Online content generation insights
While each of these 15 data points is interesting on its own, in aggregate, they present an important message for content marketers.
Content isn't for businesses only. The combination of connected devices and the Internet enables anyone, whether you're a business, organization or individual, to create content, whether you're conscious of it or not. Further, a lot of this "unconsciously" created content is more important and sought after by your key audience. Actionable Marketing Tip: For marketers, this means that your message has a lot of competition for your target audience's attention. Where possible, leverage other people's audiences.
Mobile is becoming the standard. 4 of these 15 content formats can only be consumed on a mobile device, while the remaining 11 can be viewed on a computer, smartphone, tablet or other Internet connected device. This shows that the world is moving towards a mobile standard. Actionable Marketing Tip: At a minimum, it's mobile first, especially for short, on-the-go consumption like email and social media updates.
Visual content matters. 3 of these 15 content formats (YouTube, Instagram and Flickr) are visual only, while Facebook and Tumblr tend to be visually heavy social media platforms. Pinterest, missing from the infographic, is also a visually heavy platform. Relative to Instagram, Flickr's numbers seem high. Actionable Marketing Tip: Appeal to your audience's visual senses.
Online content generation is increasing the amount of information we receive. At the same time, the Internet and connected devices allow us to get and use it more efficiently.
What do you think of this online content generation data?
Happy Marketing,
Heidi Cohen
---
---
For those of you in Raleigh, NC, please join me for Internet Summit November 11th through 13th.
Use the code HEIDI50 to save $50 OFF any pass level.
---
Even though Content Marketing World is finished until next September, you can still get all the content from 2014's exciting conference. The CMWorld On Demand package includes: Audio and video from the 2014 keynote sessions, audio and PowerPoint presentations of all the breakout sessions, over 40 audio sessions from the leading B2B and B2C brands, as well as keynote video performances.
---
Free Webcast!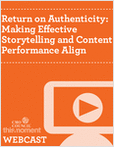 Join the discussion on Wednesday, October 29, 2014 at 10:00 AM PT/ 1:00 PM ET with Nancy Slavin, SVP of Marketing, Macy's Merchandising Group, and Dan Kimball, CMO, Thismoment.
According to research by Nielsen, 70 percent of global consumers trust online consumer reviews and rate reviews as the second most trusted form of advertising. And according to BazaarVoice, when it comes to trust, marketers may as well eliminate their own brand websites as a fountain of customer trust as only 16 percent of US consumers said they trust the content on a brand's website compared to the 51 percent who trust content generated by other users.
Today's digital currency is arguably authenticity, and what attracts customers - especially the digitally dependent, savvy millennial - is not just content. It is the delivery of authentic, unvarnished content from their peers.
Join the CMO Council on Wednesday, October 29, at 10am PST/ 1pm EST for a one-hour webcast that will invite industry experts in content marketing and user-generated content who are effectively leveraging authentic storytelling as part of their content marketing strategies. We will also feature an interactive Q&A session at the conclusion of the speaker presentations.
---
Related Articles
Photo Credit: (c)2014 Heidi Cohen – All rights reserved. Reuse permitted if you link to this blog post.