How To Increase Content Distribution At No Cost!
The most epic content will FAIL without content distribution.
If no one sees your content, what good is it?
How can it accomplish your business objectives?
This is why Derek Halpern spends 80% of his content marketing effort on content distribution. (BTW—Here's my perspective on content's 80-20 rule.)
Like you, Halpern doesn't like to waste his time. Instead of creating lots of content he carefully distributes the content he has. To this end, he's laser-focused on building a raving fan base ready to buy his products.
Marketers (myself included) often leave their existing content without proper promotion. Unlike Halpern, once a piece is finished, they're onto the next piece of content.
This fact was hit home to me by accident when I  discovered several pieces of awesome content that referenced me and linked to the Actionable Marketing Guide.
While they linked to my blog, I wasn't paying attention to the pingbacks. As a result I didn't know about the content. My bad.
The problem was that the authors and owners of this content lost a valuable opportunity to help distribute and promote their content for NO COST!
All they had to do was to email me.
What do I do when someone references me?
I'm flattered. After my little happy dance, I head over to the article and read it. Then I comment on it and let other people know about it by sharing it via social media.
No Brainer Content Distribution Lesson:
Don't assume the people you mention or link to will automatically see your mention.
Be proactive. Why? Because it gives you an opportunity to gain visibility with thought leaders and build relationships.
Contact the people you mention directly. Let them know, even if they're well known bloggers, that you mentioned them.
Include their names in your social media shares.
Here are 3 examples where I found out that I was referenced by accident.
B2B Content marketing rock star Michael Brenner of SAP and author of B2B Insider referenced me in his 33 Stats on the Future of Content Marketing. Not only did he write an article but also included a slideshare.  How I Discovered It: Brenner tweeted the article during a Content Marketing World chat.
King Content in Australia wrote Content Marketing and The Cult of Personality on their blog. The article focuses on humanizing your content or what I call talking human. It focuses on Seth Godin, Joe Pulizzi and me. All I can say is wow! How I Discovered It: King Content tweeted the post. I was lucky to catch in my mentions stream.
Victorino Abrugar of Entreb compiled a list of 25 Marketing Blogs that Business Owners Should Read. It's a really useful list of the Who's Who of Marketing Blogging that you should keep in your feed reader. How I Discovered It: Jay Baer mentioned this article on LinkedIn and I decided to check it out. I was surprised to see that Actionable Marketing Guide was number 25!
Looking for great examples of No Brainer Content Distribution lessons to follow? Here are 2 examples to follow.
Webequity's Tom Pick is a case study in how to do roundup posts so they're the gift that keeps on giving. Pick routinely creates list blog posts on hot marketing topics. The key to his success is curation. He goes through and culls the best of the best so that his audience knows that they're getting all protein and no fat.Then Pick carefully promotes his roundup across a variety of social media platforms including each of the authors by name. By using more than one platform, he ensures that the writers will see the mention and get to bask in their 15 seconds of fame. (Hey—it's the Internet!)
RazorSocial's Ian Cleary did a stellar job of promoting his Best WordPress Plugins: 54 Professionals Share Amazing Plugins To Inspire You. Cleary sent an email asking bloggers for their top 3 plug-ins. To aid his post, he included a link to each blogger and their photograph. Further, he created 2 graphics with bloggers' images included. Talk about flattery bait! In addition to sharing the information across social media platforms mentioning people, Cleary emailed participants.
No matter how amazing your content is, it won't distribute itself. You need to help it.
What other free or low cost content distribution would you recommend and why?
Happy Marketing,
Heidi Cohen
---
---
For those of you in Raleigh, NC, please join me for Internet Summit November 11th through 13th.
Use the code HEIDI50 to save $50 OFF any pass level.
---
Even though Content Marketing World is finished until next September, you can still get all the content from 2014's exciting conference. The CMWorld On Demand package includes: Audio and video from the 2014 keynote sessions, audio and PowerPoint presentations of all the breakout sessions, over 40 audio sessions from the leading B2B and B2C brands, as well as keynote video performances.
---
Free Webcast!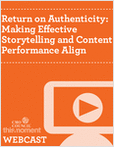 Join the discussion on Wednesday, October 29, 2014 at 10:00 AM PT/ 1:00 PM ET with Nancy Slavin, SVP of Marketing, Macy's Merchandising Group, and Dan Kimball, CMO, Thismoment.
According to research by Nielsen, 70 percent of global consumers trust online consumer reviews and rate reviews as the second most trusted form of advertising. And according to BazaarVoice, when it comes to trust, marketers may as well eliminate their own brand websites as a fountain of customer trust as only 16 percent of US consumers said they trust the content on a brand's website compared to the 51 percent who trust content generated by other users.
Today's digital currency is arguably authenticity, and what attracts customers - especially the digitally dependent, savvy millennial - is not just content. It is the delivery of authentic, unvarnished content from their peers.
Join the CMO Council on Wednesday, October 29, at 10am PST/ 1pm EST for a one-hour webcast that will invite industry experts in content marketing and user-generated content who are effectively leveraging authentic storytelling as part of their content marketing strategies. We will also feature an interactive Q&A session at the conclusion of the speaker presentations.
---
Related Articles
Photo Credit: http://www.flickr.com/photos/clearlyambiguous/183630116/