7 Steps to Define Your Business Niche
From a marketing perspective, a niche is a well-defined segment of a larger market. Because it's difficult to be all things to all people, marketers craft niches to suit their and business needs and resources.
The more specifically you can delineate your niche, the easier it is to target your marketing content and communications to meet your audience's needs as well as your own. Of course, the downside of niche marketing is that it reduces your potential customer base.
Crafting a well-delineated niche stratergy can help you create more effective marketing campaigns. In my experience, taking the time to understand a target market enables you to maximize your promotions because you know your audience's behaviors and hot buttons.
While marketing seven book clubs, I found that selling into a set of focused niche markets enabled me to maximize profitability because I could target promotions based on past buyer behavior and needs. For example, since mystery books are highly consumable, I was able to sell these readers more books by promoting related titles. By contrast, science fiction readers love collecting things so I increased revenues by offering special, related non-book products. Ironically, my peers who marketed general fiction had to segment their audience to increase sales. Without having a well defined niche, their marketing was too broad-based to be extreamly effective.
Here are seven steps to help you craft your niche to ensure business success.
Define your business goals. Start by determining what you want to accomplish. Are you looking to build your brand or maximize your audience size?
Understand your audience and their needs. To this end, it's helpful to create a marketing persona to better know your target market, their needs and the tradeoffs they're willing to make. Go beyond the superficial demographics to understand how your target market makes purchase decisions, what motivates them and who influences their choices.
Determine your product's strengths and weaknesses. Assess where your products fulfill your customers' needs (including additional content, training and support) and where the products fall short. Assuming that your product is perfect won't help you craft better marketing content. Answer the question, "What attracts customers to my product?" If you don't know the answer, ask your prospects and customers.
Examine close product substitutes. Don't assume consumers, especially in today's connected era, think only in terms of other brands of the same product. They've broader viewpoints that incorporate social input and a willingness consider a wider range of substitute options. In my experience, marketers tend to have blinders when it comes to alternatives for their product offering. In my book marketing days, I couldn't talk about libraries where readers could borrow books for free or Costco that sold bestsellers for half price. My management didn't want to focus on these alternatives.
Take the pulse of the social media conversation related to your offering.  Listen to what's being said about your product set on various social media venues. What do prospects like and dislike about your product category? Develop a social media persona to better understand where your audience congregates on social media and how they use these venues.
Analyze your competitors. When selecting your competitors, think in terms of people who sell the same product as well as broader retailers like Walmart, Amazon, eBay and Apple. Consider relovent geographic locations as well as online and mobile product options. Understand how they define their market and how it relates to their target audience, brand and pricing. Where are there gaps in the category for your product/offering and brand?
Price your offering.  Consider how your competitors have priced their products. How does your product compare in terms of pricing and branding? What sets your product apart from the competition? How does this help you price your product?
A niche market provides an organization with the opportunity to uniquely fulfill the needs of its members based on their interests, past behavior and role in the purchase process. It enables marketers to tailor their content and communications to better resonate with their audience and drive them to buy. Once you've defined your market segment, use it to guide the creation of your marketing and promotions. As part of this process, continually test new tactics tageted for your niche and measure your results.
Have you crafted your target niche? If so, what has your experience been.
Happy Marketing,
Heidi Cohen
---
---
For those of you in Raleigh, NC, please join me for Internet Summit November 11th through 13th.
Use the code HEIDI50 to save $50 OFF any pass level.
---
Even though Content Marketing World is finished until next September, you can still get all the content from 2014's exciting conference. The CMWorld On Demand package includes: Audio and video from the 2014 keynote sessions, audio and PowerPoint presentations of all the breakout sessions, over 40 audio sessions from the leading B2B and B2C brands, as well as keynote video performances.
---
Free Webcast!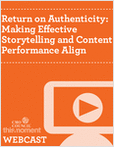 Join the discussion on Wednesday, October 29, 2014 at 10:00 AM PT/ 1:00 PM ET with Nancy Slavin, SVP of Marketing, Macy's Merchandising Group, and Dan Kimball, CMO, Thismoment.
According to research by Nielsen, 70 percent of global consumers trust online consumer reviews and rate reviews as the second most trusted form of advertising. And according to BazaarVoice, when it comes to trust, marketers may as well eliminate their own brand websites as a fountain of customer trust as only 16 percent of US consumers said they trust the content on a brand's website compared to the 51 percent who trust content generated by other users.
Today's digital currency is arguably authenticity, and what attracts customers - especially the digitally dependent, savvy millennial - is not just content. It is the delivery of authentic, unvarnished content from their peers.
Join the CMO Council on Wednesday, October 29, at 10am PST/ 1pm EST for a one-hour webcast that will invite industry experts in content marketing and user-generated content who are effectively leveraging authentic storytelling as part of their content marketing strategies. We will also feature an interactive Q&A session at the conclusion of the speaker presentations.
---
Related Articles
Photo Credit: http://www.flickr.com/photos/pstainthorp/4407947541/