Social Media Use Varies By Platform [Research-Charts]
Social media is no longer one-size fits all.
Participants use different social media venues to engage with people they know including family, friends and colleagues. While there, they fulfill their different wants and needs through interaction and content consumption.
But one element has remained constant. Across platforms, consumers use social media to be, well, social.
Therefore, use a mix of different social media platforms with tailored messages to ensure your marketing reaches your target prospects where and when they spend their time. While you're there, skip the promotion and ME-ME-ME since they don't want to hear it!!!
Develop helpful, engaged social media presences where your audience is to build your brand, answer customers' questions, and maintain your reputation.
Multi-platform social media use by the numbers
This research proves the need for multi-platform social media use by marketers. In addition to displaying the differences between the major social media venues, there are actionable social media marketing tips so you get the most out of each platform.
1.

Social media platform use varies by age (excluding China) according to Global Web Index findings.

This makes sense since younger demographics have grown up with social media.
Facebook remains the top social media platform across age groups. This isn't a surprise since Facebook is one of dominant sites worldwide.
YouTube places second and Google+ places third among Millennials and GenXers. Both  sites are owned by Google.
LinkedIn usage trails Twitter and Instagram globally. Yet, it's important to note that there isn't a large disparity between age groups. It's surprising that boomers don't dominate this social media network.
Instagram increased 25% for Millennials, 31% for Gen X and 8% for Boomers during the last 6 months.
Actionable Social Media Tip:
Know where your prospects, influencers and customers spend their time on  social media. To this end, create a social media persona.
2.

Over 50% or 107 million US adults over 18 use 2+ social media platforms.

Based on research by 140 Proof and IPG Media Lab, most US adults use a variety of different social media venues.
Actionable Social Media Tip:
Incorporate more than 1 social media platform into your marketing plans. Use more than just Facebook. Based on your target audience, extend your social media outposts to Twitter, LinkedIn, Google+, YouTube, Pinterest, and Instagram.
3.

Over 70% of respondents use different social media platforms for different interests.
Facebook stands out for Food and Dining, Family and Parenting, Technology, and Hobbies. This is logical since participants share images, articles and comments with family and friends on Facebook.
Twitter pops for celebrity and gossip since it's where news breaks. It's a close tie for technology because its audience is looking for the latest news.
LinkedIn is tops for Business / Industry. This is a no-brainer. Yet it's surprising LinkedIn isn't where participants go for Brands / Company news or Technology news. LinkedIn doesn't stand out from the pack for Personal Finance information (HINT: Check SeekingAlpha.)
Pinterest is top social media choice for Home Decor and Fashions / Style / Beauty. It's close behind Facebook for hobbies.
Instagram trails for some topics it should be on top of the heap such as Food/Dining, Fashion / Styles / Beauty, and Hobbies. This may be attributable to its size and recent growth spurt.
Actionable Social Media Tip:
Tailor your content marketing and social media interaction based on social media platform.
4.

60% of respondents connect with different types of people, media and brands on different social platforms.
Facebook dominates for personal connections-both family and friends.
LinkedIn dominates for business connections and industry experts but trails for brands.
Instagram is where people turn to see their friends and family. But it still trails Facebook, Twitter and Pinterest for brands.
Actionable Social Media Tip:
Target different customer segments on different social media platforms. Consider what your target market is looking to do and with whom their seeking to connect. Remember they may not want engage with you directly.
Provide the appropriate type of content on each platform that you want shared and will resonate with your customers.
5.

Social media: What topics do participants want to know about?

Don't just fill your social media streams with any old content. Take some time to appreciate what the conversation is.
Over 60% of all engagement on Facebook and Twitter comes from topics beyond the top 10.
Beyond lifestyle and entertainment, no topic has a significant percentage of the social media conversation. According to Klout, these differences are meaningful. 
Here's what Klout discovered about Facebook and Twitter social media interactions:
Babies (Facebook 21 versus Twitter 66) and Parenting (Facebook 22 versus Twitter 50.) It's no surprise that Facebook rocks for baby photos and parenting information. Facebook is about my family and friends.
 Customer Service (Facebook 197 versus Twitter 89.) If you need customer service, forget Facebook. Go to Twitter. This may be attributable to the fact that companies are only available on Facebook during business hours. Not when consumers are!!!
Dogs (Facebook 23 versus Twitter 95) and Cats (Facebook 52 versus Twitter 104.) Dogs drive more engagement than cats on both Facebook and Twitter. Skip the cat memes?!?
Homework ( Facebook 196, versus Twitter 98.) Twitter is where to go for homework answers. It's aligned with the data that brand Likes are declining.
Restaurants (Facebook 76 versus Twitter 112.) Food and beverage category has higher engagement on Facebook.
Actionable Social Media Tip:
Tailor the content you share based on your audience's key needs on each specific social media platform.
Post your social media hours in your profile. Where possible, be present on social media networks when your target market is active, NOT while you're at work.
6.

Social media relationships are NOT forever.

This is especially true on Facebook where most brand relationships are built.
Over 60% of respondents unliked or unfollowed a brand.
More importantly for Facebook and marketers, the proportion of Facebook users who click the like button is slowly decreasing according to 2014 global data especially among teens.
Actionable Social Media Tip:
Continue to grow and maintain your Facebook presence. Where appropriate, consider augmenting it with Facebook ads.
Diversify your social media marketing portfolio. The objective is to NOT put all of your social media eggs in one marketing basket.
Social media use depends on the specific platform.
Modify your content marketing to appeal to social media users where and when they're on a specific site.
For marketers, this means adapting your content by social media platform, whether it's Facebook, Twitter, LinkedIn, Google+, YouTube, Pinterest or Instagram.
Make your prospects and customers want to read and share the information you post on social media.
What else would you recommend to increase multi-social media platform use?
Happy Marketing,
Heidi Cohen
---
---
For those of you in Raleigh, NC, please join me for Internet Summit November 11th through 13th.
Use the code HEIDI50 to save $50 OFF any pass level.
---
Even though Content Marketing World is finished until next September, you can still get all the content from 2014's exciting conference. The CMWorld On Demand package includes: Audio and video from the 2014 keynote sessions, audio and PowerPoint presentations of all the breakout sessions, over 40 audio sessions from the leading B2B and B2C brands, as well as keynote video performances.
---
Free Webcast!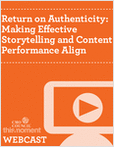 Join the discussion on Wednesday, October 29, 2014 at 10:00 AM PT/ 1:00 PM ET with Nancy Slavin, SVP of Marketing, Macy's Merchandising Group, and Dan Kimball, CMO, Thismoment.
According to research by Nielsen, 70 percent of global consumers trust online consumer reviews and rate reviews as the second most trusted form of advertising. And according to BazaarVoice, when it comes to trust, marketers may as well eliminate their own brand websites as a fountain of customer trust as only 16 percent of US consumers said they trust the content on a brand's website compared to the 51 percent who trust content generated by other users.
Today's digital currency is arguably authenticity, and what attracts customers - especially the digitally dependent, savvy millennial - is not just content. It is the delivery of authentic, unvarnished content from their peers.
Join the CMO Council on Wednesday, October 29, at 10am PST/ 1pm EST for a one-hour webcast that will invite industry experts in content marketing and user-generated content who are effectively leveraging authentic storytelling as part of their content marketing strategies. We will also feature an interactive Q&A session at the conclusion of the speaker presentations.
---
Related Articles
Photo Credit:  https://www.flickr.com/photos/mkhmarketing/8468788107 via mkhmarketing.wordpress.com