How Social Media, Content Marketing & Mobile Continue to Change Marketing
Marketing today is challenged by the increase in new connected mobile devices prospects have, the easy availability of low-cost valuable information they seek, and the ability to tap into a variety of resources including social communities for product recommendations.
As a result, your customers are in control regardless the size of your marketing budget.
This means you must work smarter to meet you prospects' and customers' needs without knowing when they're in purchase mode or influencing someone else's purchase.
To this end, marketers must provide appropriate content marketing and social media engagement that can be consumed across an array of devices to win customers at each moment of truth. This means understanding your marketing persona and their content marketing triggers.
Marketing's 4 moments of truth defined
While traditionally considered one point in time, these four marketing moments of truth (aka MOT) can occur over time since they involve more interaction. 
1. Zero Moment of Truth. (Coined by Google.) This is when prospects recognize a need and goes online to gather information regarding a potential purchase. Understand that the word purchase is used loosely. It applies to acquiring a wide range of goods and services including face-to-face meetings (think interviews and dates). Based on Google's research, people checked 10.4 sources of information to make a decision in 2011, an increase from 5.3 sources in 2010. 
Content marketing needed. Jay Baer calls this self-serve information since prospects seek and use it on their own. Among the options are:

Blog posts answering customer questions.
YouTube videos showing how to use your product.
Pinterest and Instagram images.
Slideshare presentations.

Social media engagement – While it's difficult to project when a specific prospect is at this moment of truth, leverage the power of your social media presence across venues to provide product information and answer questions.
2. First Moment of Truth. (Coined by P&G.) This represents the a-ha moment when confronted with the product and related alternatives, assumed to be in real life. The increase in showrooming behavior would confirm that this still happens. This is considered to be the decision point to buy a specific brand or product.
Content marketing needed. Understand that at this point, your prospect is over half of the way through their purchase decision making.

Offer product specifics including Product availability, pricing and shipping information.
Provide reviews, ratings, customer stories and testimonials.

Social media engagement. At this phase, customers are close to purchase; they're seeking answers to specific questions. If you don't supply them, others in their network including your competitors will. Among the key social media options are Facebook and Twitter. Ensure you have sales and/or customer service representatives present. Also include your physical address, phone number and email contact on your social media profiles.
3. Second Moment of Truth. (Coined by P&G.) This moment happens after the customer has bought and started using your brand or product. The resulting experience (hopefully) supports your pre-purchase promises, helping to build a relationship with your audience.
The challenge for many marketers is that they stop providing post-sales content marketing formats. By doing this, they loose out on the potential to convert a one-time customer into a fan.
Content marketing needed. Provide targeted information that helps customers use your products or helps them to return or fix them. Think in terms of showing customers how to use your products.

Distribute how-to videos and user guides.
Offer patterns and recipes where appropriate.
Provide or participate in user forums to support customers.

Social media engagement. Be available to answer customer questions.
4. Third Moment of Truth. (Coined by Pete Blackshaw (ex P&G )) This happens post-product use. It's when your customer becomes a true fan and gives back to your brand with new content: word of mouth, ratings and reviews. At this point, the customer has become a walking endorsement for your business.  To ensure that this third moment of truth works for your organization, you must be willing to nudge your customers to act by encouraging them to return to your website, social media profile or other rating site to comment and contribute collateral content. Further, while you can't erase negative comments because you don't like them, you must respond to them and change your behavior.
Content marketing needed. Targeted communications post-purchase. Use this opportunity to ensure that customers are happy with your product.
Social media engagement. This involves a combination of customer ratings and reviews as well as sharing their product related experiences via a variety of platforms including Facebook, Twitter, Instagram, Pinterest and YouTube. It also includes platforms that aren't always considered social media such as Amazon (the Granddaddy of ratings and reviews), Yelp and TripAdvisor.

 
As a marketer, you must understand each moment of truth in order to provide useful content marketing and social media engagement that build and maintain relationships with prospects and customers.
How does your organization deal with each of these moments of truth? 
Happy Marketing,
Heidi Cohen
Hat tip to Jay Baer whose book, Youtility, just debuted. Stay tuned to this blog to win a signed copy of the book. Also, please join us at Content Marketing World in September. Use code CMWA100 during registration and get $100 off!
---
---
For those of you in Raleigh, NC, please join me for Internet Summit November 11th through 13th.
Use the code HEIDI50 to save $50 OFF any pass level.
---
Even though Content Marketing World is finished until next September, you can still get all the content from 2014's exciting conference. The CMWorld On Demand package includes: Audio and video from the 2014 keynote sessions, audio and PowerPoint presentations of all the breakout sessions, over 40 audio sessions from the leading B2B and B2C brands, as well as keynote video performances.
---
Free Webcast!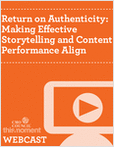 Join the discussion on Wednesday, October 29, 2014 at 10:00 AM PT/ 1:00 PM ET with Nancy Slavin, SVP of Marketing, Macy's Merchandising Group, and Dan Kimball, CMO, Thismoment.
According to research by Nielsen, 70 percent of global consumers trust online consumer reviews and rate reviews as the second most trusted form of advertising. And according to BazaarVoice, when it comes to trust, marketers may as well eliminate their own brand websites as a fountain of customer trust as only 16 percent of US consumers said they trust the content on a brand's website compared to the 51 percent who trust content generated by other users.
Today's digital currency is arguably authenticity, and what attracts customers - especially the digitally dependent, savvy millennial - is not just content. It is the delivery of authentic, unvarnished content from their peers.
Join the CMO Council on Wednesday, October 29, at 10am PST/ 1pm EST for a one-hour webcast that will invite industry experts in content marketing and user-generated content who are effectively leveraging authentic storytelling as part of their content marketing strategies. We will also feature an interactive Q&A session at the conclusion of the speaker presentations.
---
Related Articles
Photo Credit:http://www.flickr.com/photos/mobilestreetlife/4278659537/