How to Turn Your Blog Into Your Best Salesman
Does your blog go ka-ching each time a new blog post is published? If you're seeking to turn your blog into a sales engine, you must provide the right content in the right format in the right place at the right time. For many bloggers, this can be a pretty tall order.
A blog should an integral part of any social media, content marketing and/or search strategy aimed at attracting prospects, increasing sales and supporting customers. The challenge for many bloggers is that they haven't done the necessary planning to make this happen. If that's you, don't worry you're not alone. 66% of content marketers wing content creation according to IMN's 2013 Content Marketing Survey.
7 Easy steps to make your blog into a super sales engine
Set blog goals aimed to drive and support sales. If your blog isn't aligned with your sales objectives, the chances are that it won't drive revenues.
Understand your audience including influencers, buyers, end users and fans. To this end gather input from your customer-facing employees such as sales and customer service. Also, listen to what's being said on social media outposts. Create targeted marketing personas and social media buyer personas.
Develop the information customers actively seek when they're in purchase mode. As a blogger, this means that the information must be human communication that doesn't look, sound or feel promotional in any way. Here's where insights from your employees can help the content creation process. Understand that some forms of content can fill different needs during the sales process. Specifically, focus on these five types of content:

Product information. Showcase your products like they're celebrities. Explain to your target audience how they work and can fulfill their specific needs. For example, Ian Cleary of RazorSocial is the source for social media tools. 

Answer customer questions. The goal is to provide the information customers seek without creating fresh content to answer every inquiry. Consider blog posts as a way to streamline your customer service process. Realize that until you answer prospects' questions, they won't purchase from you. Marcus Sheridan did this for his pool company, River Pools, with what he called the secret sauce.

Show potential buyers how to style your product. This is particularly important for fashion, beauty and interior design products. Approach these blog posts like you're styling a store window. Let your customers see how to coordinate and integrate your products into their lives. Target does a great job of this with their On The Dot Tumblr.

Educate customers. Think fun learning. Use your blog posts to show customers how to employ your products. Just like the demonstrations in a William Sonoma, transform the experience into a blog post with instructions, photographs and/or video. Kraft is a powerhouse in this field.

Offer ratings and reviews. Customers trust the wisdom of crowds in the form of other patrons' insights. Many businesses are afraid of ratings but if you don't provide them, potential buyers will seek them out on other platforms hindering your ability to convert them into buyers. Further, understand that what one customer thinks is a negative, may be a positive for another customer.

Integrate purchase related blog posts into an editorial calendar. According to Hubspot findings, you need to post 2 to 3 times a week to get the same level of traction as blogging multiple times a week. Additionally, you need to amass a minimum of 50 blog posts before your blog gains traction. What's important to creating your editorial calendar is how you're going to publish different types of content. Ideally, you can set up a regular posting schedule. For example, every Monday you answer a customer challenge and every Wednesday, you feature a customer using your product.
Make content consumable. Your blog can contain the best information in the world on your products but if it's too hard to read, it's useless. This means using a magnetic headline and an image to attract readers. Provide a variety of different types of content to meet customer needs. Think photographs, short videos, instructions and recipes or patterns.
Make your content findable. Hitting publish doesn't by itself cause everyone to flock to your front door. You must aid content discovery. Focus your content around one key phrase. Link to products where appropriate including descriptions, photos, videos, PDFs, and other content. Think in terms of the long tail of search terms.
Track results by incorporating a call-to-action where appropriate. Don't just assume that customers will know what you want them to do. Tell them! It's useful to nudge them towards action without being promotional or pushy. Measure how many people click-through. (Here are 65 blog metrics.)
The key to making your blog into your best salesman is to leverage its power as a social media and content marketing tool to create and distribute the information customers actively seek without the sales hype. Further, you can optimize your posts to be easy-to-find and easy-to-consume.
What have you done to turn your blog into a sales engine?
Happy Marketing,
Heidi Cohen
---
---
For those of you in Raleigh, NC, please join me for Internet Summit November 11th through 13th.
Use the code HEIDI50 to save $50 OFF any pass level.
---
Even though Content Marketing World is finished until next September, you can still get all the content from 2014's exciting conference. The CMWorld On Demand package includes: Audio and video from the 2014 keynote sessions, audio and PowerPoint presentations of all the breakout sessions, over 40 audio sessions from the leading B2B and B2C brands, as well as keynote video performances.
---
Free Webcast!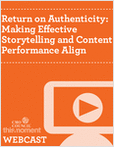 Join the discussion on Wednesday, October 29, 2014 at 10:00 AM PT/ 1:00 PM ET with Nancy Slavin, SVP of Marketing, Macy's Merchandising Group, and Dan Kimball, CMO, Thismoment.
According to research by Nielsen, 70 percent of global consumers trust online consumer reviews and rate reviews as the second most trusted form of advertising. And according to BazaarVoice, when it comes to trust, marketers may as well eliminate their own brand websites as a fountain of customer trust as only 16 percent of US consumers said they trust the content on a brand's website compared to the 51 percent who trust content generated by other users.
Today's digital currency is arguably authenticity, and what attracts customers - especially the digitally dependent, savvy millennial - is not just content. It is the delivery of authentic, unvarnished content from their peers.
Join the CMO Council on Wednesday, October 29, at 10am PST/ 1pm EST for a one-hour webcast that will invite industry experts in content marketing and user-generated content who are effectively leveraging authentic storytelling as part of their content marketing strategies. We will also feature an interactive Q&A session at the conclusion of the speaker presentations.
---
Related Articles
Photo Credit: 
Cash register: http://www.flickr.com/photos/jojakeman/4883498118/
Ferrari http://www.flickr.com/photos/16822508@N05/1989831538/