Is Your Small Business Findable On Every Device?
Location, location, location, the real estate cliché, has additional meaning in terms of devices, computers, smartphones and tablets.
Like place, one of the 4Ps of marketing, your business's findability influences the prospects and buyers you can reach.
When it comes to small business, your target audience must be able to find you regardless of the device(s) they use.
Think mobile and local! It's a great way to overcome a bad small business location.
5 Mobile marketing research insights for small business [11 Charts]

Based on a local search study conducted by comScore for 15miles/Neustar Localeze, published in March 2013, and other research by Nielsen Life360 for Google in 4Q2012, here's how consumers use devices, particularly smartphones and tablets, to find businesses.
1. Mobile and tablet searches increased roughly 20% from March 2012 to December 2012 according to the comScore research. Tablets have experienced a steeper growth curve than smartphones.  This means that businesses must have a presence on these devices to ensure that their target audience can find them when they're looking.
2. Consumers use different devices for different purposes. PCs tend to be for work and research intensive information gathering. Consumers are looking for purchases with longer time horizons and search for product details and retail store hours. Tablets tend to be personal devices and owners are less mobile with them. Therefore tablets get used for couch commerce. Depth of content matters for PC and tablets. Tablets are most important for seeking promotions and ratings & reviews. Smartphones are the "I'm looking for your store" device when customers are seeking directions to your nearest location. Think maps and driving instructions.
3. Roughly 40% of respondents interact with local businesses on social media based on comScore's findings. About two-thirds of these social network users are passive  – meaning that they "liked" a business. Facebook dominates over the other social media platforms for engagement. It's important as a branding tool, especially if you've got loyal fans. Don't write off social media since half of the one-third of active participants check ratings and reviews and about two out of five write reviews. (Here's additional information on the value of a Facebook fan. This Facebook research also shows that Facebook engagement happens post-purchase!)
4. Mobile search drives action, both online and offline according to Nielsen's findings. Each mobile search generates almost two follow up actions, both at home and away. These mobile searches generate even more follow-up when they are for products or shopping. This implies that, when prospects using mobile are looking for additional information about your products and business, they are highly likely to take the next step towards purchase. 55% of mobile searches result in a purchase related conversion in one hour and 84% result in a follow up action within five hours.  
5. Mobile searches, both smartphone and tablet, are more likely to result in a sale than computer based searches according to the comScore research. Businesses take note that tablet purchases tend to be higher in dollar value. Therefore make sure that your prospects can view your product related content via a tablet.
5 Actionable Mobile Marketing Tips
Businesses must be findable across all devices – computers, tablets and smartphones. This is particularly important for small businesses that tend to have a local focus.
Consumer buying behavior has changed as they've acquired new devices and developed different content consumption habits. As a result, if your prospects can't find you when they look for your business, there's a good chance they'll use a local competitor.
Here are five actionable mobile marketing tips to help your small business get on track.
Ensure your business information is accessible across platforms. Post your address, phone number and store hours on your website's front page and social media platforms. Also, check that your website is mobile-friendly.
Provide mapping ability where appropriate. When searching with a smartphone, prospects are most likely to be looking for your location and directions to get to you.
Stake your claim on social media. At a minimum, create a Facebook page. While only a small proportion of consumers use Facebook for local search, they tend to be more socially active. As a result, they're more likely to be your word of mouth promoters. Also, claim your business' location on Google Places and associate it with a Google+ account.
Invest in mobile search. Web and mobile search buys are separate. Therefore, you need to have budgets for both. This is particularly important for local businesses, especially restaurants.
Be ready to close a sale whenever your prospect is ready. This means have a website, phone number and retail establishment location available to meet your prospects' purchase location preference.
Ensure that your small business is findable by your target audience, especially if it's local. This means being visible on computers, smartphones and tablets.
What have you done to make your business more findable across devices?  What are your biggest hurdles?
Happy Marketing,
Heidi Cohen
---
---
For those of you in Raleigh, NC, please join me for Internet Summit November 11th through 13th.
Use the code HEIDI50 to save $50 OFF any pass level.
---
Even though Content Marketing World is finished until next September, you can still get all the content from 2014's exciting conference. The CMWorld On Demand package includes: Audio and video from the 2014 keynote sessions, audio and PowerPoint presentations of all the breakout sessions, over 40 audio sessions from the leading B2B and B2C brands, as well as keynote video performances.
---
Free Webcast!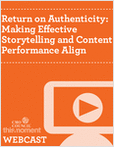 Join the discussion on Wednesday, October 29, 2014 at 10:00 AM PT/ 1:00 PM ET with Nancy Slavin, SVP of Marketing, Macy's Merchandising Group, and Dan Kimball, CMO, Thismoment.
According to research by Nielsen, 70 percent of global consumers trust online consumer reviews and rate reviews as the second most trusted form of advertising. And according to BazaarVoice, when it comes to trust, marketers may as well eliminate their own brand websites as a fountain of customer trust as only 16 percent of US consumers said they trust the content on a brand's website compared to the 51 percent who trust content generated by other users.
Today's digital currency is arguably authenticity, and what attracts customers - especially the digitally dependent, savvy millennial - is not just content. It is the delivery of authentic, unvarnished content from their peers.
Join the CMO Council on Wednesday, October 29, at 10am PST/ 1pm EST for a one-hour webcast that will invite industry experts in content marketing and user-generated content who are effectively leveraging authentic storytelling as part of their content marketing strategies. We will also feature an interactive Q&A session at the conclusion of the speaker presentations.
---
Related Articles
Photo Credit: http://www.flickr.com/photos/29881930@N00/2086641268/