How Global Brands Adapt to Local Needs
Brand power—you can't underestimate it. Consistency matters so that your target audience recognizes your brand from a mile away, even if it's out of context.
For global brands, the challenge goes beyond consistency but rather how to adapt to local tastes, history and needs at the same time.
During my recent trip to Peru and Colombia, I was intrigued by how global brands adapted to local audiences. Here are examples of 2 major coffee brands.
Starbucks
When Starbucks modified their logo to its current green mermaid in 2011 it attracted a lot of (mostly negative) attention. But since then the brand has remained consistent.
While you can find a Starbucks on many corners of major US cities, it was surprising to find an empty coffee stand in an off-the-beaten track tourist site between Cusco and Puno, Peru. Additionally, the mermaid's crown had a sun disk consistent with the Inca sun god, Inti. Also notable was the use of a Hotmail email address, rather than a corporate Starbucks address. 
By contrast, except for the use of Spanish and the guard wearing a business suit, step into the Starbucks in Lima, Peru and you could be anywhere in the world complete with the woman complaining about her vente cappuccino. Okay—the pastries were modified for local tastes, there was a Peruvian blend of coffee, and the mugs read Lima, Cusco and Peru.
But, don't take my word for it, look for yourself.
Juan Valdez Coffee
Created by Doyle Dane Bernbach in 1958, Juan Valdez represents Colombian coffee growers as part of an advertising campaign for the National Federation of Coffee Growers of Colombia to encourage shoppers to buy 100% Colombian coffee. As an icon, Juan Valdez became well known in Colombia as well as the US. (For more information on brand icons, check out this piece on Leo Burnett.)
Based on the well recognized logo/personality, Juan Valdez, the Colombian coffee growers created a chain called Juan Valdez Cafe to compete in the coffeehouse market in 2002. The chain sells 100% Colombian coffee and was the place I was told to buy coffee to bring home.
While the Juan Valdez chain has cafes on many corners in Bogota, it has limited cafes in New York. (Note: I've only seen it in JKF airport. See the first photo below.) From the outside, you see people sitting like they do in Starbucks (Sorry—no photos). But their signs seem similar to many fast food chains.
Interestingly, when I purchased 3 pounds of premium priced beans to bring home, the manager told me that I couldn't take photographs in the cafe/store. Despite that I was able to get a few shots to show that Juan Valdez Cafes are consistent in their brand presentation. They even sold branded clothes! Their pastries were more Colombian that global in nature.
Fortunately, the barrista at the Sheraton Bogota was happy to get his photo taken. 
What will be interesting is when Starbucks starts to enter the Colombian market which is planned for next year. The question is how will it adapt to the market and how will Juan Valdez respond.
What ways have you seen global brands adapt to local markets?
Happy Marketing,
Heidi Cohen
---
---
For those of you in Raleigh, NC, please join me for Internet Summit November 11th through 13th.
Use the code HEIDI50 to save $50 OFF any pass level.
---
Even though Content Marketing World is finished until next September, you can still get all the content from 2014's exciting conference. The CMWorld On Demand package includes: Audio and video from the 2014 keynote sessions, audio and PowerPoint presentations of all the breakout sessions, over 40 audio sessions from the leading B2B and B2C brands, as well as keynote video performances.
---
Free Webcast!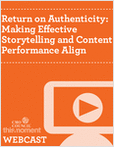 Join the discussion on Wednesday, October 29, 2014 at 10:00 AM PT/ 1:00 PM ET with Nancy Slavin, SVP of Marketing, Macy's Merchandising Group, and Dan Kimball, CMO, Thismoment.
According to research by Nielsen, 70 percent of global consumers trust online consumer reviews and rate reviews as the second most trusted form of advertising. And according to BazaarVoice, when it comes to trust, marketers may as well eliminate their own brand websites as a fountain of customer trust as only 16 percent of US consumers said they trust the content on a brand's website compared to the 51 percent who trust content generated by other users.
Today's digital currency is arguably authenticity, and what attracts customers - especially the digitally dependent, savvy millennial - is not just content. It is the delivery of authentic, unvarnished content from their peers.
Join the CMO Council on Wednesday, October 29, at 10am PST/ 1pm EST for a one-hour webcast that will invite industry experts in content marketing and user-generated content who are effectively leveraging authentic storytelling as part of their content marketing strategies. We will also feature an interactive Q&A session at the conclusion of the speaker presentations.
---
Related Articles
Photo Credit: (c)2013 Heidi Cohen – All rights reserved. Limited use allowed if you link to this article.