How Weighty Is Your Content Marketing? [Chart]
Not all content marketing is created equal; it varies based on weight, both in terms of its mass and seriousness of thought. Intuitively, this makes sense since each form of information fulfills different customer needs.
To ensure your content marketing is worth its weight in gold, provide an array of information because prospects and customers need to hear or see a message three to five times before they believe it.
3 Content marketing weight classes
Viewed from this perspective, there are three basic content marketing weight classes and each has its unique characteristics. To get the most value from your content marketing budget and resources, use a mix of all three options and integrate them into your editorial calendar. Craft each to its own purpose while providing focus and brand continuity.
Heavyweight content. These are major pieces of strategic content. They're part of a major marketing effort that positions your company, brand and/or product. This content should be evergreen. Heavyweight content should be an integral part of your promotional and marketing plan.

Heavyweight content supports top of the funnel purchase activity including brand building, driving traffic and establishing thought leadership. From a resources perspective, while the strategy for heavyweight content should be developed internally to ensure it's strategically aligned with your business objectives, it often requires external resources to execute. As a result, this content is often more expensive. Therefore plan ahead to ensure you create additional information that can be incorporated into middleweight and lightweight content.

Actionable Marketing Tip: Get the rights to use content elements in other forms and channels without additional fees in your contracts.

Middleweight content. This is the workhorse of your content offering. It's the on-going content that nurtures your prospects, supports your customers, and keeps your fans engaged. This content should provide continuity with your heavyweight pieces. Publish this type of content twice a month or weekly depending on your resources and audience.

Middleweight content has an impact on middle of the funnel activities such as research, conversion and post sales support. This information requires internal resources that understand how your organization works. In B2B companies, employees involved in generating content must have access to and a working relationship with marketing, sales and customer service to ensure that communications convert leads into customers. (Here's more insights on B2B lead generation.)

Actionable Marketing Tip: Leverage this content to create a series of communications when new prospects or leads enter your process as well as over the course of your monthly editorial calendar.

Lightweight content. This is tactical content. Its goal is to interact with your prospects, customers, fans and the public. This is the information you use to engage with and respond to prospects and customers as well as to participate on social media platforms. It encompasses Just-In-Time content to take advantage of trending topics, curated content to leverage and share other people's articles, and user generated content created in conjunction with your community (Here's detailed explanation of these content strategies).

Lightweight content works at the middle and bottom of the purchase funnel. Publish this type of content at least twice a week to multiple times a day depending on the platform. It requires internal resources who know your company and your brand.

Actionable Marketing Tip: Use this on-going engagement to discern potential issues and respond to customer questions. It can also give you ideas for future content.
Content Marketing by Weight Class
Content type

Heavyweight

Middleweight

Lightweight

Marketing goal
Brand building
Traffic driver
Customer/lead acquisition
Thought leadership
Lead qualification
Sales support
Branding
Sales support
Fan advocacy
Thought leadership
Target audience
Prospects
Customers
Public
Media
Prospects
Customers
Prospects
Customers
Public
Content type
Evergreen
Just-In-Time
Repurposed
Just-In-Time
Repurposed
Curation
Co-created
Content format (Examples)
Ebooks
Presentations
White papers
Research
Webinar
Case studies
Email newsletter
Articles
Infographics
Videos
Podcasts
Blog posts
Photographs
Social media
Purchase process impact
Awareness
Research
Sales
Post sales
Awareness
Research
Sales
Post-sales
Advocacy
Publication frequency
Quarterly to monthly
Twice per month to weekly
Couple of times per week to daily
Resources
Internal for strategy,
External execution
Internal for strategy & execution
Internal for strategy & execution
Source: ©2013 HeidiCohen.com – All rights reserved
Regardless of business size, you need a mix of different weights of content marketing. Maximize your marketing budget by planning and creating your content with your goals and audience in mind in order to develop the most effective mix to meet your prospects' and customers' specific needs. This will ensure that your entire content marketing offering is worth its weight in gold.
Do you plan your content marketing in conjunction with your promotional calendar? Does advance planning help you to save budget and more effectively use your resources?
Happy Marketing,
Heidi Cohen
---
---
For those of you in Raleigh, NC, please join me for Internet Summit November 11th through 13th.
Use the code HEIDI50 to save $50 OFF any pass level.
---
Even though Content Marketing World is finished until next September, you can still get all the content from 2014's exciting conference. The CMWorld On Demand package includes: Audio and video from the 2014 keynote sessions, audio and PowerPoint presentations of all the breakout sessions, over 40 audio sessions from the leading B2B and B2C brands, as well as keynote video performances.
---
Free Webcast!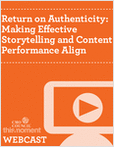 Join the discussion on Wednesday, October 29, 2014 at 10:00 AM PT/ 1:00 PM ET with Nancy Slavin, SVP of Marketing, Macy's Merchandising Group, and Dan Kimball, CMO, Thismoment.
According to research by Nielsen, 70 percent of global consumers trust online consumer reviews and rate reviews as the second most trusted form of advertising. And according to BazaarVoice, when it comes to trust, marketers may as well eliminate their own brand websites as a fountain of customer trust as only 16 percent of US consumers said they trust the content on a brand's website compared to the 51 percent who trust content generated by other users.
Today's digital currency is arguably authenticity, and what attracts customers - especially the digitally dependent, savvy millennial - is not just content. It is the delivery of authentic, unvarnished content from their peers.
Join the CMO Council on Wednesday, October 29, at 10am PST/ 1pm EST for a one-hour webcast that will invite industry experts in content marketing and user-generated content who are effectively leveraging authentic storytelling as part of their content marketing strategies. We will also feature an interactive Q&A session at the conclusion of the speaker presentations.
---
Related Articles
Photo Credit: http://www.flickr.com/photos/puuikibeach/4415314410/