Do People Read Your Content Marketing? [Data]
While long form content is part of every marketer's content marketing strategy and offering mix, the question is: Does it deliver value for the amount of resources and budget required to create it?
Charts complied by Josh Schwartz, Chartbeat's data scientist offer useful insights content creators must consider. We examine the implications and offer five actionable content marketing tactics to help you meet your audience's content needs.
4 Long format content findings
Schwartz compared data for Slate.com against a mix of 1 million visitors on 10 top publishers. The average web article is about 2,000 pixels in length not including information that follows the piece such as comments. Therefore readers can consume over 100% of the article although this often results from images and videos at the bottom of the article. It's important to note that this data was based on web-based articles. As a result, don't draw conclusions about other long forms of content like white papers and ebooks.
10% of visitors never scroll on an average article, twice the percentage that don't scroll on Slate.com. In part this may be attributed to Slate.com's page layout that requires readers to scroll to view more than the title and main image. These people exhibit some form of interaction because those who leave or bounce after landing aren't included in these results.
On average, most readers get through 60% of the article, compared with 50% of a Slate.com article. This means most articles aren't read to completion resulting in missed information. 

People share articles on social media platforms before they finish reading them. While unable to track individual tweets directly, Chartbeat examined the total number of tweets and compared it to the number of visitors who scrolled through the article. For content marketers, this news is a mixed blessing. Although readers don't consume all of the long content, they still contribute to earned media. Chartbeat found that articles that attract a lot of tweets don't necessarily get read very deeply and articles read in-depth don't receive many social media shares. 

Almost two-thirds of time spent on a webpage is "below the fold".  This translates to that fact that higher-quality content causes people to scroll more. 
5 Actionable content marketing tactics for long form content
Do these findings mean content marketers should just focus on photographs and tweets? The simple answer is no. But more consideration is needed. Here are five tips to help you use these findings in your content marketing strategy.
Know your audience. Understand whom you're trying to reach. To this end, create a marketing persona and a social media buyer persona to facilitate the process. Specifically, you're looking to find out what content your prospects, customers and fans seek from you, what platforms they use to consume the content, and what type of device and where they're located when they seek your information. This provides context for your content enabling you to tailor to their specific needs.
Incorporate photographs and videos. This is no surprise. Images are reader magnets. They pull potential readers into your content. (Here are some tips to make your images more effective.)
Format content to facilitate consumption. Make it easy for readers to get through your information. Use bolding and outlining. Breakup  long paragraphs.
Plan content reuse in advance. If most of your readers don't read the entire piece, make sure that you're offering your content in another form elsewhere to ensure you maximize the number of readers attracted and leads generated. By creating all related content at one time, you can minimize effort and costs.
Test different content presentations. Just as Slate.com's readers consumed a different amount of information from the average publication, your content readability for your target audience may differ. Therefore test different presentations, lengths and platforms to determine what works best for your specific audience.
As content marketing becomes increasingly more important, one thing's for certain: "one size content marketing doesn't fit all!"
Therefore, marketers must continually try new formats, platforms and presentations to determine what's optimal for their prospects and customers at each stage of the purchase process.
What has your experience been with using long form content marketing?
Happy Marketing,
Heidi Cohen
P.S. Want to find out more about content marketing and get the tools you and your team need? Then join me at Content Marketing World September 9th through 12th in Cleveland, OH where there are over 60 sessions focused on helping you improve your content effectives.
Registration closes this Friday!
But as my special guest you can sign up now for  Content Marketing World using my affiliate code SPEAKERGUEST  for a $100 discount on the standard registration price.
---
---
Even though Content Marketing World is finished until next September, you can still get all the content from 2014's exciting conference. The CMWorld On Demand package includes: Audio and video from the 2014 keynote sessions, audio and PowerPoint presentations of all the breakout sessions, over 40 audio sessions from the leading B2B and B2C brands, as well as keynote video performances.
Social Media Marketing World — San Diego — March 25-27, 2015.

Register Now and Save $480!   Limited time offer.
Register Now for the Intelligent Content Conference.
An annual gathering of the best and brightest content professionals on the planet. People who know the secrets (and are willing to share them). People who value content as a business asset. People who have made it their life's work to develop repeatable, systematic approaches to producing amazingly effective content.
---
Free Webinar!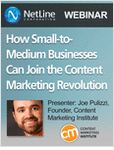 Join the discussion on Tuesday, December 2 - Time: 2 PM (EST) / 11 AM (PST) to learn how small and medium sized businesses don't have to have an entire content marketing organization (or budget) to be successful in content marketing.
Joe Pulizzi, Author and Founder of Content Marketing Institute and Werner Mansfeld, President of NetLine Corp, discuss realistic and actionable methods for your company to get awareness, consideration and sales leads using marketing content – without the budget or resources of an enterprise-level organization.
Date: December 2nd, 2:00 pm EST/12:00pm CST/11:00 am PST
Here are just some of the questions you'll get answered:
What is content marketing and why is it important?
What do I need to have in place to compete effectively using content marketing?
How do I drive sales leads and get a positive ROI using content marketing?
How can my small business (or budget) compete with my larger competitors using content marketing?
What can I start doing today to start seeing results?
Joe Pulizzi and Werner Mansfeld are experts in Content Marketing and Content Syndication. Learn from their combined experience how to take advantage of content marketing for your business, no matter the size.
---
Related Articles
Photo Credit: 
Shadow: http://www.flickr.com/photos/mararie/282584321/
Giant cookie: H Shapiro via http://www.flickr.com/photos/hshap/469025786/