4 Facebook Related Actionable Marketing Tips [Research]
At the core of Facebook's target audience, Gen Z, tweens and teens born after 1995, are mobile mavericks who use social media to connect and communicate with each other.
While overall social media usage is declining slightly in the United States, this behavior is more acute among Facebook participants especially teens.
1.

US social media trends: age matters

About two-thirds of US adults participate on social media platforms and on Facebook specifically as of December 2012 according to Pew Internet Research presented in February 2013.

Since 2005, overall social media use has grown, peaking in mid-2012 when it started to decline slightly across all age groups except 30-49 year olds. The 18-29 year old segment has had the highest rate of growth.
Actionable Marketing Tip: Continue to incorporate social media into your marketing mix to build your brand and become part of the purchase decision process. While social media has lost some of its luster, it remains an important means of communicating and engaging with family, friends and colleagues.
2.

Facebook looses ground among teens

Of the major social networking sites, Facebook is loosing ground, roughly one out of ten teens, according to "Taking Stock With Teens" by Piper Jaffray, a semi-annual survey that gathers input from 5,200 teens with an average age of 16.3 years.

Only a mere one third of teens consider Facebook the most important social network. While most of the social networks haven't gained much ground during the past year, these results should be worrisome to Facebook and marketers looking to reach this demographic. This change puts Twitter in strong competition for teen users relative to Facebook based on this data. It's interesting to note that Tumblr which other research shows to have strong usage among this age segment barely registers with teens.
Examined on a scale from least important to most important, Facebook dominates but has steadily lost ground in the past year.  It's useful to note that, where there was data from 2012 for a social media venue, its importance decreased. This is consistent with the Pew Internet Research chart shown above.
When it comes to shopping, 53% of females and 52% of males indicate social media has an influence of their purchase decision.
Actionable Marketing Tip: Create a marketing and social media persona for your target audience to ensure that your social media strategy is aligned with their activity and needs. Think beyond Facebook. When it comes to social media and content, test YouTube and Instagram.
3.

Facebook participants take a vacation from the site, either temporary or permanently

Facebook usage among participants varies according to February 2013 research by Pew Internet. Deeper examination reveals that a fifth of Facebook participants have left the  social media venue and less than half of that amount are interested in joining it. This means that usage is decreasing. Additionally, about 60% of participants take a vacation from the site.
Three out of five current Facebook participants have voluntarily taken a break from using the social network for several weeks or more.
One in five of online adults who aren't current Facebook participants have used the social network but no longer do.

Less than one in ten online adults who

aren't current Facebook participants

 are interested in using the social network in the future.
To add to this challenge, over a quarter of Facebook participants consider it less important and over a third have decreased their time on the site.
59% Facebook participants say it's as important to them as it was a year ago. 53% of current participants' time on the site has remained constant over the past year.
28% of Facebook participants say it's less important to them than it was a year ago.  34% of current participants' time on the site has decreased over the past year.
12% of Facebook participants say it's become more important to them than it was a year ago. 13% of current participants' time on the site has increased over the past year.
Actionable Marketing Tip: Diversify your social media plans. Social media isn't a one size fits all solution so don't limit your social media strategy to Facebook. When you use Facebook (or any other social media platform), make sure your content and engagement are relevant to participants!
4.

Not all Facebook participants are created equal

The average Facebook participant gets more out of their social media experience on the platform due to the presence of power users who account for as much as 20-30% of Facebook activity according to earlier Pew Internet Research from February 2012. Further, power users vary depending on the specific activity. Actionable Marketing Tip: Where possible focus your marketing efforts on power Facebook participants for that specific activity since this will maximize your reach.

As social media continues to evolve and new options compete for participants' time, Facebook, as the dominant US social media platform, will continue to loose ground in terms of use. That said, it's still the 800 pound gorilla of social media and every marketer needs to pay attention to it.

What has your experience with Facebook been as a participant as well as a marketer? Have you stopped using the social network?

Happy Marketing,
Heidi Cohen
---
---
For those of you in Raleigh, NC, please join me for Internet Summit November 11th through 13th.
Use the code HEIDI50 to save $50 OFF any pass level.
---
Even though Content Marketing World is finished until next September, you can still get all the content from 2014's exciting conference. The CMWorld On Demand package includes: Audio and video from the 2014 keynote sessions, audio and PowerPoint presentations of all the breakout sessions, over 40 audio sessions from the leading B2B and B2C brands, as well as keynote video performances.
---
Free Webcast!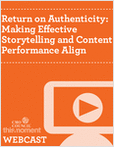 Join the discussion on Wednesday, October 29, 2014 at 10:00 AM PT/ 1:00 PM ET with Nancy Slavin, SVP of Marketing, Macy's Merchandising Group, and Dan Kimball, CMO, Thismoment.
According to research by Nielsen, 70 percent of global consumers trust online consumer reviews and rate reviews as the second most trusted form of advertising. And according to BazaarVoice, when it comes to trust, marketers may as well eliminate their own brand websites as a fountain of customer trust as only 16 percent of US consumers said they trust the content on a brand's website compared to the 51 percent who trust content generated by other users.
Today's digital currency is arguably authenticity, and what attracts customers - especially the digitally dependent, savvy millennial - is not just content. It is the delivery of authentic, unvarnished content from their peers.
Join the CMO Council on Wednesday, October 29, at 10am PST/ 1pm EST for a one-hour webcast that will invite industry experts in content marketing and user-generated content who are effectively leveraging authentic storytelling as part of their content marketing strategies. We will also feature an interactive Q&A session at the conclusion of the speaker presentations.
---
Related Articles
Photo Credit: http://www.iconfinder.com/icondetails/79211/256/blueprint_facebook_social_icon