4 Types of Instagram Visual Content Marketing
"Faster than a speeding bullet, more powerful than a locomotive, able to leap tall buildings in a single bound… It's Superman!" NO—it's Instagram, your visual content marketing secret superpower.
The reason?
Photography is becoming a social medium! Anyone with a smartphone or tablet has a powerful camera at their fingertips with the ability to instantly share their images.
Instagram's visual information superpower is more than comic book logic. It's based on research by Mary C. Potter, Carl Erick Hagmann and Emily S. McCourt of MIT's Department of Brain and Cognitive Sciences.
Specifically, the MIT team found that a single forward sweep as short as 13 milliseconds enables the viewer to extract a photo's conceptual meaning without advance knowledge.
Further, the researchers found that the images' conceptual identities could be maintained briefly so that the viewer can match the photo to a name presented after the sequence of images.
Other research from Georgia Tech and Yahoo Labs conducted by Saeideh Bakhshi, David A. Shamma and Eric Gilbert specifically focused on Instagram in their paper, Faces Engage Us: Photos with Faces Attract More Likes and Comments on Instagram.
Since the human face is powerful form of non-verbal communication, that appears in early infancy, the Georgia Tech-Yahoo team sought to determine how the presence of a face, its age and gender effects the image's social engagement using 1 million Instagram images and 2 social engagement feedback factors.
Georgia Tech and Yahoo Labs researchers found Instagram photos containing faces were 38% more likely to receive likes and 32% more likely to receive comments, even after controlling for social network reach and activity. However, the number of faces, their ages and gender in the photo didn't have an effect.
Need more convincing? Check this Instagram research.
4 Key types of Instagram visual content marketing
Just sharing photographs on Instagram by itself won't build your brand or drive sales.
Your goal is to get viewers to like images involving your product or brand and to see themselves using them. Instagram achieves this better than professional photographs!!!
1.

Create a virtual photogenic storefront.

Sex up your products. This doesn't mean showing them with scantily clad models (unless you're Victoria's Secret). Instead think look book.

Showcase your products by putting them into context for your potential buyers. Help them to visualize owning your stuff in its natural habitat, not your store or showroom.

Make your prospects and customers drool over your products by making them look so good that they have to have them.
2.

Give your audience with a backstage pass to your company, product and/or brand.

What raving fan doesn't want to get a behind the scenes peak at their favorite products? Don't just snap shots of anything. Get inside your audience's mind and understand what they think is special about your brand that they want to see.

Borrow a page from Hollywood. Go beyond your basic product shot. Use special hero shots and outtakes. Let them see how your team works its magic.

Where appropriate, shine the spotlight on your owner, designer or model.
3.

Show your prospects and customers how to use or style your offering.

Give them helpful hints to maximize your product's utility. This works particularly well for clothing and beauty products.

Put yourself in your customers' shoes. It's not about you but about making them look good!!! Understanding this will help your photos to make them want your product.
4.

Encourage your prospects and customers to strut your stuff.

Get your target market to snap, filter and share selfies and photos of your product in action.

Skip the professional models that could represent any brand. Show real people modeling your products. Even if they don't purchase they're giving your product an implied endorsement because they're either wearing or using your stuff.

This is the visual equivalent of a customer review. Encourage and make them easy to use. (BTW–here's how user content rocks Instagram.)
In today's world, marketers need a superpower to beat the competition. Great content marketing by itself isn't sufficient to do the job. You need to find your special superpower to reach your audience and motivate them to action. Instagram visual content marketing provides that edge you need.
How have you used Instagram to supercharge your visual content marketing?
Happy Marketing,
Heidi Cohen
---
---
For those of you in Raleigh, NC, please join me for Internet Summit November 11th through 13th.
Use the code HEIDI50 to save $50 OFF any pass level.
---
Even though Content Marketing World is finished until next September, you can still get all the content from 2014's exciting conference. The CMWorld On Demand package includes: Audio and video from the 2014 keynote sessions, audio and PowerPoint presentations of all the breakout sessions, over 40 audio sessions from the leading B2B and B2C brands, as well as keynote video performances.
---
Free Webcast!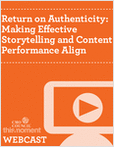 Join the discussion on Wednesday, October 29, 2014 at 10:00 AM PT/ 1:00 PM ET with Nancy Slavin, SVP of Marketing, Macy's Merchandising Group, and Dan Kimball, CMO, Thismoment.
According to research by Nielsen, 70 percent of global consumers trust online consumer reviews and rate reviews as the second most trusted form of advertising. And according to BazaarVoice, when it comes to trust, marketers may as well eliminate their own brand websites as a fountain of customer trust as only 16 percent of US consumers said they trust the content on a brand's website compared to the 51 percent who trust content generated by other users.
Today's digital currency is arguably authenticity, and what attracts customers - especially the digitally dependent, savvy millennial - is not just content. It is the delivery of authentic, unvarnished content from their peers.
Join the CMO Council on Wednesday, October 29, at 10am PST/ 1pm EST for a one-hour webcast that will invite industry experts in content marketing and user-generated content who are effectively leveraging authentic storytelling as part of their content marketing strategies. We will also feature an interactive Q&A session at the conclusion of the speaker presentations.
---
Related Articles
Photo Credit: https://www.flickr.com/photos/xurble/376591423