Make Your Content Marketing Photos Look Organic
Selling to today's consumers is tough.
Consumers trust their family, friends and other customers. But they don't trust you, Mr. or Ms. Marketer.
This isn't a newsflash. Nielsen reported this back in 2011. The problem is that as a result your target audience can tell a marketing message a mile away.
What can a savvy content marketer like you do to get messages to break through the 12+ hours of media clutter their target audience takes in on a daily basis?
The answer is a no brainer.
Take a page from your consumers' social media streams. Make your content marketing look and feel like the information your audience's family and friends share on social media.  Don't overlook the fact that people consume photographic information in 13 milliseconds!!!
User generated content options
You have 2 content marketing options:
Use real content your customers have created. This is true user generated content (UGC)
Fake it with content that looks like your fans created it.
Photographic social media inspiration
Where should you turn for photographic social media inspiration?
Instagram 2014's hottest form of social media. The numbers tell a persuasive story based on eMarketer 2014 forecasts. 
40.5 million people in the US will access Instagram at least once per month. 
25% of US smartphone owners will use Instagram on a monthly basis.
Over 2/3 of Instagram users are between 18 and 44.
Instagram user generated content (UGC)
Laundry Service ran an A/B test for Yosi Samra, a fashion brand using Instagram styled user generated content.  They used the exact same copy and featured the same product.
The only difference was the image used. One image was a high quality, glossy, photo shoot shot and one was an image that looked like an Instagram user generated content type photo that might appear in a Facebook or Instagram feed. 
Intuitively, the test results make sense.
The non-organic image yielded CTRs  of 3% to fans and 2% to non-fans.
The organic image (aka Instragram User Generated Content styled image) yielded CTRs of 5% to fans and 8% to non-fans, a 2-3x increase in engagement rate compared to the non-organic image.
Actionable Instagram Tip: Give your photographs the user generated touch to give your content a boost. (But understand that you'll still need professional photographers to balance your content marketing offering especially as other brands follow this trend.)
Instagram hashtags
The use of hashtag campaigns on Instagram can help marketers to create a sense of community and build brand loyalty, based on analysis of 1 million Instagram photos by Dan Zarrella. Instagram posts with hashtags performed significantly better. 
Marketers take note: Hashtags that correlated with more likes implied reciprocity such as "#followforfollow," "#likeforlike," and "#tagsforlikes." 
By contrast, the least liked Instagram hashtags are inward focused and scream "me-me-me".
Actionable Instagram Tip: Use the power of Instagram hashtags to your advantage. Create hashtags that reflect on your brand and your followers.
Beauty brand NARS did a great job of leveraging hashtags at New York Fashion Week by having their models hold up a sign with the hashtag "NARSissist", a play on their brand name. This image had 5,222 likes.
Designer Rebecca Minkoff used Instagram user generated content to enter the social media conversation about a topic near to her heart. She posed with a hand written hashtag sign, #BringBackOurGirls, to support the girls who were kidnapped in Nigeria.
Show your prospects and customers another view of your brand. Make it personal and real to cut through the noise. People know when you speak from your heart.
Of course, don't overlook letting your customers get into the Instagram act. Reward your fans by featuring their photographs on your website and social media platforms. Urban Outfitters does this using the hashtag, #UOaroundYou.
Instagram enables your prospects and customers to strut their stuff and persuade your prospects. This Instagram user generated content yields sales since it gets personal responses to the questions, "Should I buy this product?" and "How do you like this product I just bought?"
The goal of Instagram user generated content is to rock your content marketing results by giving your prospects, customers and fans a sense of brand ownership that helps validate their purchases.
Further, when followers see your photos on Instagram, they're experienced next to photos of their family and friends. Therefore give your images a more personal touch like Rebecca Minkoff did.
Have you used Instagram styled images in your content marketing? What have your results been?
Happy Marketing,
Heidi Cohen
---
---
Even though Content Marketing World is finished until next September, you can still get all the content from 2014's exciting conference. The CMWorld On Demand package includes: Audio and video from the 2014 keynote sessions, audio and PowerPoint presentations of all the breakout sessions, over 40 audio sessions from the leading B2B and B2C brands, as well as keynote video performances.
Social Media Marketing World — San Diego — March 25-27, 2015.

Register Now and Save $480!   Limited time offer.
Register Now for the Intelligent Content Conference.
An annual gathering of the best and brightest content professionals on the planet. People who know the secrets (and are willing to share them). People who value content as a business asset. People who have made it their life's work to develop repeatable, systematic approaches to producing amazingly effective content.
---
Free Webinar!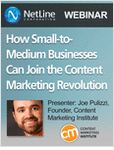 Join the discussion on Tuesday, December 2 - Time: 2 PM (EST) / 11 AM (PST) to learn how small and medium sized businesses don't have to have an entire content marketing organization (or budget) to be successful in content marketing.
Joe Pulizzi, Author and Founder of Content Marketing Institute and Werner Mansfeld, President of NetLine Corp, discuss realistic and actionable methods for your company to get awareness, consideration and sales leads using marketing content – without the budget or resources of an enterprise-level organization.
Date: December 2nd, 2:00 pm EST/12:00pm CST/11:00 am PST
Here are just some of the questions you'll get answered:
What is content marketing and why is it important?
What do I need to have in place to compete effectively using content marketing?
How do I drive sales leads and get a positive ROI using content marketing?
How can my small business (or budget) compete with my larger competitors using content marketing?
What can I start doing today to start seeing results?
Joe Pulizzi and Werner Mansfeld are experts in Content Marketing and Content Syndication. Learn from their combined experience how to take advantage of content marketing for your business, no matter the size.
---
Related Articles
Photo Credit: NARS Instagram