Instagram Sells: 5 Keys You Need To Know
Instagram makes our lives look better.
It was no surprise that "selfie" was 2013's word of the year. Arranging your life for its visual beauty on Instagram allows you to instill your family and friends with jealousy.
Marketers have found Instagram's visual platform is a great tool for branding. This intuitively makes sense since it shows your products and customers in the wild, so to speak.
Further, unlike other social media platforms, you can incorporate calls-to-action and links to your site.
Instagram sales research
But recent research by University of Wisconsin marketing professor Purush Papatla reveals that marketers shouldn't stop there. (Note: While this research has been written up on several blogs and news sites, I was unable to find the original documents. That said, the findings make sense from a marketing perspective.)
How the Instagram sales research was done
Researchers analyzed customer responses to over 130,000 collections of images, across over 60 retail sites that used Olapic's photography based curation platform, over a 6 month period. They studied people who viewed user-generated Instagram photos placed on a brand page. Then, they tracked whether that person eventually purchased from the brand. If so, they checked whether the item bought was featured in an image the shopper had previously viewed.
The Instagram secret sauce
Place customers' Instagram images on your site. Even better, move them to specific product pages.
Instagram images on product pages provide critical how-to and styling information that customers seek pre-and post-purchase. They can see how the product looks in the way that they intend to use it.
Placing customers' Instagram images on product pages provides an implicit recommendation from another customer.
Key finding: Instagram sales versus engagement
On Instagram, the researchers found that images showing customers wearing or using the product resulted in sales. This helped with fit and use. By contrast, attention-getting or aspirational images drove engagement such as likes and comments. Interestingly, Instagram photos drive 1.5 times more engagement than video.
5 Key Instagram sales tips
The University of Wisconsin-Olapic research discovered 5 key actionable marketing tips for Instagram that resulted in sales.
Include longer photograph captions. Short captions tend to minimize sentimental content according to the research. The objective is to make potential buyers feel connected through your content. This makes sense since your prospects want and need more context for your products.
Skip the filters. For users, Instagram is about making your life appear spectacular through the use of different filters. The research discovered that viewers held brands to a different standard. Brands had to be authentic.
Be selective with your Instagram posting. Unlike other social media sites, the most successful brands were discriminating with their posts. The brands with multiple posts per day did worse.
Mind your punctuation. Skip the question marks or exclamation points in your captions. They have a negative impact on buyers.
Show yellow and blue in images. The study notes that other scientists have found that these colors are also effective in ads. 

As a point of reference, t

his is consistent with Curalate's findings that showed a 29% increase in likes on blue images over red images. (By contrast, reds work well on Pinterest.)
Bauble Bar and Dolls Kill are two examples that use Instagram photos to encourage sales. Of particular note is the gaming element both sites use to increase customer participation.
Here are Instagram photos of customers wearing BaubleBar product.
Here's how the BaubleBar incents readers to share their Instagram photos.
Dolls Kill had a contest to "To Be A Doll."
Dolls Kill encourages Instagrams and selfies. It knows its audience.
Customer photographs on Instagram help increase your branding and convert sales. Many customers have a hard time visualizing how a product will look without seeing it on someone else. Many customers aren't very original. They walk into a store with the photographs they've found online.
Have you used Instagram to improve your branding and/or sales? If so, what were your results?
Happy Marketing,
Heidi Cohen
---
---
Even though Content Marketing World is finished until next September, you can still get all the content from 2014's exciting conference. The CMWorld On Demand package includes: Audio and video from the 2014 keynote sessions, audio and PowerPoint presentations of all the breakout sessions, over 40 audio sessions from the leading B2B and B2C brands, as well as keynote video performances.
Social Media Marketing World — San Diego — March 25-27, 2015.

Register Now and Save $480!   Limited time offer.
Register Now for the Intelligent Content Conference.
An annual gathering of the best and brightest content professionals on the planet. People who know the secrets (and are willing to share them). People who value content as a business asset. People who have made it their life's work to develop repeatable, systematic approaches to producing amazingly effective content.
---
Free Webinar!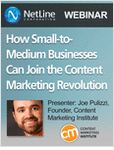 Join the discussion on Tuesday, December 2 - Time: 2 PM (EST) / 11 AM (PST) to learn how small and medium sized businesses don't have to have an entire content marketing organization (or budget) to be successful in content marketing.
Joe Pulizzi, Author and Founder of Content Marketing Institute and Werner Mansfeld, President of NetLine Corp, discuss realistic and actionable methods for your company to get awareness, consideration and sales leads using marketing content – without the budget or resources of an enterprise-level organization.
Date: December 2nd, 2:00 pm EST/12:00pm CST/11:00 am PST
Here are just some of the questions you'll get answered:
What is content marketing and why is it important?
What do I need to have in place to compete effectively using content marketing?
How do I drive sales leads and get a positive ROI using content marketing?
How can my small business (or budget) compete with my larger competitors using content marketing?
What can I start doing today to start seeing results?
Joe Pulizzi and Werner Mansfeld are experts in Content Marketing and Content Syndication. Learn from their combined experience how to take advantage of content marketing for your business, no matter the size.
---
Related Articles
Photo Credit: www.dollskill.com