Photographs: 4 Ways To Create Social Media and Content
With Instagram, we no longer need to use our words. Instead, we use Instagram to capture our lives with a snap of our smartphones. Then we enhance its gloss and, with a swipe or two, we can share the small moments of our lives in their best light with others.
According to Pew Internet Research, Instagram is used by 17% of the US adult online population, about 60% of whom use it daily or multiple times a day. While this may sound small, don't let the percentage fool you. About 150 million people use Instagram.
Instagram's 3 benefits
For users, the upside of Instagram is that we:
Want to make our lives look good. Instagram helps us accomplish this without a lot work or time so that our lives appear to be wonderful to others.
Want to let others, both our inner circles as well as strangers, see our lives from our point of view.  Instagram allows us to post images easily across a variety of social media platforms.
Want to share compelling images of our world. Instagram enables us to curate information in the form of images with our social circles.
Instagram use: Care required
But don't snap to judgment where Instagram is concerned. You need to use Instagram with care or you'll miss out on life.
Linda A. Henkel of Fairfield University found the following in "Point and Shoot Memories". Based on research taken during a museum tour, some participants were directed to take photos and others were directed not to take photos.
Just the act of taking photographs was insufficient to remember the object or event. Henkel found people who recorded their museum trip with snapshots of each item tended remembered few of the objects and limited details about them compared with the people who didn't take photographs.
But the act of composing an image by focusing on specific elements enhanced memory of the object. When participants photographed specific details of an object, they tended to remember the entire piece as well as the particular features.
4 Ways to use Instagram photographs for social media and content marketing
As a marketer how can you leverage this trend to create memorable social media engagement and quality content using photographs? Please note that while inspired by Instagram, these tips aren't limited to just Instagram images!
We're visual beings. Use Instagram to get your customers' photographs of your products and services into your social media and content marketing mix.
How do you get your customers and fans to share their Instagram photos with you?
Happy Marketing,
Heidi Cohen
---
---
For those of you in Raleigh, NC, please join me for Internet Summit November 11th through 13th.
Use the code HEIDI50 to save $50 OFF any pass level.
---
Even though Content Marketing World is finished until next September, you can still get all the content from 2014's exciting conference. The CMWorld On Demand package includes: Audio and video from the 2014 keynote sessions, audio and PowerPoint presentations of all the breakout sessions, over 40 audio sessions from the leading B2B and B2C brands, as well as keynote video performances.
---
Free Webcast!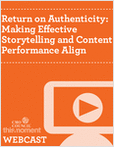 Join the discussion on Wednesday, October 29, 2014 at 10:00 AM PT/ 1:00 PM ET with Nancy Slavin, SVP of Marketing, Macy's Merchandising Group, and Dan Kimball, CMO, Thismoment.
According to research by Nielsen, 70 percent of global consumers trust online consumer reviews and rate reviews as the second most trusted form of advertising. And according to BazaarVoice, when it comes to trust, marketers may as well eliminate their own brand websites as a fountain of customer trust as only 16 percent of US consumers said they trust the content on a brand's website compared to the 51 percent who trust content generated by other users.
Today's digital currency is arguably authenticity, and what attracts customers - especially the digitally dependent, savvy millennial - is not just content. It is the delivery of authentic, unvarnished content from their peers.
Join the CMO Council on Wednesday, October 29, at 10am PST/ 1pm EST for a one-hour webcast that will invite industry experts in content marketing and user-generated content who are effectively leveraging authentic storytelling as part of their content marketing strategies. We will also feature an interactive Q&A session at the conclusion of the speaker presentations.
---
Related Articles
Photo Credit: http://www.flickr.com/photos/auggie_tolosa/3368818016/