20 Experts Weigh In On Repurposing Content Marketing
To maximize your content marketing reach while limiting resource investment, repurpose or reuse content creating multiple pieces from each effort. Each element of content must be re-imagined so that it's contextually relevant, provides new information, and is adapted to specific venues without appearing as duplicate content to the search engines.
Todd Wheatland, of Kelly Services and author of The Marketer's Guide to Slideshare, recommends a twenty to one ratio for each major content marketing effort. That is, each major content creation effort should yield 20 variations of the content each tailored for a specific need.
Since feeding the content marketing beast with more and more content while keeping within a limited budget is difficult, here are how twenty content marketing experts responded to the question: "How do you define repurposed/reimagined/reused content and how do you refer to it?"
When it comes to content marketing reuse, you need to re-imagine your content. This can take a variety of different approaches but one thing's for certain, it has to be unique not duplicate content!
How do you define content reuse or repurposing? Please add your definitions and examples in the comment section below.
Happy Marketing,
Heidi Cohen
NOTE: All book links are Amazon affiliate links.
---
---
For those of you in Raleigh, NC, please join me for Internet Summit November 11th through 13th.
Use the code HEIDI50 to save $50 OFF any pass level.
---
Even though Content Marketing World is finished until next September, you can still get all the content from 2014's exciting conference. The CMWorld On Demand package includes: Audio and video from the 2014 keynote sessions, audio and PowerPoint presentations of all the breakout sessions, over 40 audio sessions from the leading B2B and B2C brands, as well as keynote video performances.
---
Free Webcast!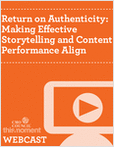 Join the discussion on Wednesday, October 29, 2014 at 10:00 AM PT/ 1:00 PM ET with Nancy Slavin, SVP of Marketing, Macy's Merchandising Group, and Dan Kimball, CMO, Thismoment.
According to research by Nielsen, 70 percent of global consumers trust online consumer reviews and rate reviews as the second most trusted form of advertising. And according to BazaarVoice, when it comes to trust, marketers may as well eliminate their own brand websites as a fountain of customer trust as only 16 percent of US consumers said they trust the content on a brand's website compared to the 51 percent who trust content generated by other users.
Today's digital currency is arguably authenticity, and what attracts customers - especially the digitally dependent, savvy millennial - is not just content. It is the delivery of authentic, unvarnished content from their peers.
Join the CMO Council on Wednesday, October 29, at 10am PST/ 1pm EST for a one-hour webcast that will invite industry experts in content marketing and user-generated content who are effectively leveraging authentic storytelling as part of their content marketing strategies. We will also feature an interactive Q&A session at the conclusion of the speaker presentations.
---
Related Articles
Photo Credit: http://www.flickr.com/photos/elliotmoore/368120097/