20 Experts Weigh In On Repurposing Content Marketing
To maximize your content marketing reach while limiting resource investment, repurpose or reuse content creating multiple pieces from each effort. Each element of content must be re-imagined so that it's contextually relevant, provides new information, and is adapted to specific venues without appearing as duplicate content to the search engines.
Todd Wheatland, of Kelly Services and author of The Marketer's Guide to Slideshare, recommends a twenty to one ratio for each major content marketing effort. That is, each major content creation effort should yield 20 variations of the content each tailored for a specific need.
Since feeding the content marketing beast with more and more content while keeping within a limited budget is difficult, here are how twenty content marketing experts responded to the question: "How do you define repurposed/reimagined/reused content and how do you refer to it?"
When it comes to content marketing reuse, you need to re-imagine your content. This can take a variety of different approaches but one thing's for certain, it has to be unique not duplicate content!
How do you define content reuse or repurposing? Please add your definitions and examples in the comment section below.
Happy Marketing,
Heidi Cohen
NOTE: All book links are Amazon affiliate links.
---
---
Even though Content Marketing World is finished until next September, you can still get all the content from 2014's exciting conference. The CMWorld On Demand package includes: Audio and video from the 2014 keynote sessions, audio and PowerPoint presentations of all the breakout sessions, over 40 audio sessions from the leading B2B and B2C brands, as well as keynote video performances.
Social Media Marketing World — San Diego — March 25-27, 2015.

Register Now and Save $480!   Limited time offer.
Register Now for the Intelligent Content Conference.
An annual gathering of the best and brightest content professionals on the planet. People who know the secrets (and are willing to share them). People who value content as a business asset. People who have made it their life's work to develop repeatable, systematic approaches to producing amazingly effective content.
---
Free Webinar!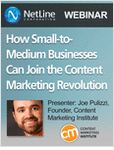 Join the discussion on Tuesday, December 2 - Time: 2 PM (EST) / 11 AM (PST) to learn how small and medium sized businesses don't have to have an entire content marketing organization (or budget) to be successful in content marketing.
Joe Pulizzi, Author and Founder of Content Marketing Institute and Werner Mansfeld, President of NetLine Corp, discuss realistic and actionable methods for your company to get awareness, consideration and sales leads using marketing content – without the budget or resources of an enterprise-level organization.
Date: December 2nd, 2:00 pm EST/12:00pm CST/11:00 am PST
Here are just some of the questions you'll get answered:
What is content marketing and why is it important?
What do I need to have in place to compete effectively using content marketing?
How do I drive sales leads and get a positive ROI using content marketing?
How can my small business (or budget) compete with my larger competitors using content marketing?
What can I start doing today to start seeing results?
Joe Pulizzi and Werner Mansfeld are experts in Content Marketing and Content Syndication. Learn from their combined experience how to take advantage of content marketing for your business, no matter the size.
---
Related Articles
Photo Credit: http://www.flickr.com/photos/elliotmoore/368120097/