How to Promote Your Blog Using Social Media
While many bloggers think that blogging is about lovingly crafting each post, the reality is that you need to promote your content to ensure each post reaches its widest possible audience. To this end, think outside the blog.
Since social media feeds on a never-ending stream of content, it's ideal for accomplishing this goal.
Here are thirty-three tips for using social media to expand your blog's readership by driving traffic from an array of platforms.
1. Claim your name on various social media platforms. Where appropriate, register your blog's name separately.
Complete each social media profile. Let people know who's behind the avatar. Also, include at least one personal detail.
Link to your blog in each social media profile. Include your blog address (aka URL).
Use blog keywords in your social media description. Enhance your social media optimization by consistently employing your top keywords.
Continue your blog's branding. Make your social media profile is recognizable by incorporating your logo and/or blogger headshot.
2. Include social media sharing buttons on your blog. Make it easy for readers to share your blog content. If they have to jump through hoops in terms of remembering passwords or signing in, you're hurting your content's sharability.
Add social sharing buttons at the top and bottom of your post. Reduce reader hurdles. Don't make readers scroll to the top to share your content.
Thank fans publically. Make social connections who share your blog posts feel good by giving them a shout out of recognition on social media.
3. Make an appointment to engage and share content regularly on social media. Don't leave your social sharing activity to chance nor let it consume hours of your time.
Create a social media sharing schedule. Set a time and mark it on your calendar to check in on what's being said on social media and to share information. Make this part of your daily work routine to streamline your activity and be consistent. This is a good activity to do when you have small chunks of time such as commuting and between meetings. (Here's the lowdown on creating a social media editorial calendar.)
Aim to show up on social media at least once a day. Use this time to share and/or schedule content. Even better is to stop by three times a day such as morning, noon and close of business.
Keep your blog-related social media time separate from your personal social media interactions. One easy way to accomplish this is avoid personal use of social media during your work hours.
4. Give your social media shares the personal touch. While you can set up automated social shares, it's more personal to provide contextually relevant commentary to information you share.
Provide contextually relevant social sharing. Tailor your social shares to the social media platform and avoid the cookie cutter approach.
Use the power of your community to help spread the word. For this, Triberr is useful.
5. Leverage the power of images on social media platforms. Images are powerful tools to draw prospects into your blog posts.
Use images to attract readers. Include at least one image per post. This is most important for Facebook and Pinterest.
Create tailored, shareable images. Ian Cleary of Razor Social recommends using PicMonkey to incorporate text into your image.
6. Respond to social media comments related to your blog posts. Encourage followers who've shared your content by answering comments on the appropriate social media platform.
Thank people who share and comment on your blog posts publically. This is a great way to build your community.
Let people know that you've referenced them in your blog posts. Give them a social media shout out.
7. Be a good social media citizen. Participate on social media beyond sharing your own content.
Engage in social media activities. Become part of the community. Be selective and interact in one or more social media forums. One benefit is that, once people get to know you, they are more likely to share your content.
Help others on social media. Answer other people's questions and where appropriate, share a link to a relevant blog post.
8. Avoid the "Me, Me, Me" on social media. Mix up the content you share. Don't limit your social media activity to promoting just your own content.
Curate other bloggers' posts to help establish your authority in the field. In Peggy Fitzpatrick's words, "Being generous with other's content helps your own content and your social media karma."
Space your social media shares over time. You don't want to fill up other people's social media streams with your blog posts in a short period of time since this will tick them off.
9. Test different strategies. Don't just continue to do the same thing because it's what you've always done.
Monitor what other bloggers are doing on social media. Keep an eye on other bloggers' social media activity to get ideas for how to expand your own use of these platforms. Understand that social shares aren't necessarily the best measure of success.
Modify your social media approach. Test using different forms of content and posting times.
10. Track your results. Don't just guess what's working, really measure your progress.
Use a social media call-to-action. This helps prod readers to read and share your content.
Measure blog activity related to your  goals. Count actions that contribute to sales. 
To maximize the readership of each blog post, use social media consistently and effectively but avoid excessive self-promotion.
What are your favorite tips for using social media to distribute your blog posts?
Happy Marketing,
Heidi Cohen
---
---
For those of you in Raleigh, NC, please join me for Internet Summit November 11th through 13th.
Use the code HEIDI50 to save $50 OFF any pass level.
---
Even though Content Marketing World is finished until next September, you can still get all the content from 2014's exciting conference. The CMWorld On Demand package includes: Audio and video from the 2014 keynote sessions, audio and PowerPoint presentations of all the breakout sessions, over 40 audio sessions from the leading B2B and B2C brands, as well as keynote video performances.
---
Free Webcast!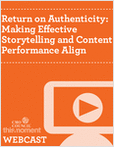 Join the discussion on Wednesday, October 29, 2014 at 10:00 AM PT/ 1:00 PM ET with Nancy Slavin, SVP of Marketing, Macy's Merchandising Group, and Dan Kimball, CMO, Thismoment.
According to research by Nielsen, 70 percent of global consumers trust online consumer reviews and rate reviews as the second most trusted form of advertising. And according to BazaarVoice, when it comes to trust, marketers may as well eliminate their own brand websites as a fountain of customer trust as only 16 percent of US consumers said they trust the content on a brand's website compared to the 51 percent who trust content generated by other users.
Today's digital currency is arguably authenticity, and what attracts customers - especially the digitally dependent, savvy millennial - is not just content. It is the delivery of authentic, unvarnished content from their peers.
Join the CMO Council on Wednesday, October 29, at 10am PST/ 1pm EST for a one-hour webcast that will invite industry experts in content marketing and user-generated content who are effectively leveraging authentic storytelling as part of their content marketing strategies. We will also feature an interactive Q&A session at the conclusion of the speaker presentations.
---
Related Articles
Photo Credit: http://www.flickr.com/photos/paldies/7310883864