Why Small Businesses Love Inbound Marketing
Inbound marketing entails helping potential customers and influencers find your company by building your audience and attracting their attention. in the words of Marketo CMO Jon Miller. Inbound marketing gets its power from the combination of social media, blogging, content marketing, email and search optimization.
Small businesses are the biggest users of inbound marketing. Specifically 43% of businesses with five or less employees use inbound marketing based on the report, 2013 State of Inbound Marketing by Hubspot, whose founders coined the term.
While at first glance this may be attributable to the larger number of small businesses, the reality is that inbound marketing is tailor made to leverage the strengths of small businesses enabling them to level the playing field and compete more effectively with larger firms because inbound marketing doesn't require "renting" media (aka advertising on third party sites) which is expensive. 
5 SMB characteristics that make them love inbound marketing
As hyper-local or hyper-targeted companies, small businesses love inbound marketing for the following five reasons.
Small businesses are nimble. As a result, they can effectively use inbound marketing to respond quickly to emerging situations and trends. Their blind spot is focusing on the latest trend or issue at the expense of long-term strategy.
Small businesses tend to focus on micro-segments. These small niches are often difficult to reach using traditional forms of advertising. The combination of social media and blogging enable small businesses to connect with these prospects cost efficiently and to build relationships with them before they're ready to buy.
Small businesses often possess strong thought leadership. Often, small businesses grow out of a professional's collective content including articles, blogs, and presentations. This is particularly true for solopreneurs and professionals.
Small businesses have limited resources. As small startups, these firms don't have the ability to compete with mass advertising. To drive sales, they need to build their brand and word of mouth with hard work.
Small businesses focus on low barrier-to-entry categories. Small businesses emerge in areas where the cost of entry is low. As a result, they often face greater competition from others with similar ideas.
5 Steps to position your small business for success
Before jumping into inbound marketing, position your firm for success against the big boys. To this end, here are five steps to help you define your unique selling proposition (aka USP). 
1. Determine your point of differentiation. Think in terms of the benefits you offer your customers that set you apart. Being a me-too product or firm doesn't give consumers a strong reason to buy from you unless you're having a sale. Further if they do buy because you are offering a real bargain, there's a good chance that they won't buy from you in the future without a similar incentive. Therefore distinguish your company from the pack so you're not competing strictly on price, a downward slope to unprofitable sales.
What do you offer prospects and customers that sets your offering (aka product or service) apart from competitors and near substitutes?
What makes your offering special from your prospect's point of view?
2. Know your target audience. Define your customer base by crafting a marketing persona and a social media persona because you want your social media and content marketing to speak to them like you're their best friend.
Who is your ideal customer as well as their influencers? What makes them your ideal customer?
What are they like as people and what are their preferences?
What type of information do they need from you during the purchase process?
Where do they spend their time on social media?
3. Identify your competitors. In the words of the Godfather, keep your friends close and your enemies closer.  Many firms think that their business is unique and special (which it is to its owner, but not necessarily to its customers.) Your competitors define your business by providing context, alternatives and substitutes.
Who are your competitors?
How do they compete with your firm? In special segments or products?
What implications do these competitors have for your business and marketing?
4. Augment your offering. Make your product or service special by providing additional services or content that set your product apart from competitors and close substitutes.
What type of service do your prospects expect from your firm? Bear in mind, special attention is a hallmark of small businesses.
How can you provide additional content that enhances your customers' experience? Examples include how-to information and patterns or recipes.
5. Price your offering for profitability. In today's wired world where every customer has the ability to check competitive pricing via a mobile device while in your store, competing on price isn't a winning strategy.
How do you set your prices relative to your competitors? Remember prospects have Amazon and eBay apps on their mobile devices.
The bottom line is that inbound marketing can be an effective tool for small businesses. To work effectively for your firm, you must position it for success so that your company stands out from the competition in the minds of its target audience.
How do you define inbound marketing? Have you used inbound marketing to achieve your business objectives? If so, what was your experience?
Happy Marketing,
Heidi Cohen
---
Join Heidi Cohen and fellow marketers at the mega-conference designed to inspire and empower you—Social Media Marketing World 2017, brought to you by Social Media Examiner.
Discover the best and newest ways to market your business on Facebook, Instagram, LinkedIn, YouTube, Twitter, Pinterest and Snapchat.
The event takes place March 22-24, 2017, in San Diego. Actionable Marketing readers get an early registration discount.
Act by Friday – Save $400!
---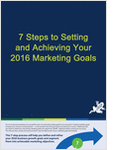 This 7-step process will help you define and refine your 2016 business growth goals and segment them into achievable marketing objectives.
You've set personal resolutions for yourself this year, but what about setting goals for your business? Creating marketing goals increases your chances of achieving them – so do yourself a favor this year and set yourself up for success.
Related Articles
Note: For more information on: (affiliate links)
Photo Credit: http://www.flickr.com/photos/dhilung/2967604762/