Earth Day: 7 Step Plan to Reuse Your Content Marketing
Just as we celebrate Earth Day by setting up processes to preserve our natural resources – recycling and reusing products like paper, glass and plastic – content marketers must consider how to conserve their scarce resources, namely content, budget and employee time.
Similar to being green, content marketers can achieve their goals by rethinking how they use their limited business resources.
To this end, marketers, regardless of company size or budget, must plan ahead to get the most out of each content effort.
Since every business doesn't necessarily have enough stellar concepts and/or resources, follow Todd Wheatland's twenty to one content creation ratio. Todd aims to develop twenty different pieces of content from each story idea. Think blog posts, presentations (aka SlideShare), video, articles, e-book, social media engagement, emailings and more. (BTW—Todd wrote the book on SlideShare!)
To increase the effectiveness of each content creation effort, here's a seven-step content development plan that will ensure you've maximized your content repurpose and reuse opportunities.
Know your audience. Understand where your prospects and customers spend their time online including social media platforms, what type of content they like to consume especially when they're in shopping mode, how they consume content, and what devices they use to consume this content. Actionable Content Marketing Tip: Create fully fleshed out marketing persona and social media persona for your target audience to learn their habits and preferences.
Decide where to place your content. Based on your target audience's preferences regarding content consumption, choose where you'll publish your content. This can be more than one location or platform. In turn, this determines other content attributes. Bear in mind that prospects need to hear a message multiple times before they decide to purchase. Actionable Content Marketing Tip: Include owned, third party and social media options. Also consider online and offline alternatives including real life events to maximize your reach.
Determine content format. Select the content types that work best on the platforms you've chosen. Think in terms of text, graphics, video, audio and presentations. (Here are twenty-six content options.) Actionable Content Marketing Tip: Where appropriate, extend current content creation for later use to take advantage of expensive resources such as video and talent. Also, have legal advisers include a clause in your contracts that allows you rights to this content and enables you to use it at different times and across platforms.
Tailor your content to your audience and the context in which they're consuming your information. Understand that your target audience may use a variety of different devices and platforms (such as social media) to access and consume your content. Therefore, ensure that each piece of content is contextually appropriate and can render across devices including smartphones and tablets. Actionable Content Marketing Tip: Appreciate your audience's content consumption habits such as info snacking and time shifting. Also consider modifying content for specific sites. For example, out-of-home advertising like New York subway ads can be contextually relevant.
Optimize content for search. Use keyword-rich titles and associate appropriate metadata with each piece of content. Don't underestimate the value of making your content easy-to-scan through the use of bolding. Actionable Content Marketing Tip: Make content mobile-friendly to ensure that potential readers can view it on a smartphone or tablet when and where they wish. Often this translates to using responsive design.
Determine content distribution timing. Think in terms of stand-alone content (such as a meeting or presentation), content series (such as articles, blog posts or videos), or seasonal content (such as holiday related information). The timing of content publication can influence the number of pieces of content needed as well as related content promotion and engagement. Actionable Content Marketing Tip: Create related content at the same time to minimize time and costs. You eliminate the need to provide multiple briefs and creation time. If you're using freelancers, you may be able to negotiate better prices.
Cross-promote each piece of content. Extend the reach of each element of content marketing by publicizing it on owned and social platforms. Encourage your readers to share the content and make it easy for them to do so. Actionable Content Marketing Tip: Take advantage of readers' interest the topic by offering them other related content. For example, link to other articles or suggest additional reading at the end of articles, blog posts, newsletters, emails and/or videos.
You must organize your content creation process to enable the development of multiple pieces of content while minimizing time and costs.
What suggestions do you have for organizing the content creation process to ensure that you get the most out of it?
Happy Marketing,
Heidi Cohen
---
---
Even though Content Marketing World is finished until next September, you can still get all the content from 2014's exciting conference. The CMWorld On Demand package includes: Audio and video from the 2014 keynote sessions, audio and PowerPoint presentations of all the breakout sessions, over 40 audio sessions from the leading B2B and B2C brands, as well as keynote video performances.
Social Media Marketing World — San Diego — March 25-27, 2015.

Register Now and Save $480!   Limited time offer.
Register Now for the Intelligent Content Conference.
An annual gathering of the best and brightest content professionals on the planet. People who know the secrets (and are willing to share them). People who value content as a business asset. People who have made it their life's work to develop repeatable, systematic approaches to producing amazingly effective content.
---
Free Webinar!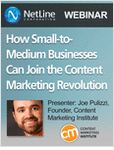 Join the discussion on Tuesday, December 2 - Time: 2 PM (EST) / 11 AM (PST) to learn how small and medium sized businesses don't have to have an entire content marketing organization (or budget) to be successful in content marketing.
Joe Pulizzi, Author and Founder of Content Marketing Institute and Werner Mansfeld, President of NetLine Corp, discuss realistic and actionable methods for your company to get awareness, consideration and sales leads using marketing content – without the budget or resources of an enterprise-level organization.
Date: December 2nd, 2:00 pm EST/12:00pm CST/11:00 am PST
Here are just some of the questions you'll get answered:
What is content marketing and why is it important?
What do I need to have in place to compete effectively using content marketing?
How do I drive sales leads and get a positive ROI using content marketing?
How can my small business (or budget) compete with my larger competitors using content marketing?
What can I start doing today to start seeing results?
Joe Pulizzi and Werner Mansfeld are experts in Content Marketing and Content Syndication. Learn from their combined experience how to take advantage of content marketing for your business, no matter the size.
---
Related Articles
Photo Credit: http://www.flickr.com/photos/pagedooley/8435953365/