How to Find Your Blog Voice
Your blog voice represents your unique blogging personality. Dr. Seuss said it best, "There is no one alive who is Youer than You." Your blog voice is how you express yourself consistently on your blog that sets you apart from all of the other bloggers in your niche.
Look up writer's voice and you'll see that it's one of those writing terms that has an elusive definition. A writing voice, including a blogging voice, is a lot like United States Supreme Court Justice Potter Stewart's "I know when I see it" definition of pornography. Unfortunately, for bloggers looking to improve the strength of their content, this doesn't help. 
3 Reasons your blog needs a voice
Before you ask: "Why do I need a blog voice? Can't I just jump into the blogging pool?" understand that, yes, you can just start writing without giving any consideration to your blog voice. But for most bloggers this is a less than optimal approach to achieve your blog goals. Here are three reasons you need a blog voice.
To brand your blog's content so that's identifiably yours and yours alone.
To position your blog to stand out in the sea of other voices.
To attract and retain readers with strong, high quality content.
3 Questions every blogger must answer to develop a blog voice
At the heart of developing your blog voice, you need to answer to the following three questions:
Who is your blog? In other words, what's your blog's personality? Think of your blog as if it were a real living person. What are his likes and dislikes? What are his priorities? What are his hot button issues? What is his area of deep knowledge? What makes him tick and motivates him to blog? (Money isn't a strong answer to this question. Blogging is a lot of work and there are lots of other ways to make money.)
Who is your audience? Who are your readers and why are they motivated to read your blog content? What's in it for them? To this end, it's useful to create a marketing persona because it helps you to define your target reader.
Who are your competitors?  What other blogs are in your category? How do they cover the topic and what makes yours different? As with any offering, your competitors define the market. Where's your opportunity to stand out? Also, who are the top-level bloggers in other categories that you follow? This helps you see trends and is useful for gathering ideas and places for guest blog posts.
5 Elements your blog voice needs
Here are five attributes of a blog voice that are intrinsically related to other choices you make about your blog when you start. Understand that your blog voice evolves over time as your blog's goals and audience change. In other words, your blog's voice isn't a do once and you're done exercise.
Express your passion for your subject. Skip the generic fill-in-the-blank corporate writing. It's hard to compose great content if you don't feel strongly about your subject. Think in terms of the words and details you choose. Show your readers why your topic matters to you and what value your knowledge brings to the discussion.
Be authentic. You have to be you – so let your personality shine through. Are you funny or do you curse? Remember blogging is a form of social media where you need to be human and honest. Blog like you speak (with better English!)  This is why many bloggers write in the first person. Ideally you want to craft blog posts that no one else could have written and are recognizably yours.
Demonstrate your authority. This doesn't mean that you take a believe-me-because-I-wrote-it approach. Rather, present your information in a way that underscores your knowledge of the subject. Also, use your About page to let readers learn more about you and your credentials. Bear in mind that readers like to feel that they know you and could sit and have a coffee with you.
Write consistently. You need to show up at your blog on a regular basis to attract a readership. You have an unspoken responsibility to blog even when your blog numbers may not show that anyone cares. (Read The Little Prince to understand the term responsibility.) Write as frequently as your schedule permits. If you can only write once per week, then publish at the same day and time every week.
Know the nuts and bolts of writing. Just because blogging is time-sensitive writing doesn't excuse you from using good grammar. If your writing is unreadable, it will be difficult to attract a following. Also consider your vocabulary as it supports your authority and passion for your topic as well as an understanding of your readers. To this end, it's useful to have someone else copyedit your posts or at least let them sit and read them aloud. (Re-reading Strunk and White's The Elements of Style can be very helpful.)

 
Building your blog voice helps you, the blogger, to further develop your blog's personality and brand while setting expectations for your audience.
Have you developed your blog's voice? If not, do you feel that your blog delivers consistently strong content that's different from others in your category?
Happy Marketing,
Heidi Cohen
---
---
Even though Content Marketing World is finished until next September, you can still get all the content from 2014's exciting conference. The CMWorld On Demand package includes: Audio and video from the 2014 keynote sessions, audio and PowerPoint presentations of all the breakout sessions, over 40 audio sessions from the leading B2B and B2C brands, as well as keynote video performances.
Social Media Marketing World — San Diego — March 25-27, 2015.

Register Now and Save $480!   Limited time offer.
Register Now for the Intelligent Content Conference.
An annual gathering of the best and brightest content professionals on the planet. People who know the secrets (and are willing to share them). People who value content as a business asset. People who have made it their life's work to develop repeatable, systematic approaches to producing amazingly effective content.
---
Free Webinar!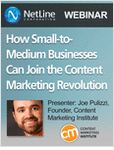 Join the discussion on Tuesday, December 2 - Time: 2 PM (EST) / 11 AM (PST) to learn how small and medium sized businesses don't have to have an entire content marketing organization (or budget) to be successful in content marketing.
Joe Pulizzi, Author and Founder of Content Marketing Institute and Werner Mansfeld, President of NetLine Corp, discuss realistic and actionable methods for your company to get awareness, consideration and sales leads using marketing content – without the budget or resources of an enterprise-level organization.
Date: December 2nd, 2:00 pm EST/12:00pm CST/11:00 am PST
Here are just some of the questions you'll get answered:
What is content marketing and why is it important?
What do I need to have in place to compete effectively using content marketing?
How do I drive sales leads and get a positive ROI using content marketing?
How can my small business (or budget) compete with my larger competitors using content marketing?
What can I start doing today to start seeing results?
Joe Pulizzi and Werner Mansfeld are experts in Content Marketing and Content Syndication. Learn from their combined experience how to take advantage of content marketing for your business, no matter the size.
---
Related Articles
Check out what Jeff Groins wrote about

blog voice

on Problogger
Photo Credit: http://www.flickr.com/photos/orofacial/8220715538/