7 Tips to Cost Effectively Create Content Marketing [Chart]
Content marketing is an on-going process not a one-time campaign. It requires a continual stream of new information in a variety of forms presented across different platforms to fulfill your business's goals and customers' needs.
The key to cost effective content creation is to develop similar content at the same time regardless of weight since each new piece of content must be re-imagined, not just reposted.
To fill your content marketing editorial calendar without breaking the bank, plan your content creation to ensure that all associated content is developed concurrently to maximize resource use and eliminate planning and overhead.

Fill your editorial calendar cost effectively – 21 Types of content
Here's a cheat sheet to help you plan your content marketing development.
How To Fill Your Content Marketing Editorial Calendar Cost Effectively
With 21 Types of Content By Weight
Original
Content Format

Initial Platform
Placement

Content
Re-imagine/ Reuse

Heavyweight
Book
Amazon
Website
Blog
eBook
Presentations
Blog posts
Articles
Graphics
Webinar
eBook
Website
Blog
Amazon
Blog posts
Articles
Graphics
Presentations
Webinar
Email newsletter
Whitepaper
Website
Blog
Third party site
Presentations
Blog posts
Webinar
Presentation
Website
SlideShare
Blog
Blog posts
Articles
Video
Research
Website
Blog
Third party articles
Presentation
Webinar
Slideshare
Infographic
Blog posts
Articles
Charts
Email newsletter
Webinar
Website
Email newsletter
Blog
Slideshare
Blog posts
Articles
Email newsletter
Video
Training
Manuals
Videos
Presentations
eBook
Blog posts
Articles
Email newsletter
Video
Middle Weight
Microsite
Website
Blog
Email newsletter
Blog posts
Articles
Infographics
Press release
Website
Blog
Social media
Blog posts
Articles
Videos
Website
Blog
Video sharing sites
Press release
Social media
Blog post
Articles
Email newsletters
Website
Blog
Blog posts
Articles
Mobile app
Mobile
Website
Blog
Blog posts
Article
Email newsletter
Online forum
Blog
Email newsletter
Webinar
Blog posts
Articles
Email newsletter
Case studies
Website
Blog
Third party
Press release
Social media
Blog posts
Articles
eBook
Video
Podcast
Light Weight
Blog posts
Blog
Email newsletter
Feeds
eBook
Presentations
Webinar
Articles
Third party sites
Third party blogs
Social media
eBook
Presentation
Webinar
Patterns/ recipes/ how-to's
Website
Blog
Third party sites
Social media
Book
eBook
Press release
PR service
Website
Blog posts
Articles
Photographs
Website
Blog
Social media
Blog posts
Articles
eBook
Presentations
Email newsletter
Podcasts
Website
Blog
iTunes
Blog posts
Articles
Presentations
Webinar
Social media engagement
Social media
Blog
Blog posts
Articles
©2013 HeidiCohen.com – All rights reserved
7 Actionable marketing tips for cost effective content creation
Here are seven actionable marketing tips to ensure that your content development is as cost effective as possible.
Plan major content efforts ahead of time to coordinate with your promotional calendar.  As part of your planning, fill out your content marketing's editorial calendar to ensure that you've got your information needs covered.
Gather content ideas from across your organization. Where appropriate get different members of your firm to help create content.
Cross-train your content creation staff.  Let your creative resources test out other formats. Also, tap into the different perspectives within your organization.
Create all similar content together. The goal is to use the same resources and prevent one-off content efforts. This is particularly important if your content utilizes special talent or external resources.
Use branding consistently across all of your content. Keep the same colors, images and voice so that your audience recognizes it as yours.
Build a content repository where you keep your organization's content assets. The objective is to be able to use content again as the basis for new content or as part of a different campaign. It should be based on your annual content audit.
Measure the effectiveness of your content marketing. Determine which pieces of content resonate best with your audience and which are most profitable.
By planning your content creation in advance, you'll be able to minimize your costs. Ironically, smaller firms with less resources are often less able to take the time needed for this strategic perspective.
What are your secrets to cost effective content creation? What are your biggest challenges?
Happy Marketing,
Heidi Cohen
---
---
For those of you in Raleigh, NC, please join me for Internet Summit November 11th through 13th.
Use the code HEIDI50 to save $50 OFF any pass level.
---
Even though Content Marketing World is finished until next September, you can still get all the content from 2014's exciting conference. The CMWorld On Demand package includes: Audio and video from the 2014 keynote sessions, audio and PowerPoint presentations of all the breakout sessions, over 40 audio sessions from the leading B2B and B2C brands, as well as keynote video performances.
---
Free Webcast!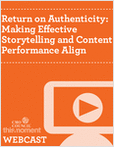 Join the discussion on Wednesday, October 29, 2014 at 10:00 AM PT/ 1:00 PM ET with Nancy Slavin, SVP of Marketing, Macy's Merchandising Group, and Dan Kimball, CMO, Thismoment.
According to research by Nielsen, 70 percent of global consumers trust online consumer reviews and rate reviews as the second most trusted form of advertising. And according to BazaarVoice, when it comes to trust, marketers may as well eliminate their own brand websites as a fountain of customer trust as only 16 percent of US consumers said they trust the content on a brand's website compared to the 51 percent who trust content generated by other users.
Today's digital currency is arguably authenticity, and what attracts customers - especially the digitally dependent, savvy millennial - is not just content. It is the delivery of authentic, unvarnished content from their peers.
Join the CMO Council on Wednesday, October 29, at 10am PST/ 1pm EST for a one-hour webcast that will invite industry experts in content marketing and user-generated content who are effectively leveraging authentic storytelling as part of their content marketing strategies. We will also feature an interactive Q&A session at the conclusion of the speaker presentations.
---
Related Articles
Photo Credit:http://www.flickr.com/photos/swimparallel/3174754333/