Marketing Persona: The Importance of Back Story
Do you know your target audience? To understand their potential buyers, marketers create personas to represent the key segments. The process of creating a marketing persona (including a social media buyer persona) is similar to the way playwrights and screenwriters develop characters for their comedies and dramas.
Key to development of a character or marketing persona is that person's backstory: everything in the character's past that influences how he feels about himself in the world and how that experience shapes how he relates to your product or service.
Content Marketing World keynote speaker William Shatner made the point that for an actor, everything is in play when portraying a character. "The backstory is as important as the story itself and can convey the same message. Layer the story. Step out of the obvious."
Therefore, the actor must innately understand what the character is feeling when they're playing a role. For Shatner, this meant creating a backstory to portray Priceline's The Negotiator to encompass non-verbal communication.
Often marketers are so busy creating fresh content that they neglect to consider the backstory of their prospect or customer and their relationship to the product or service. As a result, their content is Teflon and its message may not stick with their audience because it hasn't taken into consideration how the buyer feels about the content as well as the product or service.
7 Attributes to create a convincing marketing persona backstory
To develop a convincing marketing persona backstory as a conduit for understanding your target audience and creating strong content, here are 7 attributes used by dramatists that marketers can adapt to develop effective personas for their key segments.
Values and beliefs. What are your potential buyer's political, social, and economic views as they relate to your offering? How does this influence her propensity to purchase from your company? How does your product influence how she feels about herself?
Family. How does your customer's family influence her buying habits? Is she single, married, have children or is widowed? This has an impact on what she buys and whose opinions hold sway over her decisions. Don't underestimate the impact of upbringing and view towards money.
Profession and education. These two elements go together. Specifically what does your target customer do for a living and where are they in their career? This influences the amount of disposable income they have and can sway different brand choices. Further level of education and where a customer attended school can influence choices.
Potential concerns. What is fears does your target audience have? How does this influence their buying behavior? For example, in many companies, it's easier to purchase from one of the top vendors than to go through the process of getting special approval.
Physical location. This speaks to your buyer's context. Where is her home and where is she when she decides to buy from you? Consider the elements of location and the role it plays in purchase. Are you the regular supplier or just a quick fix due to circumstances.
Timing. It also relates to product availability. This encompasses a number of factors such as what is the prospect's time horizon for purchase and how does this relate to her overall needs?
Past buying behavior. Most importantly this relates to your company's products and services. You should be able to access this information in your database including what they bought, how much they spent and for how long they've been purchasing from your firm. But don't be limited by this data. Consider your buyers' tradeoffs and rationale for their decision. For example, you've got longer store hours or provide free delivery.
Developing a backstory for your marketing and  social media buyer persona helps you as a marketer to better understand your target audience and create content that meets their needs. Take a tip from William Shatner, an actor who has portrayed a variety of well loved characters – backstory enables you to walk in your target market's shoes.
What other traits would you add to the list of backstory elements and why?
Happy Marketing,
Heidi Cohen
BTW—I will be speaking on the topic of marketing persona at CRM 2013 in Lima, Peru on October 15th and in Bogota, Colombia on October 17th.
PS — Big tip of my hat to Joe Pulizzi for convincing William Shatner to keynote Content Marketing World.
---
---
Even though Content Marketing World is finished until next September, you can still get all the content from 2014's exciting conference. The CMWorld On Demand package includes: Audio and video from the 2014 keynote sessions, audio and PowerPoint presentations of all the breakout sessions, over 40 audio sessions from the leading B2B and B2C brands, as well as keynote video performances.
Social Media Marketing World — San Diego — March 25-27, 2015.

Register Now and Save $480!   Limited time offer.
Register Now for the Intelligent Content Conference.
An annual gathering of the best and brightest content professionals on the planet. People who know the secrets (and are willing to share them). People who value content as a business asset. People who have made it their life's work to develop repeatable, systematic approaches to producing amazingly effective content.
---
Free Webinar!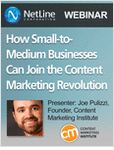 Join the discussion on Tuesday, December 2 - Time: 2 PM (EST) / 11 AM (PST) to learn how small and medium sized businesses don't have to have an entire content marketing organization (or budget) to be successful in content marketing.
Joe Pulizzi, Author and Founder of Content Marketing Institute and Werner Mansfeld, President of NetLine Corp, discuss realistic and actionable methods for your company to get awareness, consideration and sales leads using marketing content – without the budget or resources of an enterprise-level organization.
Date: December 2nd, 2:00 pm EST/12:00pm CST/11:00 am PST
Here are just some of the questions you'll get answered:
What is content marketing and why is it important?
What do I need to have in place to compete effectively using content marketing?
How do I drive sales leads and get a positive ROI using content marketing?
How can my small business (or budget) compete with my larger competitors using content marketing?
What can I start doing today to start seeing results?
Joe Pulizzi and Werner Mansfeld are experts in Content Marketing and Content Syndication. Learn from their combined experience how to take advantage of content marketing for your business, no matter the size.
---
Related Articles
Photo Credit: (c) 2013 Heidi Cohen