7 Tips To Amplify Your Content Marketing
With over 90% of marketers investing in content marketing, you must be a content marketing rockstar to stand out in today's exploding content ecosystem.
Just like a rockstar you need to continually create amazing content that people actively seek out and share with others. Further, like great music you must ensure that your content reaches the largest audience possible.
To amplify your content marketing, apply these seven lessons from top music rockstars.
Develop your brand. Take a page from Lady Gaga's playbook (who learned it from Madonna). Lady Gaga has her own personal style that's consistent and shows in everything she does. She never goes anywhere without thinking about the impression she's making. Actionable Content Marketing Tip: Infuse your brand in every piece of content so your prospects, customers, fans and the public recognize it as yours without seeing your name. (Here's help to create your brand.)
Give away your content for free. The Grateful Dead were the poster children for free music distribution. Unlike other bands, they allowed people to tape their concerts on the condition that they made no money from the tapes. The free distribution of their music enabled them to build their fan base. Contrary to popular belief, the freely available music didn't hinder their sales. The Grateful Dead sold over 35 million albums! Actionable Content Marketing Tip: Distribute your information freely to attract a larger audience. In Ann Handley's words, "give your content wings."
Offer your fans the velvet rope treatment. Who doesn't like being treated special like the people who board an airplane first? Take another page from Lady Gaga and make your fans feel special. She calls them out by giving them the name, "Little Monsters." Actionable Content Marketing Tip: Provide targeted content for your prospects, customers and fans to make them feel like they're part of something special.
Keep creating new content. While Bruce Springsteen continues to play his classic songs like Born To Run, he continues to write new material. Similarly, you can't rely on your oldies but goodies. Actionable Content Marketing Tip: Create an editorial calendar and continue to fill it with new information.
Test new formats. Paul Simon broke new ground by collaborating with Ladysmith Black Mambazo on his award winning album, Graceland.  (It's important to note that Simon's working with a South African band was considered politically incorrect at the time.) Actionable Content Marketing Tip: Don't stick to the same old, same old in hopes that it'll keep your prospects, customers and fans engaged. Continue to try new content formats  and options to delight your target audience and break through the content clutter. (Here are 31 content formats from which to choose.)
Experiment with new ways to promote your content. Indy band They Might Be Giants (aka TMBG) placed new songs daily for free (excluding the phone charges) on an answering machine in their Brooklyn apartment. To build their following, TMBG advertised their Dial-A-Song service in local New York City print newspapers like the Village Voice. Check out She Was a Hotel Detective, a song inspired by an accidental conversation captured on their answering machine. Actionable Content Marketing Tip: Use third party media and advertising in addition to owned and social media to drive potential readers to your content.
Think globally. Who would believe that a little-known, South Korean rapper named Psy would garner over 1.7 billion views on YouTube with the release of his 18th single and become a global meme? Actionable Content Marketing Tip: Leverage the power of broad based social media and online platforms to distribute your content.
The bottom line is that creating great content isn't enough to become a rockstar. You must amplify your message by using a variety of methods.
If your content marketing needs to be amped up, then please consider joining me at  Content Marketing World September 9th-12th in the home of Rock and Roll, Cleveland, Ohio. I'd really appreciate it if you sign up for Content Marketing World using my affiliate code Heidi100 to register for the conference.
Still need more convincing? Check out my interview with Content Marketing Institute's Joe Pulizzi as well as my interview with Content Marketing World Keynote Speaker Jay Baer.
I hope to see you in Cleveland in September. Please email me and let me know that you're coming so that we can meet in real life.
BTW—here are 7 lessons from 2012's Content Marketing World.
Happy Marketing,
Heidi Cohen
---
---
For those of you in Raleigh, NC, please join me for Internet Summit November 11th through 13th.
Use the code HEIDI50 to save $50 OFF any pass level.
---
Even though Content Marketing World is finished until next September, you can still get all the content from 2014's exciting conference. The CMWorld On Demand package includes: Audio and video from the 2014 keynote sessions, audio and PowerPoint presentations of all the breakout sessions, over 40 audio sessions from the leading B2B and B2C brands, as well as keynote video performances.
---
Free Webcast!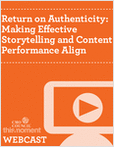 Join the discussion on Wednesday, October 29, 2014 at 10:00 AM PT/ 1:00 PM ET with Nancy Slavin, SVP of Marketing, Macy's Merchandising Group, and Dan Kimball, CMO, Thismoment.
According to research by Nielsen, 70 percent of global consumers trust online consumer reviews and rate reviews as the second most trusted form of advertising. And according to BazaarVoice, when it comes to trust, marketers may as well eliminate their own brand websites as a fountain of customer trust as only 16 percent of US consumers said they trust the content on a brand's website compared to the 51 percent who trust content generated by other users.
Today's digital currency is arguably authenticity, and what attracts customers - especially the digitally dependent, savvy millennial - is not just content. It is the delivery of authentic, unvarnished content from their peers.
Join the CMO Council on Wednesday, October 29, at 10am PST/ 1pm EST for a one-hour webcast that will invite industry experts in content marketing and user-generated content who are effectively leveraging authentic storytelling as part of their content marketing strategies. We will also feature an interactive Q&A session at the conclusion of the speaker presentations.
---
Photo Credit: http://www.petsadviser.com via http://www.flickr.com/photos/petsadviser-pix/8126547765/