5 Dr. Seuss Quotes And What They Mean For Social Media
As the holidays festivities draw closer, see what Dr. Seuss teaches us through his character the Grinch who learned that Christmas was more than just trimming and toys; it was something that came from within.
Similarly, on social media, each of us has to talk from our own heart in our own words, not just as a glossy, well-decorated avatar.
To celebrate the holiday season, here are 5 Dr. Seuss quotes with actionable social media tips to prevent you from being a social media Grinch.
"It's high time you were shown that you really don't know
all there is to be known."
Dr. Seuss has this one right because no matter how smart you're, there is always more to learn.
Social media should always be approached as a learning experience where it's expected that people pay it forward by helping others. This means you can gain insights from other people regardless of their background, location or age.
Actionable Social Media Tip: Expand your horizons beyond your real life connections. Get out of your comfort zone and interact with others. Don't take an extreme approach by friending or linking to just anyone.
Rather, participate in open forums such as Twitter chats and Google hangouts. Remember, you don't always have to be the smartest one on the platform or forum.
"If you can see things out of whack,
then you can see how things can be in whack."
Take time to see the world from other people's point of view. It helps to give you perspective and provides a wider array of potential solutions.
This is particularly important on social media where you encounter a wide variety of people that you might not otherwise meet.  They can have vastly different lives and experiences. Further, your first language may be their second or third.
Actionable Social Media Tip: Watch and listen to others on social media so that you can learn from other participants. Then you can share and collaborate with your new social media colleagues and friends.
"Don't give up! I believe in you all.
A person's a person, no matter how small!"
This Dr. Seuss quote is tailor made for social media where it's critical to appreciate all of the individual voices that add to the conversation.

Actionable Social Media Tip: Respect your peers on social media. This means everyone. Social media isn't a company or a classroom where there's a CEO or a teacher to whom everyone must listen. Social media is a multi-directional conversation where everyone has a seat at the table and anyone can participate and voice their opinion.  
"If things start happening, don't worry, don't stew,
just go right along and you'll start happening too."
Whether you make plans or not, life happens. Therefore you have to take each day as it comes. Don't be a Grinch who's angry and alone. Get out and participate by rejoicing that you're alive.
Actionable Social Media Tip: Take a deep breath before you engage on any social media platform. You want to channel your positive energy into each interaction. Social media, as a form of online communication, conveys how you feel through your fingertips. It can by-pass that part of your brain that edits out your emotions.
"Only you can control your future."
While we all see ourselves reflected in other people and try to be the people we care about want us to be, the reality is that you have control of your destiny and can set goals to guide your life.
Similarly, while you may want to present yourself in the best light possible on social media through the use of special filters, software and tools to enhance and add gloss to your everyday life, the bottom line is you need to be transparent and real.
Actionable Social Media Tip: Take charge of your life by cherishing what you have. Take some time off from social media now and then. Or at least stop looking at the beauty of other people's lives and letting that make you feel like your life is missing or lacking something. If you want more out of life, then take the time to determine what you truly want and set goals to create an amazing life.
As Dr. Seuss put it, "In Who-ville they say that the Grinch's small heart grew three sizes that day!" Go out and let your heart expand by living your life to the fullest, both in real life and on social media.
What other Dr. Seuss quotes inspire your social media activity?
Happy Marketing,
Heidi Cohen
---
---
Even though Content Marketing World is finished until next September, you can still get all the content from 2014's exciting conference. The CMWorld On Demand package includes: Audio and video from the 2014 keynote sessions, audio and PowerPoint presentations of all the breakout sessions, over 40 audio sessions from the leading B2B and B2C brands, as well as keynote video performances.
Social Media Marketing World — San Diego — March 25-27, 2015.

Register Now and Save $480!   Limited time offer.
Register Now for the Intelligent Content Conference.
An annual gathering of the best and brightest content professionals on the planet. People who know the secrets (and are willing to share them). People who value content as a business asset. People who have made it their life's work to develop repeatable, systematic approaches to producing amazingly effective content.
---
Free Webinar!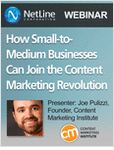 Join the discussion on Tuesday, December 2 - Time: 2 PM (EST) / 11 AM (PST) to learn how small and medium sized businesses don't have to have an entire content marketing organization (or budget) to be successful in content marketing.
Joe Pulizzi, Author and Founder of Content Marketing Institute and Werner Mansfeld, President of NetLine Corp, discuss realistic and actionable methods for your company to get awareness, consideration and sales leads using marketing content – without the budget or resources of an enterprise-level organization.
Date: December 2nd, 2:00 pm EST/12:00pm CST/11:00 am PST
Here are just some of the questions you'll get answered:
What is content marketing and why is it important?
What do I need to have in place to compete effectively using content marketing?
How do I drive sales leads and get a positive ROI using content marketing?
How can my small business (or budget) compete with my larger competitors using content marketing?
What can I start doing today to start seeing results?
Joe Pulizzi and Werner Mansfeld are experts in Content Marketing and Content Syndication. Learn from their combined experience how to take advantage of content marketing for your business, no matter the size.
---
Related Articles
Photo Credit: Amazon (Affiliate link)