We want to take this opportunity to raise our glasses to celebrate you, our readers.
Without you we'd be an empty blog missing our true potential.
It's you our readers, influencers and social media followers who push and challenge us to create our best work.
During 2014, we plan to  continue on our journey making progress one step at a time.
We wish you, your family, friends and social media connections the best for 2014.
It's our hope that 2014 brings you and yours good health, love, success and peace.
Happy New Year 2014!
Happy Marketing,
Heidi Cohen
---
---
Content Marketing World 2015 is open for Registration!
 I'll be there. Come and join me!
Free Download!
Are workplace zombies killing productivity? Is frustration and discouragement spreading through your team like a virus?
Get this essential guide to stop the infection from spreading and get your work back on track.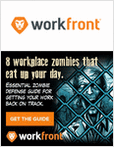 The Working Dead can show up in any workplace. You need to identify these zombies in your workplace and cure them before you have a workplace zombie apocalypse on your hands.
Use this guide and learn how to:
Turn chaos into process Unite team members around strategic priorities
Transform confusion into clear-eyed efficiency
Bring your team back from the undead—back to doing the work they enjoy. Get this guide and start defending your office today!
---
Photo Credit:http://www.flickr.com/photos/nima0021/3193886965/