We want to take this opportunity to raise our glasses to celebrate you, our readers.
Without you we'd be an empty blog missing our true potential.
It's you our readers, influencers and social media followers who push and challenge us to create our best work.
During 2014, we plan to  continue on our journey making progress one step at a time.
We wish you, your family, friends and social media connections the best for 2014.
It's our hope that 2014 brings you and yours good health, love, success and peace.
Happy New Year 2014!
Happy Marketing,
Heidi Cohen
---
Hi. I'm back from San Diego where I presented a workshop session on Blogging at Social Media Marketing World 2016.
If you couldn't attend this exciting conference, consider getting a Virtual Pass. You'll get all of the sessions and can watch them on your schedule!
---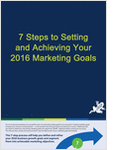 This 7-step process will help you define and refine your 2016 business growth goals and segment them into achievable marketing objectives.
You've set personal resolutions for yourself this year, but what about setting goals for your business? Creating marketing goals increases your chances of achieving them – so do yourself a favor this year and set yourself up for success.
Photo Credit:http://www.flickr.com/photos/nima0021/3193886965/